The Longest Bus Ride of My Life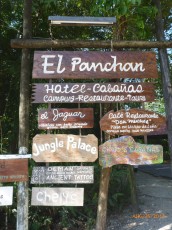 It sounds easy to say I'm going to fly into Cancun, Mexico, then jump on an overnight bus to Palenque and sleep my way through it. It wasn't so easy to do it.
It was a complicated plan from the start. First of all I made the mistake of thinking there would be a bus whenever I wanted one. The schedule online didn't show any buses for any day I tried, so I booked my plane ticket assuming I could just pick one when I got there. Only after my non-refundable ticket was paid for did I start to wonder what to do if I couldn't.
My flight arrived at 8:09pm. I found mention of a 10pm bus on a forum from a few years ago, so I had hope but I couldn't know for sure until I was there. Nothing to do about it now, so I put it out of my mind. I was meeting up with T.W. from Marginal Boundaries and he pointed out my oversight, but suggested I stay in Hostel Haina overnight if I couldn't catch a bus until the next day. A safety net-just what every traveler needs!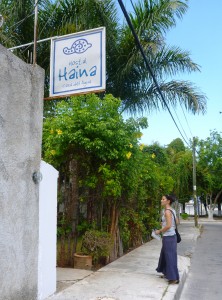 We landed early at 8:00, but the last bus left downtown at 8:30-I didn't make it, so I bought a ticket for one at 5:45 the next day and made my way to the Haina to wait. I would be doing a lot of waiting.
I hauled my stuff to the downtown ADO bus station an hour early to make sure I didn't miss the bus. I was a little nervous about the 13 hour ride in the dark through "dangerous Mexico." What if we were robbed? What if my seatmate was huge or smelly? What if…I reminded myself of all the time I spent riding in buses when I was touring Peru, once even a whole day like this and it wasn't that bad. "You can do this," I told myself.
The announcements were in Spanish, and there wasn't anything posted, just a guy yelling when the buses were ready to board. I started to get anxious, which made me have to pee. Entry to the toilet cost 5 pesos, and there was a huge metal turnstile to get in. I really hate pay toilets-being able to use the bathroom is a basic human right!-and then I almost got stuck trying to haul two bags in held shoulder high. I was already paying for a bus ticket, did it have to be such a big deal to pee?
There was no air conditioning and I sat sweating, thinking I might be the stinky one on the bus after all. At 5:35 I approached and asked the security guard calling out buses "Palenque?" He looked at my ticket and said something in too-fast Spanish, seeming to dismiss me, so I sat down. I watched other people board for a place I couldn't pronounce, waiting my turn. At 5:50 I went back and asked him again. He looked at my ticket, sighed and called another man over, who spoke rapidly and waved my ticket. This did not look good. "English?" I asked. He rolled his eyes and marched inside, still holding my ticket, so I followed.
He led me to the ticket counter, spouted a bunch of Spanish through the slit in the window to the ticket boy. All I understood was "She speaks English" and he was gone. The boy looked like a teenager and spoke in a high voice that I could barely hear. He said my bus was gone and I would need to buy another ticket for the 8:30 bus at half price, only 414 pesos-another $33 US! I wanted to go home so bad right then, if I had been in the airport I might have just bought a plane ticket instead. I told him I had been watching, I had asked, there had been no bus. I got out the money, but I felt like I might cry. What is up with me and crying lately? I hate crying, especially in public.
I must have looked pretty desperate, because the boy ducked a few booths over and talked to someone else. He offered to transfer my ticket to the later bus instead of making me buy another one, which gave me a refund of 164 pesos since my bus had been the more expensive time slot. So now I was ahead in money and I had a bus ticket, but I'd still be running 3 hours late. "You can do this." He said something that sounded like my bus hadn't ever been there at all. Was it cancelled? Who knew. This was typical Mexico, full of surprises that test your patience.
I sat back down. Jason wouldn't know where I was. T.W. wouldn't know where I was. There was no wifi in the bus station, although I kept checking. I tried to buy a sim card to activate my phone in two TelCel stores across the street but they told me "No habla Ingles" and went back to texting. I thought about trying to find an internet café or even walking back to Haina, but I was afraid to leave. I was learning the hard way how much I needed to learn the language, how much more there is to learn about how Mexico works. Note to self: improve those language skills!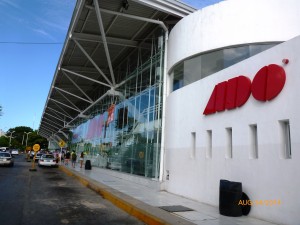 People came and went; men, families, children, backpackers, abuelas, and me in the middle of it all. The ADO building appears open with most walls made of glass, but it's still hot and airless. A woman had turned the one fan to blow on herself and her children at the edge of the room. At one point I was surrounded by a Mexican family while they waited. A little boy of about four pummeled a teenager with a Ninja Turtle while the women talk over their heads. Abuelita smiles at me over her walker, and it's strangely comforting.
I eat a Subway sandwich and drink a Coke, feeling very American. I don't have a choice what vegetables I get on the sandwich, he just gives me the same as the guy next to me. I'm just glad the guy didn't want jalepenos.
I had a lightning bolt moment-there are pay phones here! I can call T.W. and let him know I'm going to be late! I have his cell number and his house, but I can't get the phone to work. It tells me how much to put in, I drop the coin in, it says the number is invalid, I hang up. I'm too tired to be upset about it. I go back in and sit right in front of the fan now that the woman and her kids are gone. If I have to spend 4 hours in the bus station I deserve to use the fan, dammit.
Finally the bus comes. I watch carefully, then I ask three different men to be sure it's the right bus for me, making them look at my ticket. I find my seat in the back and have to rearrange the contents of my backpack to make it fit in the overhead space. I watch the others getting on, thinking please, please Fate, Universe, whoever is listening give me a break and let me have these this space to myself. The bus is not even half full. No one sits by me and we leave. I'm on my way to Palenque.
We stop at Playa del Carmen and more people get on and I realize how this is going to work. Each stop some will get off and some will get on. I might eventually get a seat mate after all…but I don't. I spend the whole ride hogging both seats. I sleep off and on, waking sometimes when we stop, but I don't get off. I'm not going to chance it. At one point the bus seems to be veering back and forth, and I wonder if the driver is sleepy, but I have no control over it so I decide to go back to sleep. If we crash I have my seatbelt on, that's all I can do. The roads get bumpier as we head further south. The bus rocks, sometimes comforting, sometimes alarming. I doze in and out, getting a fair amount of rest over the 13 hour ride.
As the sun comes up I start watching signs: Palenque 219. Palenque 42. Palenque 2.5. I am almost there. The bus seems to drive through the town for so long, I wonder if he's going to stop. Surely he will stop? We find the ADO station and I gather up my things again and stumble off the bus. I have to pee, but there is only a pay toilet here and I'm not doing that again.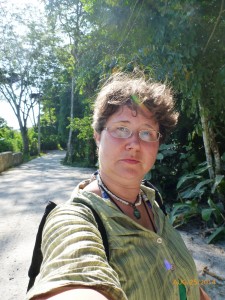 I look over the directions I printed out from an email T.W. sent, give 20 pesos to a local bus/van called a combi and head to the ruinas where the hotel El Panchan is. The guys in the combi are wearing cowboy hats, making me remember the word campesino-a rural or country person. I sneak a picture. I feel ready. When they drop me off at the entrance to the ruins I see the sign for El Panchan across the street with a dozen others. There is only a dirt track leading off into the jungle so I follow it until I see the restaurant where T.W. and Chris are waiting for me. I have arrived at last. "You can do this."