"Bike Friendly" Iowa vs Biking in Mexico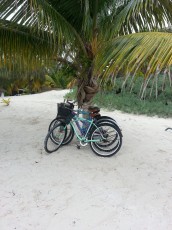 Last month in Tulum I was delighted to stay in a hostel that included a bicycle even though it turned out to be a rust bucket (hey it was free!) It's a common thing there for people to ride bikes to get around and there are trails in many places. On Cozumel I rented a bicycle and rode all over town on the roads with the cars and motos (scooters) and I hear that south of town they have completed their first bicycle trails there too.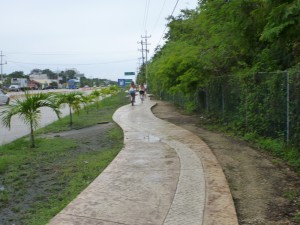 Bike trails are a new thing in Mexico because bicycles usually ride in traffic. When I am there I ride on the streets, something I would never feel safe doing at home in Iowa, and I started to wonder why it was different.
My own husband is what brought this contrast to my attention. At home in Iowa he vehemently opposes bicycles on the road; they're commonly called "sucicidalists" here. He gets agitated just seeing them nearby, gripping the steering wheel and cursing their stupidity even when they are following the rules. We agree that in a collision between a bicycle and a vehicle the bicycle is always going to lose, making it unsafe to ride on the streets here.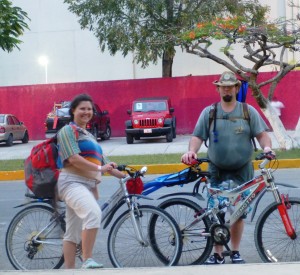 After he flared into an argument with a bicyclist at TBEX I reminded him that when he and I were on the island of Cozumel we rode bicycles in traffic to get around, and plan to do so as our family's main way of getting around after we move. So why does he feel it is ok to ride on the streets in Mexico but not in Iowa? Why do I?
The US attitude of "me first" means we don't give way, we don't yield even when legally we should. This goes for both drivers and cyclists; there are drivers who will bully a bicycle by honking, yelling, passing very close, but there are cyclists who will refuse to ride single file or on the outer edge. Instead they will assert their right to be there by riding side by side taking up the whole lane from the outer line to the center line in a place where the speed limit is 55 mph.
In 2014 Des Moines squeaked into Bicycling Magazine's list of the top 50 bicycle friendly U.S. cities, but I wouldn't call it that. There is a daily struggle here, a tug of war over the roads. There is an extensive network of bike trails, but serious cyclists say they can't use those because slower riders and pedestrians would be in danger. Instead they ride on the roads, including highways where they cannot go the speed limit and are at risk of being hit by cars. I find it ironic that the picture shown of Des Moines riders on the magazine's website shows bicycles in the middle of a farm road, one of the loudest complaints from drivers.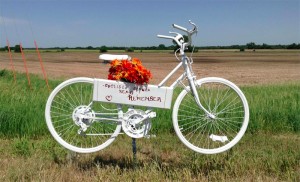 In Iowa we make the news every year when local bicyclists are hit by cars, with an average of half a dozen fatalities, and fingers pointed in every direction. The bicyclists were being reckless, the drivers were being hostile, both sides blame each other.
Culturally here in the U.S. bicycles are for kids, for entertainment, for exercise. They are a luxury item, an unnecessary purchase that is viewed as a sport or hobby. In many other places, including Mexico, bicycling is a normal mode of transportation and part of the traffic patterns. It's not intrusive or arrogant or some guy in fancy gear and spandex, it's just how people get around.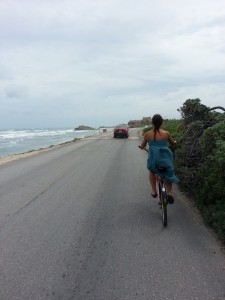 This makes the attitude toward bicyclists very different outside the U.S. In Mexico I felt safe next to the road or even in it because they truly will give pedestrians and bikes right of way. Drivers will stop, and they're not even grouchy about it. This doesn't mean that accidents never happen, but I was amazed by the acceptance of drivers and really glad for it.
Jason and I feel that it's too dangerous to ride in Iowa unless we're on a trail so we are stuck driving everywhere, with the exception of the grocery store that's half a block from our house. We have nice Cannondale bikes that we hardly ride. To bike very far would require that we either drive to a place we can access one of the trails or we ride on the street, which quickly becomes a highway. One seems like an oxymoron-I'm going to drive my bike to a place I can ride it?-the other is dangerous enough that I wouldn't risk it myself, much less take my children. It's a sad state of affairs for someplace that is supposed to be bike friendly, and I miss being able to ride my bike all day long like I did in Mexico.
Our move to Cozumel includes bringing bicycles for all five of us, and we plan to use them as our main mode of transportation. We will get groceries in the baskets on either side of my back tire, and the girls can carry their beach gear in the baskets on their handlebars. I am not worried, even about 5-year-old Rory because I know we will have a lot of company on the roads and we'll all watch out for each other rather than trying to compete for the same space. It's my hope that our car does a lot of sitting next year.