People Really Do Win Travel Contests – We Did!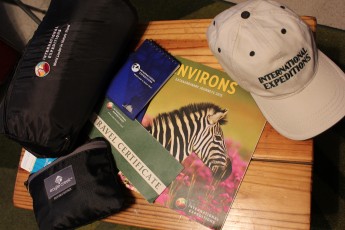 We all know I like to travel, and travel contests have become something of an addiction. Every time I see a "Win This Trip!" ad I start to salivate and my heart speeds up. It only takes a few minutes, fill out a form and go on with my life. No one wins these things anyway, right? Except we did.
My husband Jason is the other half of my travel team and patiently endures all the links to articles and blogs and contests that I send him. He dutifully fills them out (I think) and it was actually him who won the contest giveaway from International Expeditions.
When the email came he showed it to me, and we almost wrote it off as spam. We had to think back, did I enter a contest like this? Could this be legit? We tracked our entry back to an article on their people to people Cuba tour by our friends at Green Global Travel and realized that it was real. We had won.
Free $500 travel voucher! Woohoo! I knew it would be unlikely to cover the entire cost of an International Expeditions tour, but it's a start (and a good excuse!)
There was also the promise of an unspecified "gear package" that's turned out to be pretty nice as well. I set my expectations low, probably just a couple of brand t-shirts and hats, so I was blown away when all this arrived on our doorstep: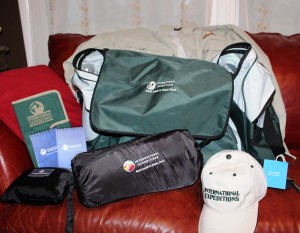 -the expected brand baseball cap
-an organizer with all sorts of pockets for passport, tickets and business cards
-two environmentally friendly notebooks with paper made of stone (didn't know that was possible!)
-Port Authority "The Explorer" long sleeved shirt: it's extremely lightweight, UV protection of 30, wrinkle resistant, fast drying and fits Jason perfectly
-Eagle Creek packable daypack that is about the size of a sandwich bag when packed
-Relax Right memory foam cushion that rolls into a small bag for compact packing-at first we thought it was for improving hard seats, but from the shape I'm now thinking it's for lower back support
-a full sized Port and Company duffel bag to pack it all in
Of course it all has the International Expeditions logo all over it. Hey guys, if you ever want us to come on a tour as official representatives we've got all the gear for it!
Now where to go?
International Expeditions is a nature tour company who offers off the beaten path cultural experiences all over the world (right up our alley!) I've already perused the 2015 catalog that came with our prize package and have narrowed it down a little, but it's hard to choose.
I have some reluctance to commit to a group schedule after my experiences on a study abroad trip in South America. We saw a lot of things…very fast and usually for not long enough to really see it. It was more like a preview than a tour, and I was disappointed that we were so rushed all the time. When I go back to Peru I will go independently and take my time, so that won't be the tour we choose.
The contest link was part of an article on the people to people Cuba tour, and I would really like to get to Cuba within the next couple of years. The possibility of the U.S. lifting the embargo and/or travel restrictions seems like it's going to happen soon, and while that is all good I want to see the Cuba I've heard so much about: preserved in the 1950's, classic cars roaming the streets and a general frozen-in-time aspect complete with buildings falling into disrepair and untouched natural areas. I recently met a few other travelers who went to Cuba independently and found it to be very different than anywhere else. It seemed more difficult to do on your own, so I would consider a tour here to pave the way a little.
To me tours are for places like this that might be harder to do on your own. There are also two very tempting live-aboard options, one to the Galapagos Islands and one down the Amazon River. While I've never been attracted to the huge cruise ships that are so popular I do like the idea of traveling with 25-30 people on a floating home base as we explore. Both of the destinations are drool-worthy for us as well; I've wanted to see the Amazon since I was child and my Environmental Scientist husband has the Galapagos high on his wish list.
And of course there's Costa Rica…we love Costa Rica…and custom family options…(insert dreamy sigh here.) It will be many months before we can actually go of course, the move to Mexico in six months takes priority right now, but it's never to early to make plans!
Thank you very much to International Expeditions for sending us all these lovely gifts, we can't wait to travel with you, and thanks to Green Global Travel for hosting the contest in the first place! Of course the biggest thanks goes to my husband Jason-for entering the contest!
Have you been on an International Expeditions tour? Which one do you think we should choose?