My First Trip Back to the U.S. from Mexico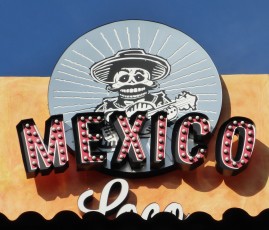 So I just got back from my first visit to the United States since our family moved to Mexico. Are you curious how I felt? Did I want to stay? Where did I feel the urge to go when it was time to go home? Here are the answers.
When I arrived in Ft. Lauderdale for my second TBEX Travel Blogger's conference I was amazed at how close the city is to the Everglades. I had assumed there would be some dry land but there isn't-in fact Ft Lauderdale is often called the "Venice of the Americas" due to all the canals and water throughout the city. Seen from the air as we flew in it's very impressive but I also wondered who decided it would be a good idea to build a city in such a flooded place.
In the airport I had to go through customs and immigration checks with this mantra in my head: "Speak English." I don't speak a lot of Spanish but I use it on a daily basis in Mexico and practice as much as possible, so it's normal for me to answer with "si" instead of "yes" and to greet people with "hola" instead of "hello." I thought they might frown on that since they don't know me.
I made my way to the Embassy Suites to stay in relative luxury compared to my normal life in Mexico or the states. I had four roommates to make staying there affordable and it's only a 3 star hotel (I can't imagine what a five star place is like but I doubt I'll ever be willing to pay enough to find out.) We had a beautiful suite on the 9th floor with a view out over the port and cruise ships into the ocean. Every time I went out the inner door the view over the rail from nine floors up triggered my fear of heights and made me want to hug the wall.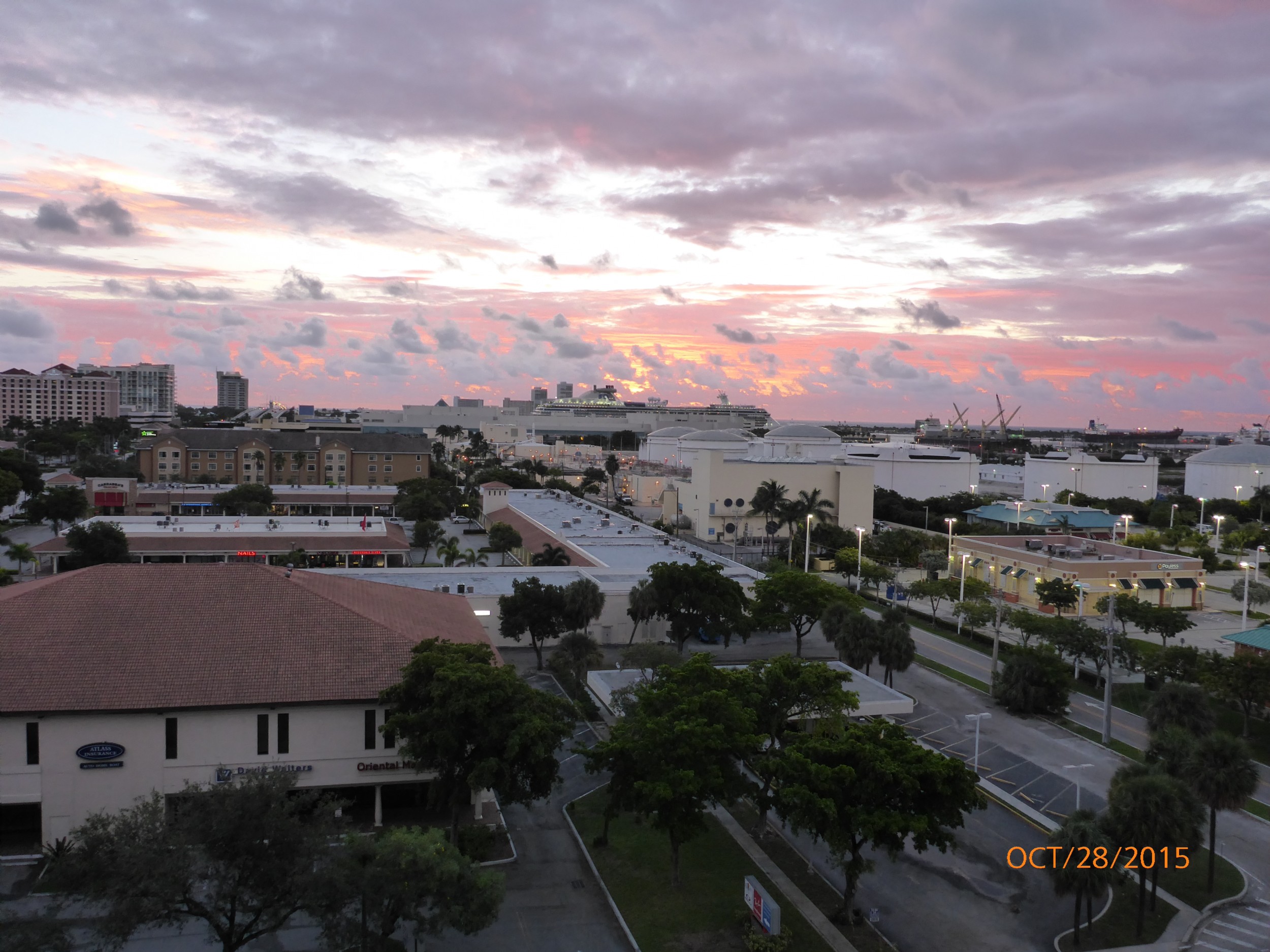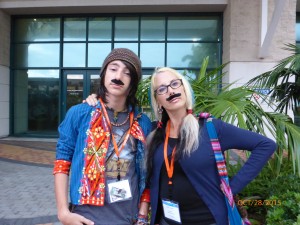 The first roommates I met were Lainie and Miro of Raising Miro and Project Worldschool. They had been living in Peru and travel throughout Latin America so we could relate to the reverse culture shock of being back, although it had been years for them and only a few months for me. For instance we were excited to realize we could flush toilet paper; many places in Latin America do not have good plumbing and flushing paper of any kind often clogs the system. Lainie declared she would be taking a nice long bath because bathtubs are uncommon as well. Before bed I wished I had remembered to buy a bottle of water somewhere, then realized in delight that I could drink right out of the tap. It's the little things that are the true luxuries of being in the United States again, and you don't truly appreciate them until you've learned to live without.
My second roommate, Patricia King, probably found us a little strange for being so excited about simple things, but our differences made for good conversation. She is a former journalist who is getting into the blogging world while living in Indianapolis and enjoying her granddaughter. Yes, she's a grandmother. Pat is proof that it's never to late to try something new, and she follows her adventurous spirit wherever it leads.
My third roommate was Cassie Kifer of Ever In Transit. She came for the last night after Lainie and Miro had gone on to a conference in Tampa where they were speaking. We stayed up late getting to know each other a little and she left early, but I hope I'll see her again in my travels.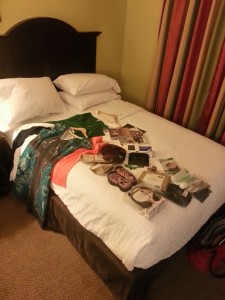 Before I flew to Florida I ordered all the things that I haven't found on the island. Opening the packages was like Christmas morning, but it was mostly little things; tiger balm, meditation coloring books, an English copy of Harry Potter, Keens for Rory and some new clothes for me. Jason got a few tech things for work but there isn't much that we can't find in Mexico so ordering from the states is more luxury than necessity. I only needed half of my carry on suitcase to bring back what we bought.
Being in the states again everything seems large; the stores are mega-malls and walking around them is overwhelming. There are so many choices, it's easy to become frozen with indecision. Things are shockingly expensive. I mailed two small things for about $18, while in Cozumel I can pick up packages from PakMail for 50 pesos (about $3 usd.) Places are spread out due to their size but walking the neighborhood is easy because no one is on foot. Parking lots take up a lot of space-in Cozumel they are small or you park on the street. The traffic is terrible, long lines and impatient honking, and I look at least twice each way before daring to step into the street.
Walking back to the hotel after a late party one night I wondered if I was safe by myself. The thought didn't come out of fear, just curiosity. Then I saw a man with a small fluffy dog and laughed out loud. My inner voice clearly said,
I came from Iowa and I live in Mexico, and Florida was almost a mix of the two. Palm trees and lizards with shopping malls and rush hour. It was familiar and strange at the same time. After the fourth day I was ready to go home, and I knew where home was.
Home is where my family is, but I truly missed being in Mexico. I realized that I missed hearing Spanish, and I missed having shops be small and family run. I wanted to go home to Cozumel and I didn't mind leaving the United States again.
It might be different when we do visit Iowa again, but it's people we miss most, not anything material we left behind. I'm hoping that more of those people will come to us and we can share our Mexico home with them.