Sailing Lessons on Gray's Lake, Iowa
For those unfamiliar with central Iowa, Gray's Lake is not a large lake. It's in the middle of Des Moines near downtown, and in previous incarnations it was part of the Raccoon River and a gravel quarry. After the epic floods of 1993 destroyed the fancy Holiday Inn that dominated its south shore it was kind of a nasty run down eyesore for years. In 2001 it was re-born; a 2 mile paved trail runs all the way around it including over a pedestrian bridge, a playground and a small marina were built, and the 167-acre park quickly became a favorite of Des Moines residents. It is haven for outdoor activity with kayaks, canoes and paddleboats as well as the trails and reclaimed prairie. The water is still dirty (it is Iowa after all) but the overall effect is pleasing and people flock to it year round, walking their dogs, riding their bikes and circling the shore rain or shine.
This is where our first sailing experience takes place.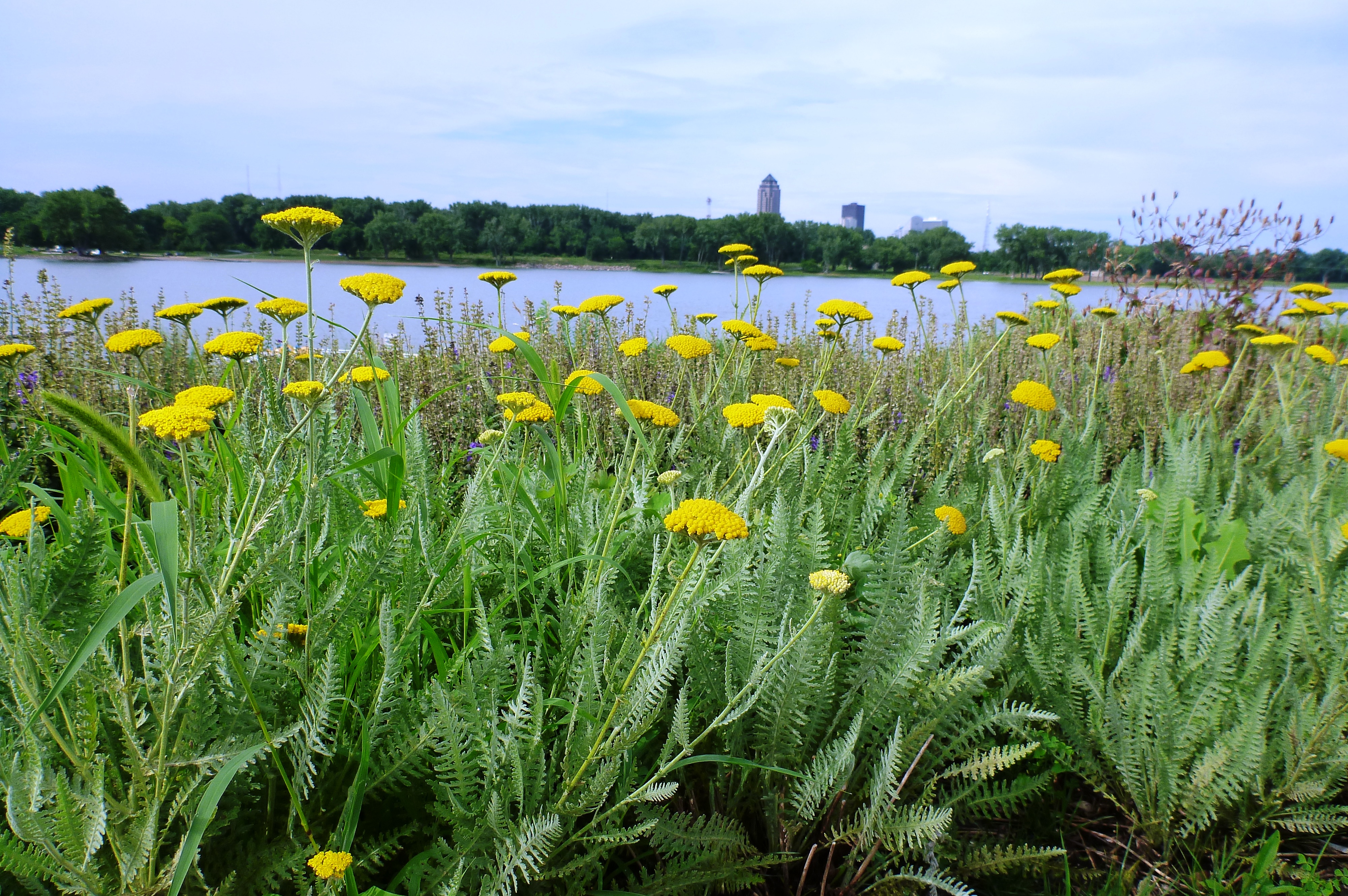 SAILING, DAY 1:
Two students down due to strep throat and a sudden trip to the hospital, my husband Jason and I sat in front of the folding table with only one other student, a woman in her mid-thirties named Carol. At least we'd get plenty of individual attention. We had signed up for an introductory sailing class through the Des Moines Community Education program and were being taught by a member of the Saylorville Yacht Club, Dick Leaders ( I have a hard time calling anyone "Dick" but that's his name.) The first thing he told us: "I don't know what we're going to do, there's no wind."
The class was laid out like this: Monday we'd have instruction from 5-8 pm, Tues and Wednesday we could come take out the rental sailboats for free practice time, Thursday the instructor would be present again to answer questions and help with any difficulty. With no wind on our first day it was hard to have the initial class time, and we didn't like the idea of just setting out on our own later in the week.
We spent the first hour watching Dick draw hulls and keels and wind patterns on a white board and casting anxious glances at the sky. He was not an artist, but we got the idea. We had to get up and move our chairs and tables once so the rowing team could get their million mile boat out of the storage garage, and we watched in awe as they edged it carefully past the door frame with what looked like 20 people carrying it on their shoulders. Boat terminology piled up and I regretted not bringing something to take notes: mono-hull, catamaran, trimaran, basics of boat directions (stern, bow, port, starboard) and parts (jib/jibe vs tack, head/tack/clue, lines-not ropes) Carol already seemed to know many of them and I wished I had watched more pirate movies to prepare.
Finally there seemed to be a little breeze and we marched out to the dock. We had to use the rental life jackets, which motivated us to think about buying our own. Jason is broad-shouldered and always a challenge to fit; mine just smelled funny.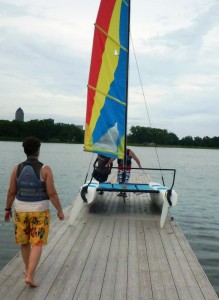 Dick put us on a Hobie Wave sailboat, made to hold a maximum of 800 lbs. We hoped to bring the kids out sailing later in the week, and there would be just enough room for the 5 of us. It seemed like a toy that we had to put together as we attached the rudders and tiller on the back and pulled up the rainbow sail.
I looked out at the paddle boats and canoes already on the lake, worried that our clumsy sailing would run our larger boat over theirs. I actually asked how we stop the boat if we're going to run into someone and Dick laughed, saying boats don't have brakes. He was staying on the dock so the 3 of us decided to go out together. There was so little wind it was immediately obvious that we weren't going to go fast enough to get into trouble. I wasn't sure sometimes if we were drifting or actually catching the light wind. The slightest breeze blowing the tell-tale ribbons attached to the lines got us all excited.
We were starting to get the hang of it and move with some purpose when we grounded our rudders near a storm drain that empties into the lake. Of course it would be dumping silt and sand into the lake along with runoff water. We jumped back and forth to shake the boat trying to wrench ourselves loose, scrambled to the front to take our weight off the rudders as Carol yanked them back and forth, but we stayed stuck. I quickly decided the boat wasn't going anywhere with all three of us on it, but none of us were really inclined to jump overboard into the brown water. I dangled one foot over as Jason cautioned that it might be deep-and with my butt still on deck my foot touched down on the sandbar. I stepped into the knee-deep water and pushed. Twice. It was hard to tell when we were free having only been on a boat for 10 minutes. I got us out to waist deep and we thought we'd be ok, but our instructor still had to come out and tow us with a john boat with a small motor.
Carol and I held on to the side of his boat as he dragged us back toward the center and deeper water. Then he followed us up and down the lake a few slow turns coaching us when to turn ("Tack!") and how to best catch the wind. It seemed we were constantly adjusting, with some occasional success. Mostly we were drifting.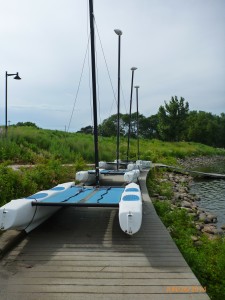 We each took a turn "parking" back at the dock with minimal crashing then the lesson was declared over. We sat back down in the garage to ask questions, dodged the rowers as they returned their massive boat, and found that we had become sailors, albeit painfully new ones. There weren't many questions, just a lot of "next time we should…" I think it's something you just have to work on, to learn by doing. With free rental for the week we'll be making the most of it. Hopefully tomorrow the wind will come along, too.
Tomorrow's post: SAILING, DAY 2
(Spoiler alert: We don't ground but I do wind up off in the water again.)