Why We Don't Do All Inclusive Resorts
Part 1
When we took our first trip overseas in 2008 it was a destination wedding on a big resort.  I looked at the resort accommodations where the wedding party and basically everyone else was staying and figured it would cost us about $500 a night to stay there ($345 plus an extra $145 per night to have the kids with us.) Even with meals and entertainment thrown in, this seemed ridiculous so I started looking outside the resort.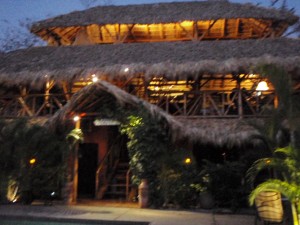 The Conchal Hotel down the road had 10 rooms around an outdoor pool and an open sided 3-story central office/lounge/dining room with a palapa roof. A double room was $90 a night with breakfast every morning and within walking distance of the big resort and the ocean. The bar on the second floor was on your honor. The owner himself picked us up from the airport and showed us around. It was small and personal, and we loved it so much my husband started talking about living there.
The price difference was the first issue, but the contrast between these two options is what got me curious. Why do people flock to all-inclusive resorts? I think it's the ease of having everything in one place; the food is there, the swim-up bar is there, the entertainment is there every night. Everyone speaks English and is there for the sole purpose of helping you. There are luxury spas and restaurants of various kinds. If you decide you want to go to an outside location you tell the desk and they arrange it and then transport you there and back. It seems like you can find just about anything you want on a resort, making it a neat little package-but is that what you came all this way for?
I prefer slightly messy travel where I choose where to sleep and what to eat and how to get around myself. It takes a lot of research and planning, but I learn about the destination in the process too. If I'm going to go all the way to another country I want to see it, not just the polished tourist presentation but the gritty everyday stuff.
Here are a few of the things that make us incompatible with the safe confinement of a resort: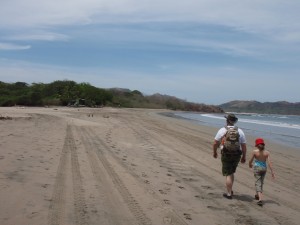 1. We like to walk a lot, which enables us to look around better than speeding by closed up in a taxi or isolated high up in a tour bus. A small place also makes for a quick exit while some resorts are cities unto themselves.
2.  We talk to people and pay attention to the day-to-day of the place we're in. On a resort your interactions are limited to staff and guests. We watched local people come home from work on packed buses, children get out of school, pickup soccer games start up in the town square, and chickens and stray dogs wander under our feet.
3.  We follow the local people to the grocery store and then cook some of our meals back in our kitchen. It saves money and it's fun to see simple differences, such as what kind of fresh fruits and vegetables are piled in the produce section.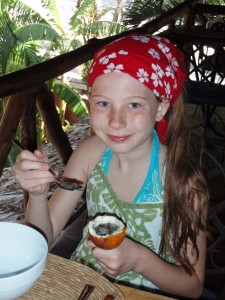 4.  We eat local food without fear. The main dish of the Conchal Hotel's breakfast every morning was gallo pinto made by local women-so good I still dream about it. We picked up fallen fruit along the roadside and brought it back to eat. The seafood in the restaurants was fresh caught and even the barbecue chicken pizza was amazing. The last thing I want when I travel is a burger and fries.
5.  We travel to experience other cultures and see the world, not to be entertained. I want to see how people live and what the locals do on a regular night for entertainment. We do go on tours sometimes but I don't want to see a show put on for me all day long.
Think I'm wrong? Let's hear what kind of travel plans you like.