Selling the House and All Our Possessions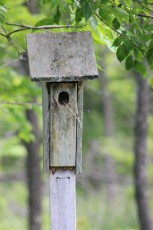 It's been a whirlwind of activity around here, and every day I think "I'll update the blog tomorrow." Well it's not going to be slowing down any time soon, so let's play a little catch up.
THE HOUSE:
We have been working on the house for months making all the improvements we planned on back when we bought it four years ago. The kitchen got a complete overhaul; new stove, new paint, updated countertops, new hardware, cabinets moved around a repainted white inside and out (do you know how many coats that takes?!? Sadly I do.) Almost every room got painted by me, bland neutral colors that make it feel like we are living in someone else's house, and I choose to believe we are. We have made this house over for the people who buy it, not for us.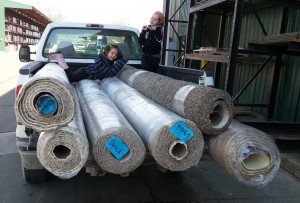 All the carpet on 3 floors had to be replaced, something I admit I was hoping to avoid being a part of. After my husband Jason cut his knee down to the bone doing it I took over and did about half of that, too, under his guidance. Turns out I have a natural talent for laying carpet, just in case this writing thing doesn't work out. However if people keep injuring themselves around here I'm going to learn to stitch them up myself to save time.
Drywall was patched, trim touched up, decking rails replaced, leaky windows replaced, and the list goes on. We did it all ourselves because 1)we can, and 2)knowing we can do it makes it seem silly to pay someone else 3x as much to do it for us. The trade off is that it's taken about 5 months to get it all done on our own.
So was it worth it?
Our house finally went on the market last week, even though there was still clutter to clear out. I have been afraid that we would be stuck here waiting for it to sell, delaying our move indefinitely. We had an offer within 12 hours, above asking price. Shocked, we took it. Just like that our house is sold. Our realtor said, "This Mexico thing is really working for you, it's all just falling together." If only it was that easy!
THE FAMILY
So now that our house is sold it's becoming real to relatives that we really are leaving for Mexico in a few months and there is a bit of distress and tears starting. I knew this would happen eventually, and I expect it will only get worse as we approach time to leave.
After the new owners take possession of the house we'll have to live with my mother-in-law for the last few weeks and I think getting to see us every day might help her. There is a wedding in Wisconsin in June, we promised the kids a Bon Voyage party with all their friends, and we need to visit my parents in Arkansas sometime, say all our goodbyes. We aren't coming back any time soon.
My oldest daughter, Chenoa, who moved out in November finally came to visit. The little girls were overjoyed to see her, of course, but I felt more awkward for a while. What do you say to the child that broke your heart? We carefully kept the conversation on neutral topics, and I held in any snarky remarks that came to mind, and it was ok. Old habits fell back into place for the afternoon, I was amused that she seemed to enjoy being in her old role as one of the kids and I was reminded how young she is.
She's coming again this week. I wouldn't say we're back to normal, but at least we'll get to see her a bit before we leave. I was starting to think she'd put it off until it was too late and we'd be gone.
There is this feeling of lightness, the weight of being responsible for her has been lifted, and I have to admit that's kind of nice. I finally understand why people don't mind when their kids move out, although I'd still rather keep my babies close forever. Her dad complained for years about missing out on being a parent, let him take a turn doing all the dirty work and I'll be the fun one for a bit.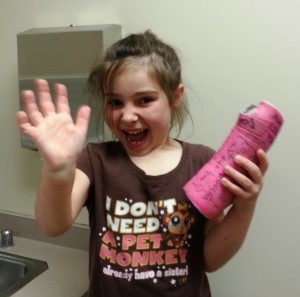 The little girls are tired of school, and we are tired of school, and I think making the change to worldschooling will be a relief for all of us. Not to mention we can sleep in.
Five days before Rory got the cast off her broken arm she landed wrong on the trampoline and sprained her ankle (just glad it wasn't broken too!) At some point June also hurt her ankle, so we've been wrapping their ankles and Jason's stitched knee every day like a family of mummies
One of our neighbors is also moving, and Rory is friends with their daughter, so she had a hysterical fit that they were leaving, which I found ironic since we are leaving too. There's no understanding the logic of a 6-year-old sometimes.
THE JOB
Jason has been doing his trial of working from remote this month by working out of the house. It's a little weird to have him around ALL THE TIME since I'm home most days myself, but his employer seems happy, and he likes being here, so it's all good. The only time Jason has seen his boss was the evening that he came over and helped cut kitchen trim when we found the angles were beyond our skills, help we desperately needed-he has a room at our place in Mexico anytime.
I stopped working at the nursing agency around Christmas so I could focus on the house. Plus I really hated it-they just wanted a warm body in place and frequently put their nurses in over their heads.
THE STUFF
There are so many loose ends to wrap up in the next few months. A house full of possessions needs to be whittled down to a few suitcases by mid-June, and you never realize how much stuff you have until you get it all out at once. The garage is packed right now and this weekend is the city wide garage sale, but it's supposed to rain so I'm not sure we'll be able to get anything out. Goodwill is a regular stop when we go to town. I hate to throw things away if someone else might be able to use them.
The few things we are storing like pictures and keepsakes will go into plastic tubs and be kept in Jason's mom's basement. I'm very aware that this is something they are not very happy about so I feel a lot of pressure to really keep it to a minimum. It's easy for me to get rid of my things, it's harder to get rid of June and Rory's things, so we'll see how many tubs we end up with.
As for the pets only the cat is going to come with as she'll be easiest to keep. The guinea pigs have to find new homes, much to Rory's distress, and a friend is going to take the dog. There is some guilt in not keeping the pets that we took responsibility for, and I'm going to be pretty picky about finding them new homes.
I have to start contacting everyone who sends us mail to try to stop as much of it as possible, then we'll have what's left forwarded to Jason's mom and pick it up when we're here. Mail service in Mexico seems to be spotty at best from what I've read but we can do a lot online.
WHAT'S NEXT
I went to Boston last for the Women In Travel Summit and was very impressed both with the conference and the city, so there will be some posts about that coming soon.
We're going to apply for temporary residency visas this week, something we have to go to Omaha for, so I'll let you know how that goes. We can do this on tourist visas if necessary, but residency status gets us local discounts, the ability to put utilities in our name, and just makes some things easier.
We can't set a solid departure date until my sister has her baby, so our plans are a little up in the air. As someone who likes to plan ahead this makes me a little crazy, but I'm a big believer in letting that baby come out when she's good and ready so I'll sit on my hands and wait patiently.
It's freeing to let go of things, to stop worrying about what you have and instead to look forward to days in the sun and new experiences. Only a little longer….