Travel Doesn't Make It A Vacation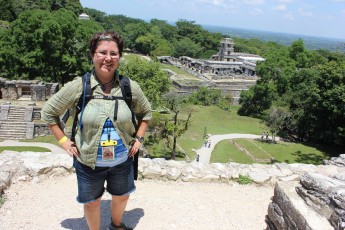 As a travel blogger I admit I'm always watching for the next opportunity to get away but I was pretty shocked when a relative said I had been "on vacation" at TBEX in Cancun.
Maybe it is my definition of vacation: to go somewhere with the intention of relaxing and maybe doing some sightseeing. Comfort is a must if not downright pampering, and alcohol is usually involved. By this definition I have only vacationed once in my life, when Jason and I went to Jamaica in 2010 for a romantic getaway. It was awful (he agrees.)
Sadly, the misconception is not really a surprise. It was hard to explain to co-workers or to relatives who were asked to watch our children that those 3 weeks I spent in Mexico was not a vacation. They don't understand why I would go to Cancun for something other than resorts and shopping. When I travel I'm not lying on a beach, there are no umbrella drinks, and every day I have a schedule and work to accomplish, for myself or someone else.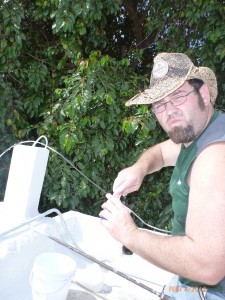 The very first time we went to Cozumel my husband Jason and I worked our butts off with Friends of Cozumel (FOC.) Working with the group he scraped and resealed the roof of a concrete house in the sun while I painted every surface inside it, we helped local students practice their English, helped to organize donations and run a bazaar (like a neighborhood garage sale.) You get the idea.
I like working in far away places. Yes, Jason has asked me why I can't just go lie on the beach and do nothing like normal people, but it just has no appeal for me. Yes, there are a few beach days and fun times but they are not the reason we are there. After all the work and sweat and grime with FOC I asked if he would rather have spent his time sitting in the sand with a drink and he grudgingly admitted that it was pretty great.
I went to Mexico in August not to relax but to learn and connect with other writers and travelers who are already successful, with a side goal of doing research to help with our upcoming move to Cozumel. I spent a week in Palenque in Marginal Boundaries Blogger Bootcamp, learning more about Mexican culture as well as blogging. Yes, we toured Mayan ruins and beautiful waterfalls but there were classes every day. I stayed up late writing and got up early every morning (and I am not a morning person.)
The second week I stayed in a hostel in Tulum that was so empty it made me lonely and homesick, then moved on to my soon-to-be island home of Cozumel. I met up with some friends there and did research on such exciting things as grocery prices and rental houses. I took time out for one morning of diving with a friend and a few dinners before catching the ferry back to the mainland.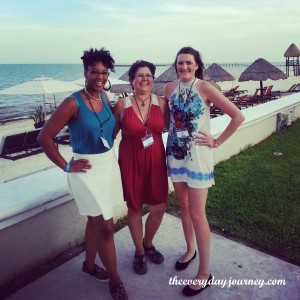 The last week in Cancun with my husband Jason might sound the most vacationish, but this was actually the most work. We were there for TBEX, a travel blogging conference, and while it was fun to be with so many other travelers we were representing my blog as a brand. We were also running from the crack of dawn until the early hours of the morning; tours, presentations, learning sessions, networking speed dates, and after hours conference parties, all reached by spending hours on public buses. It was exhausting.
When I come home my kids are always frantic to see me, stressed from having people who don't know the routine watching them, and overcome with guilt I vow that I will never leave them behind again. For the two weeks before he joined me Jason had at least one sick kid every day as super contagious hand/foot/mouth made the rounds at school. It's no vacation for them either when I'm gone, something I don't take lightly. Leaving my family is always the worst part of travel, and one of the perks of moving to Mexico is that we can explore more together.
I love to go just about anywhere, but that doesn't mean every trip is a vacation. I don't hear any other business travelers being told that the hours they spent working in a far away city were "vacationing" just because the view outside was nice or the weather was warm. My mother in law is in Seattle all this week and I doubt anyone will tell her she's vacationing, even though it's a beautiful city with lots to see. When you see those smiling pictures of me with the people that I meet, think of them as co-workers; hopefully you have at least a few fun co-workers so you can relate.
Travel writing and blogging isn't a 9 to 5 job, so it may not look like work but it is. We are ducks on the water, smooth on the surface but paddling like mad underneath. We make it look like it's all fun and adventure, posting pictures of our smiling faces while our minds are very much at work noting details and filing ideas. That trip is work, and creating a blog about it is as well. I can spend hours getting each post right, writing and rewriting, checking that the photos will look good, promoting it once it's posted.
So when you hear from or help out someone who travels for a living think before you call it a vacation. It's a job, one that we chose just like you chose yours, and I think being respected for what you do is always the goal for all of us.
I'm going to Boston in March for the Women In Travel Summit, and while I can't promise not to have fun I know I'll learn a lot and make connections that will help me as I progress in the travel business. I'll try to post some pictures of me working this time to offset that vacation image.