Tikal and 3 Kings Day Fireworks – Visa Run Part 7
After a 6 hour bus ride we were finally in Guatemala.  The tour guide for the ruins of Tikal had said they would pick us up "At 8, maybe 825," which I took to mean they would be late. We were sitting at the breakfast table downstairs in our hotel at 750 and had just placed our orders when the van showed up. So much for food, we had to go, couldn't keep the group waiting.
Tikal is a huge Mayan ruin in the jungle and you've probably seen it yourself. It was the rebel base in the Star Wars Episode IV, "A New Hope," the tops of the temples visible above the trees as the Millennium Falcon cruised in.
We would ride in a van with other tourists for about an hour, then tour the ruins and have some lunch, so as far as I was concerned the earlier we got started the better. Touring a place takes longer for us than for most people because we want to see it all, we want to find all the hidden corners and read all the information. Because of this we usually go on our own rather than with a tour because it allows more freedom.
However, the main purpose of this trip was to renew our Mexican tourist visas by crossing the border for a few days and coming back with a new 180 day stamp. I wanted to make sure we didn't have any trouble, this being our first crossing, so we were on a guided tour with a set schedule. If you've been reading along you know it's been mostly good, and I was starting to think maybe I had just been on the wrong tours in the past. Tikal would remind me why I preferred DIY.
I was surprised to find we were the last ones in the van, and there weren't 4 seats left together so Jason was in the front with the driver, June in the second row with a Czech couple. Rory was going to have to sit with a young man, but he opted to take the empty seat all the way in the back with 2 other guys so she and I could have his double bench, something I greatly appreciated because Rory doesn't like strangers.
We drove around Lake Petzen Itza marveling at how large it was, and stopped at a roadside store to use the bathrooms…and to shop, of course. You would think we could go an hour without having a shopping break, but apparently not. When we arrived at the gate to the ruins we sat for a another 15 minutes while our guide got tickets, even more frustrating. Finally able to walk around inside we perused more shops while waiting for our included guide, and we struggled with the kids wanting to buy things as the sales people urged them on. Our friend Glen had given us a map and I knew Tikal was big, so I really wanted to get going.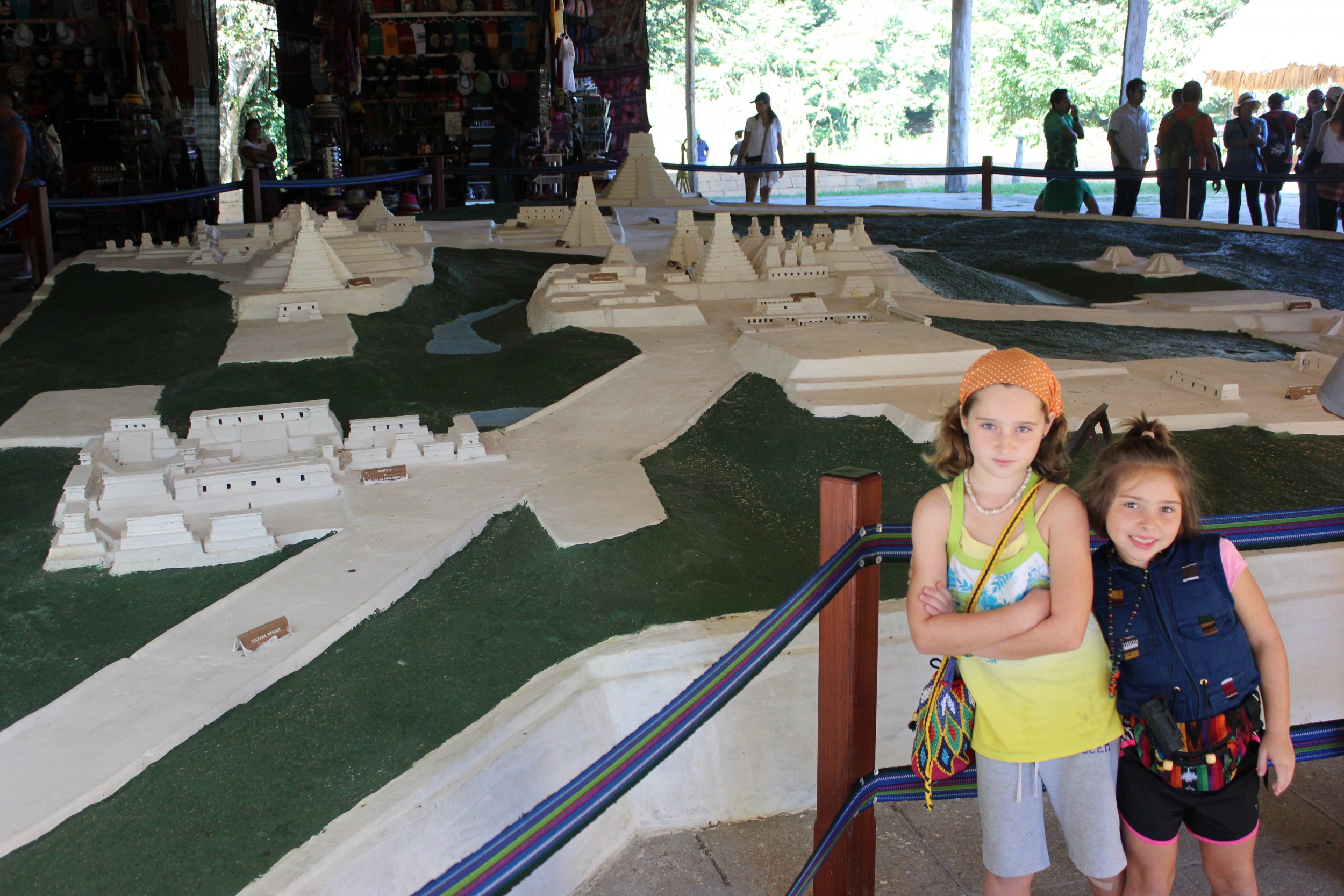 Our family must have gotten a different deal than everyone else as they were turned loose immediately while we were taken to the guide that would lead us through the ruins and introduced to the group of gray haired retirees already gathered around him. The driver pointed out a restaurant and told us to be back there by 2 for our included lunch so we could leave by 3pm. It was almost 10, giving us 4 hours in a place I had hoped to spend all day in, and I was not very happy about it.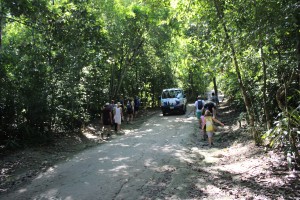 We finally got moving down the trail, stopping to look at a giant cieba tree, which is sacred to the Mayans as it connects the middle world (Earth) with the sky world of the Gods.  We followed a dirt road into the site and had to watch for trucks full of workmen that sped by now and then, noisy and distracting.
Further down the trail we reached ruins and the girls scrambled up the closest temple while the guide lectured the group. Jason and I listened, trying to be polite, and some of it was interesting, but I kept as eye on my girls as they cavorted on top of the structure, cheerfully talking to other visitors. They met a woman from Minnesota who traveled with  a little stuffed llama on her backpack that charmed them.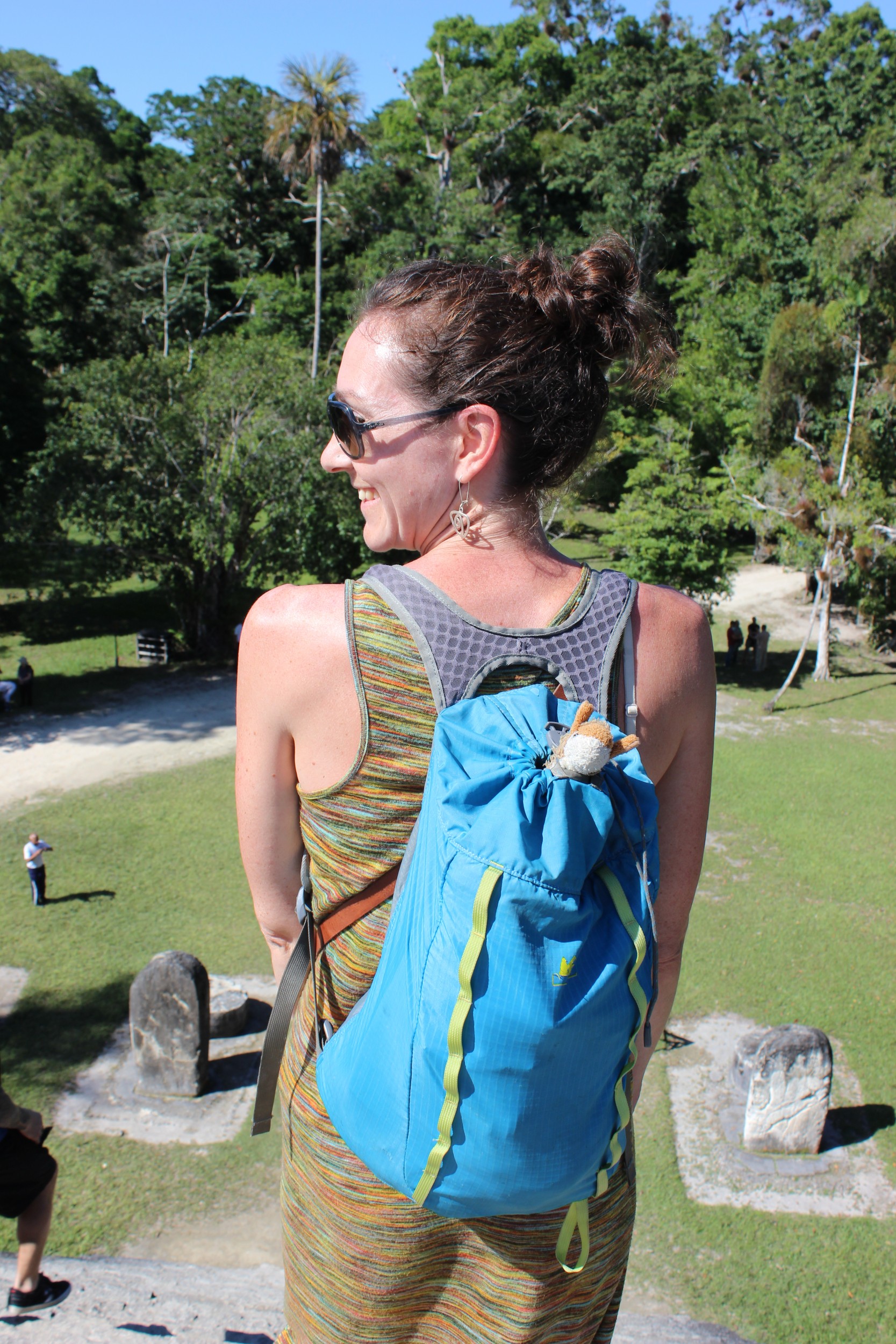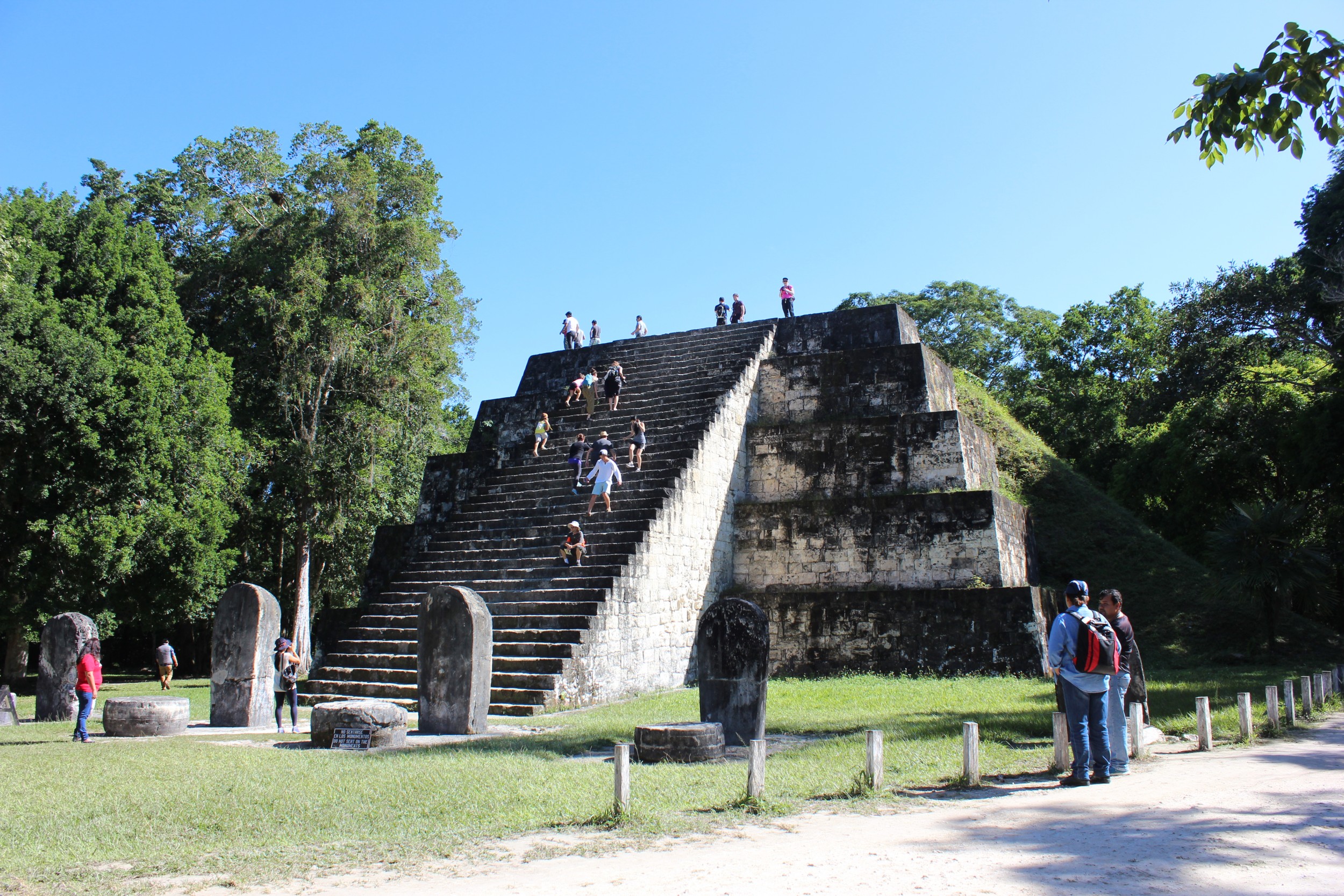 When the guide stopped talking he offered to let the group climb the temple, then led us past the remaining structures in the group without approaching. I was glad the girls had run on the explore them on their own, but had to call them out to keep up.
We went up hill and came to the back of a large impressive Temple I. Yes, the back of it. No climbing, everything roped off. More lecturing from under the shade trees, then we followed the path not to front of it, but to the central Acropolis nearby. We were able to climb around while the guide talked, and in the jungle on the far side we found a group of coatimundi that included some babies.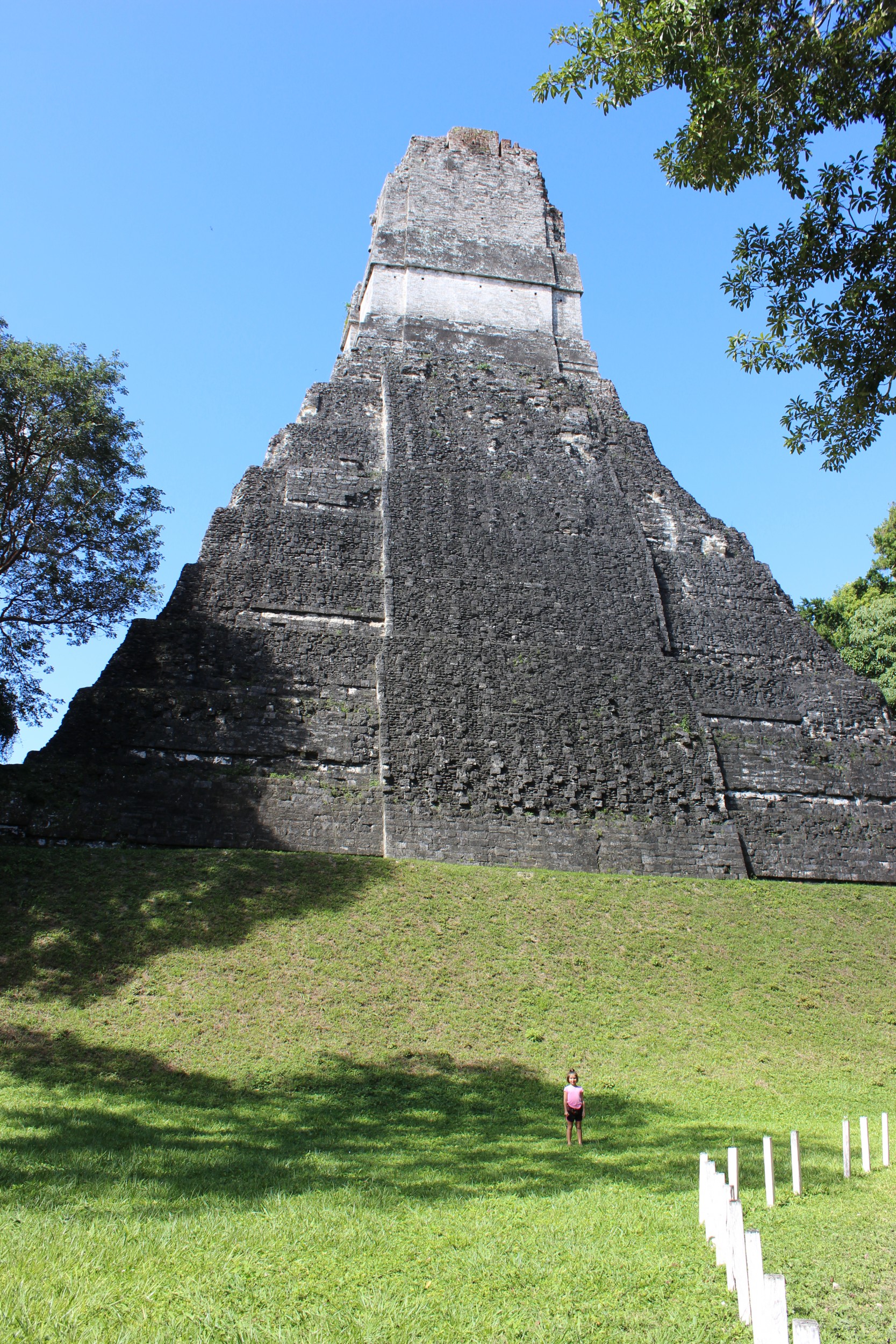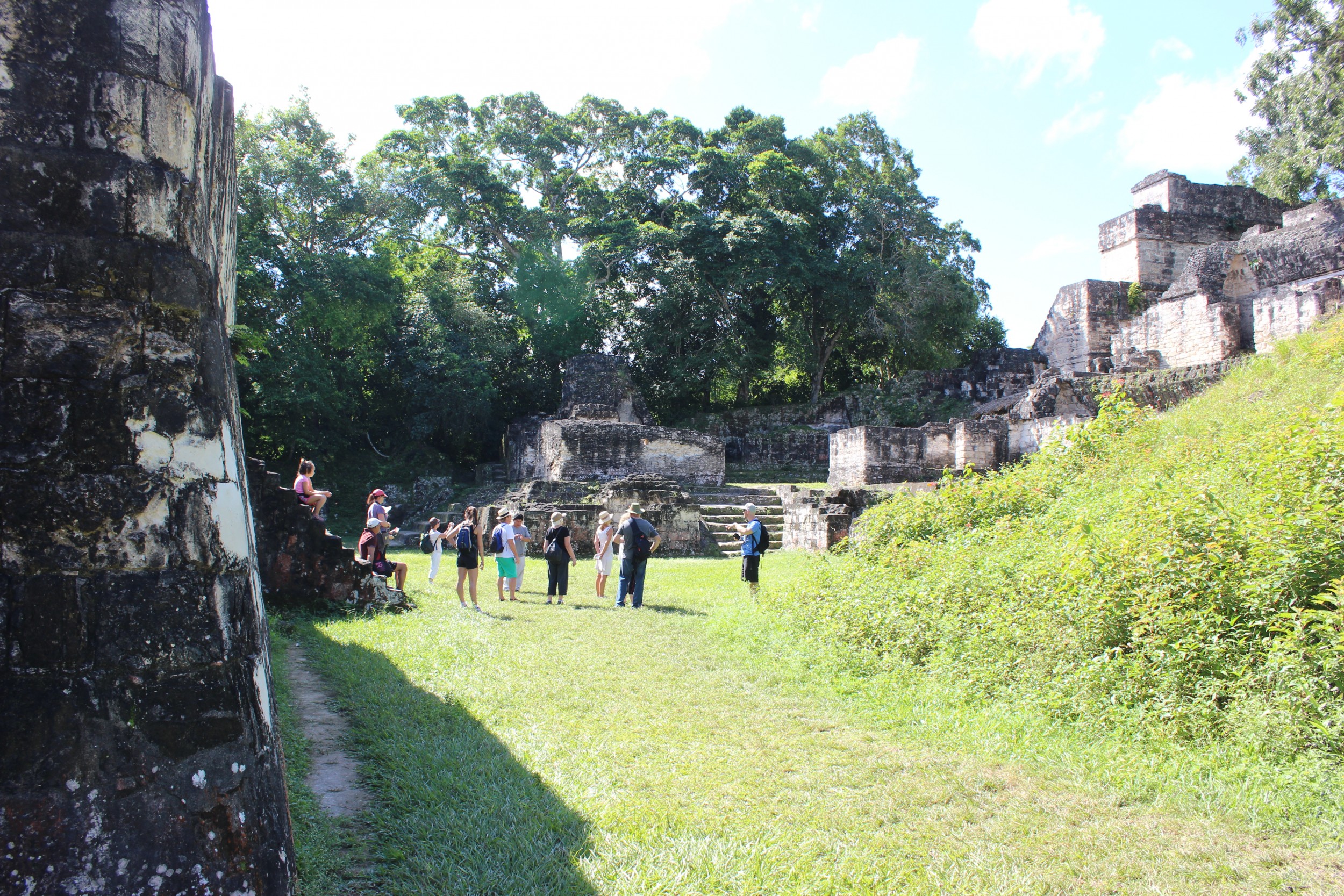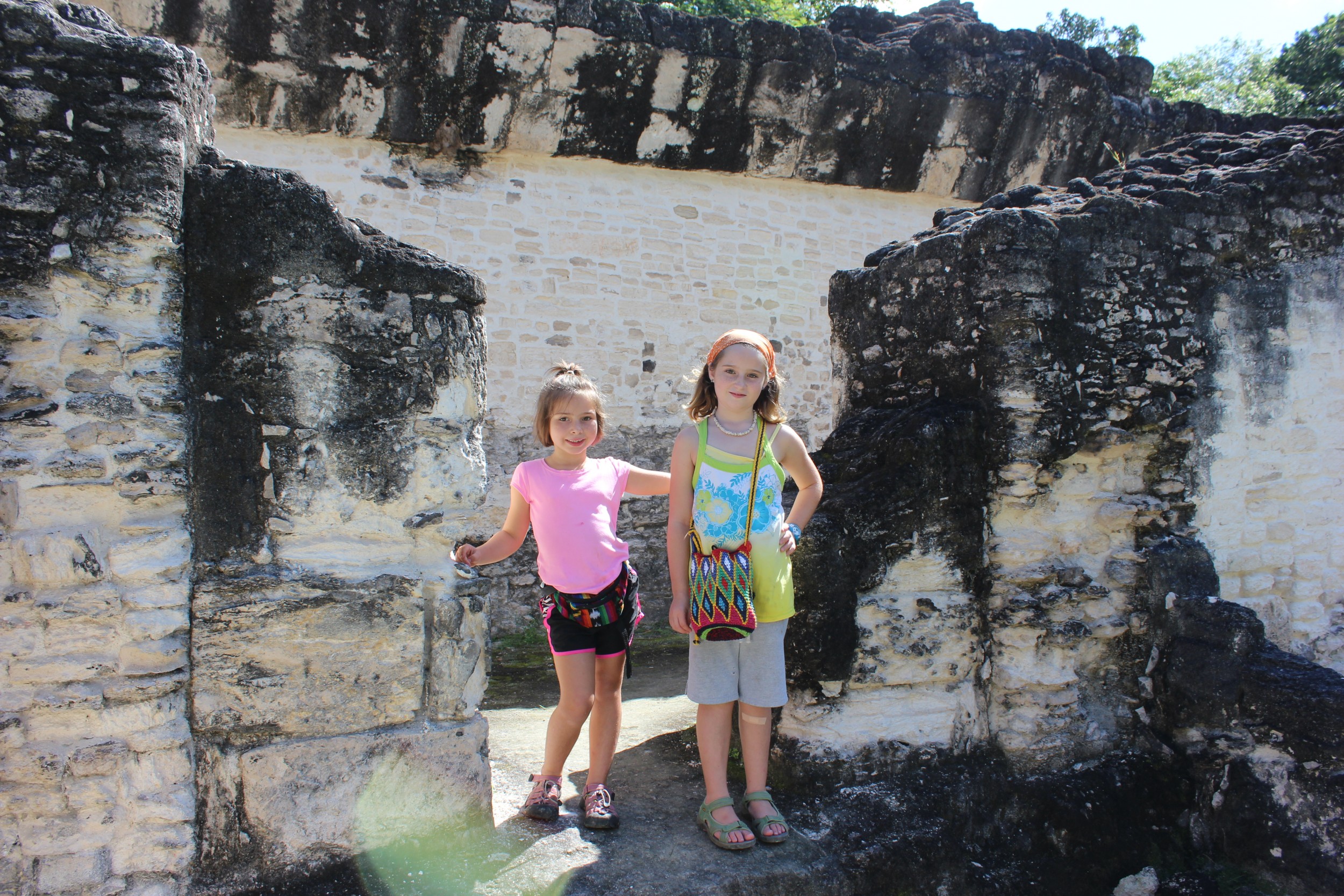 It's hard to understand the immensity of the site until you are standing on an already impressive structure and you look out over the trees to see another one reaching up out of the trees. Temple V wasn't all the close, but it was beautiful even from a distance. We continued around the far side of the central Acropolis and entered the main plaza that included the front of Temple I.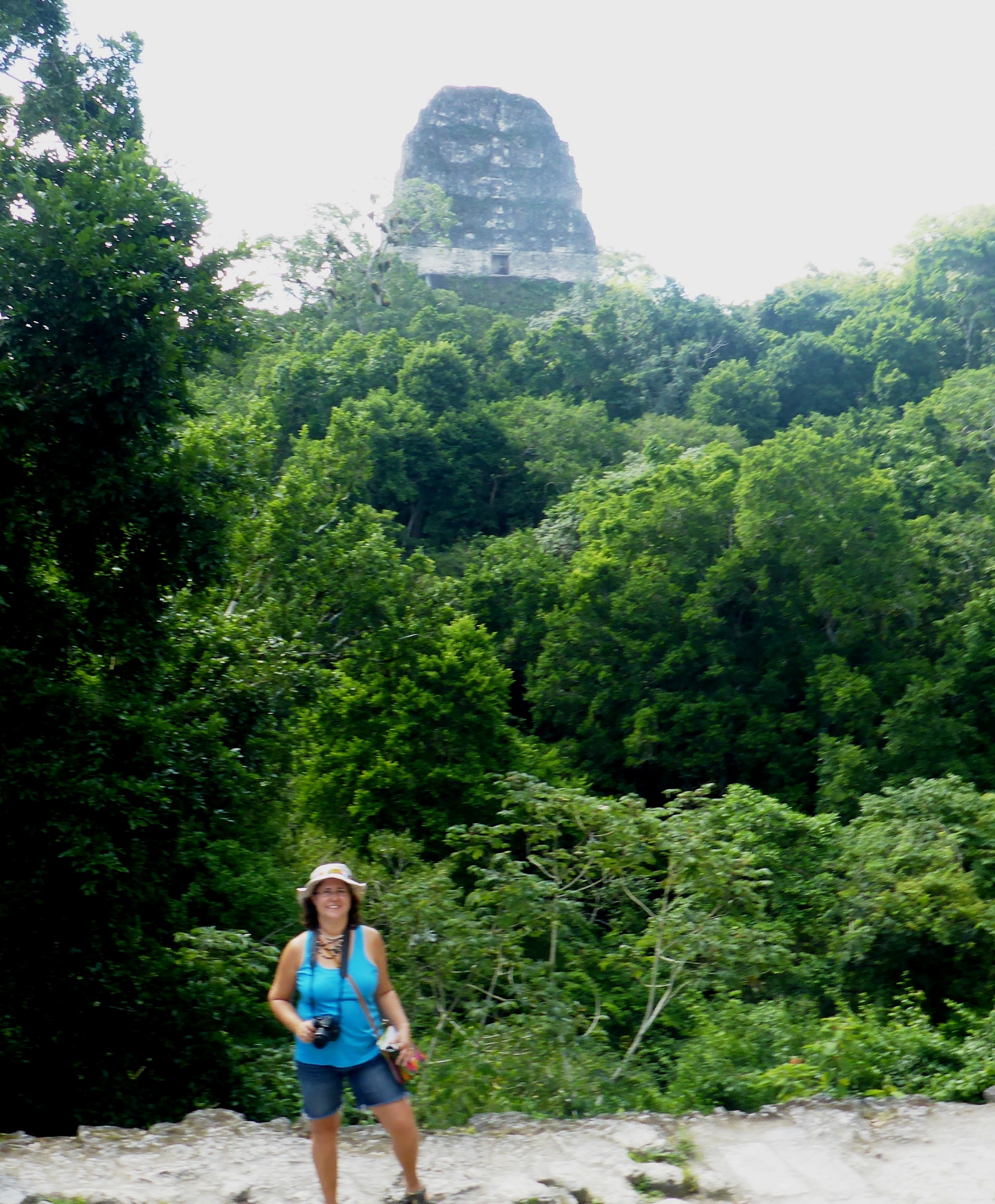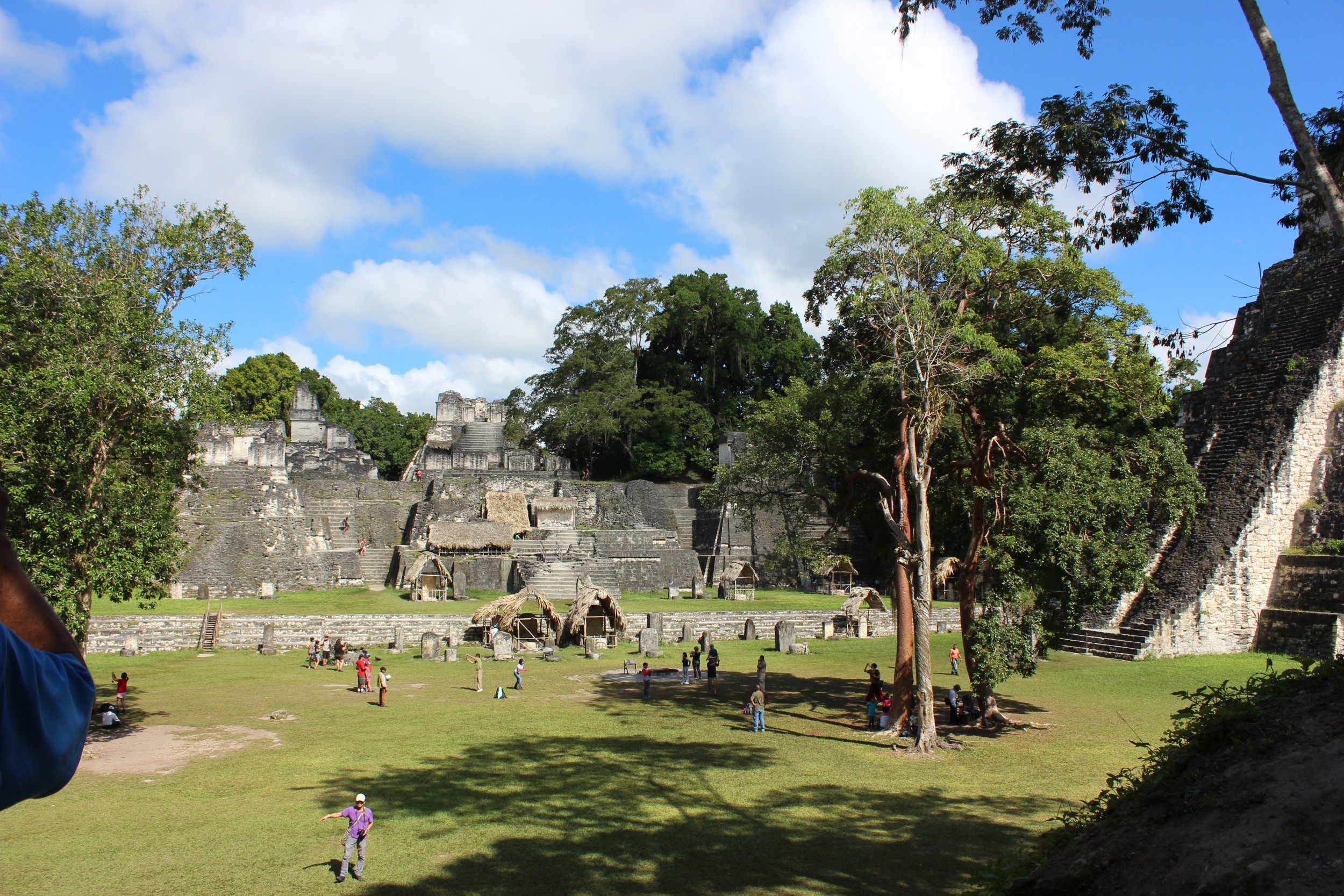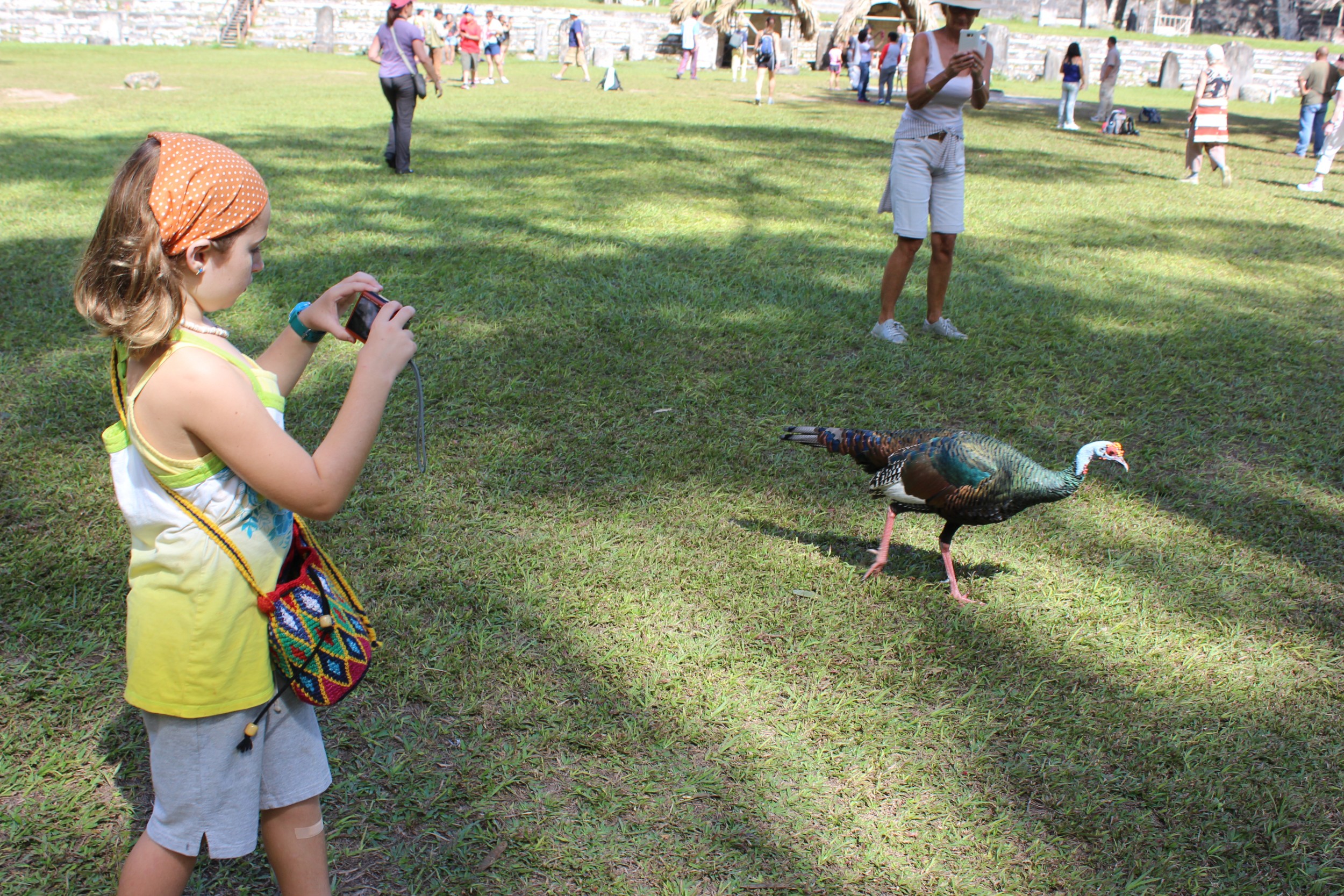 A rainbow colored oscelated turkey escorted us into the open square between the structures. Across from Temple I is the only slightly smaller Temple II and spanning the space between them off on the far side was Northern Acropolis.  Our guide led us to the center of the grass in between them and talked about the history of the place so long that I let the girls go climb on their own again. Everything there was climbable except the largest one, Temple I, but when he finished talking the guide was going to move on.
It had become obvioius that the goal was to go up the middle, hit the highlights and climb the last structure, then hike back out. We would miss 2/3 of the place and apparently stay mostly on the ground, and that wasn't what we wanted at all. I didn't want Jason to feel like he'd missed out on the history, so I asked carefully if he was enjoying listening. He shrugged, said not really, and we decided to ditch the group and start climbing. History is much more fun up close than listening to stories at a distance from everything.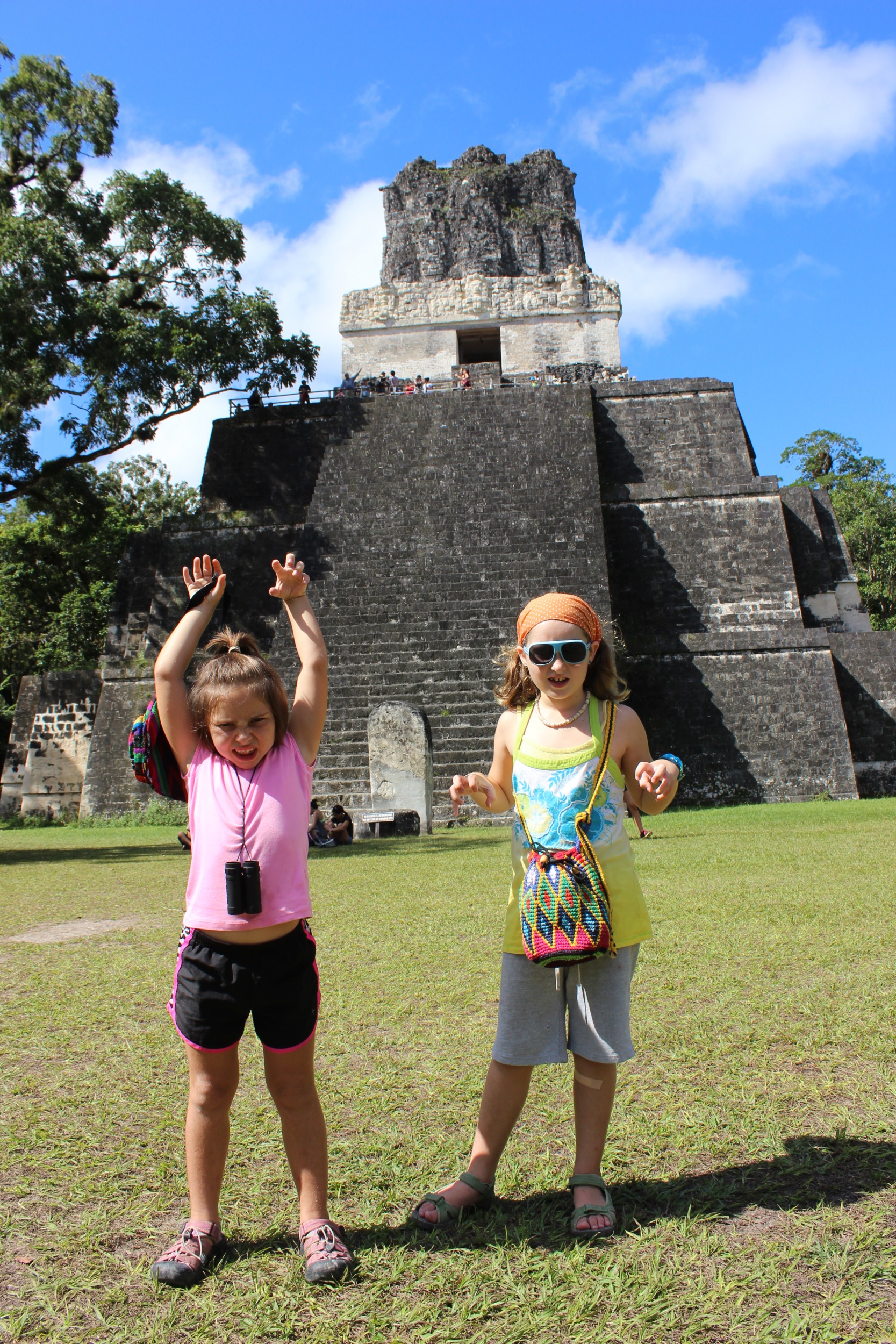 We started having more fun after that. We climbed up the wooden steps built to access the top of Temple II, something I thought was a smart way to preserve the majority of the structure while still allowing people to get close to it. There were birds singing in the trees at eye level at the top, and I promptly named this the jungle soundtrack. We chatted with other families and children who were clamoring over things next to us. We took photos for each other. We relaxed and explored.
I knew we wouldn't have time to see it all, but at least we could now choose what we did see and do. We continued along a similar path, sometimes seeing people from our tour group, but we enjoying reading the signs about the local wildlife and figuring out the information about the temples for ourselves.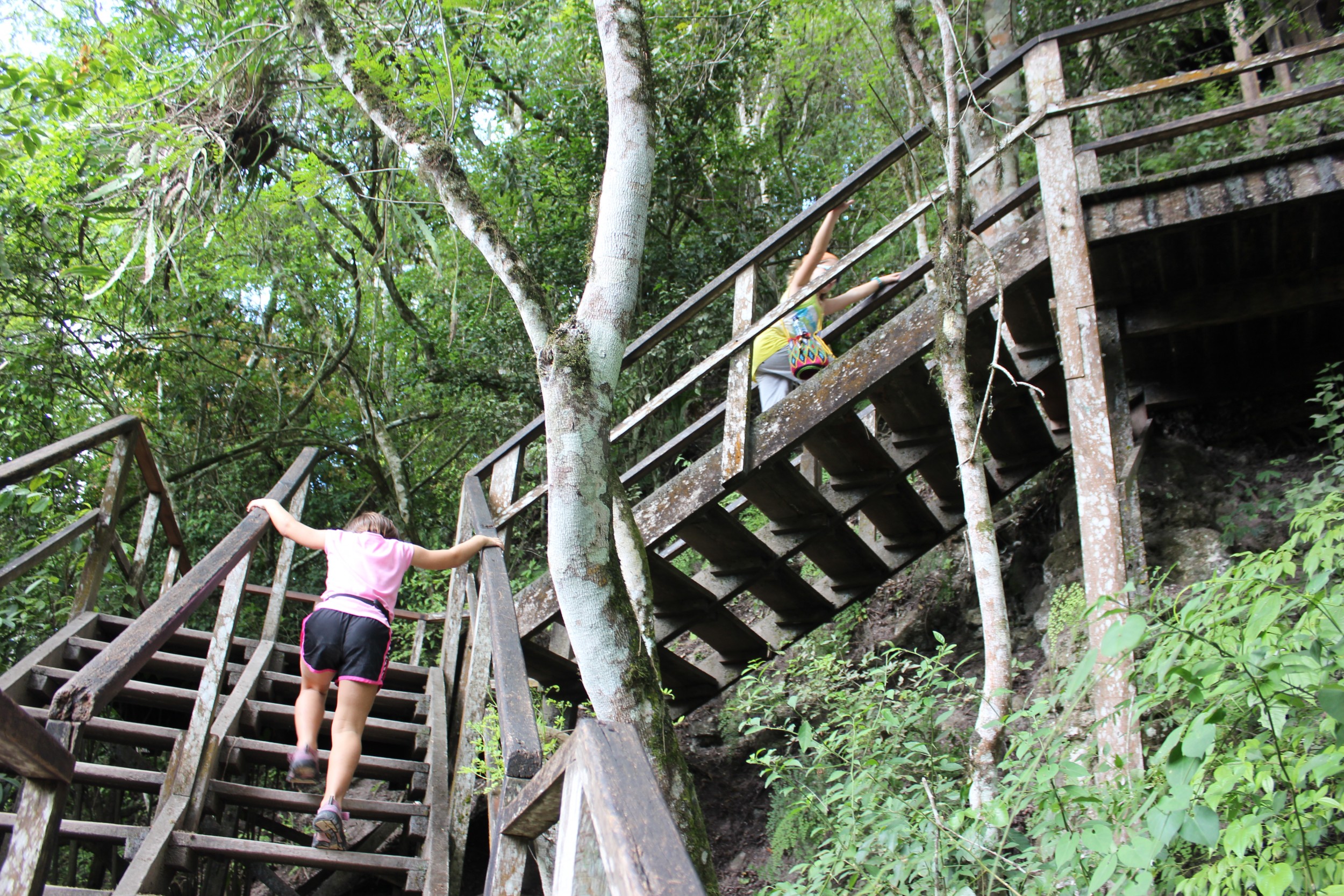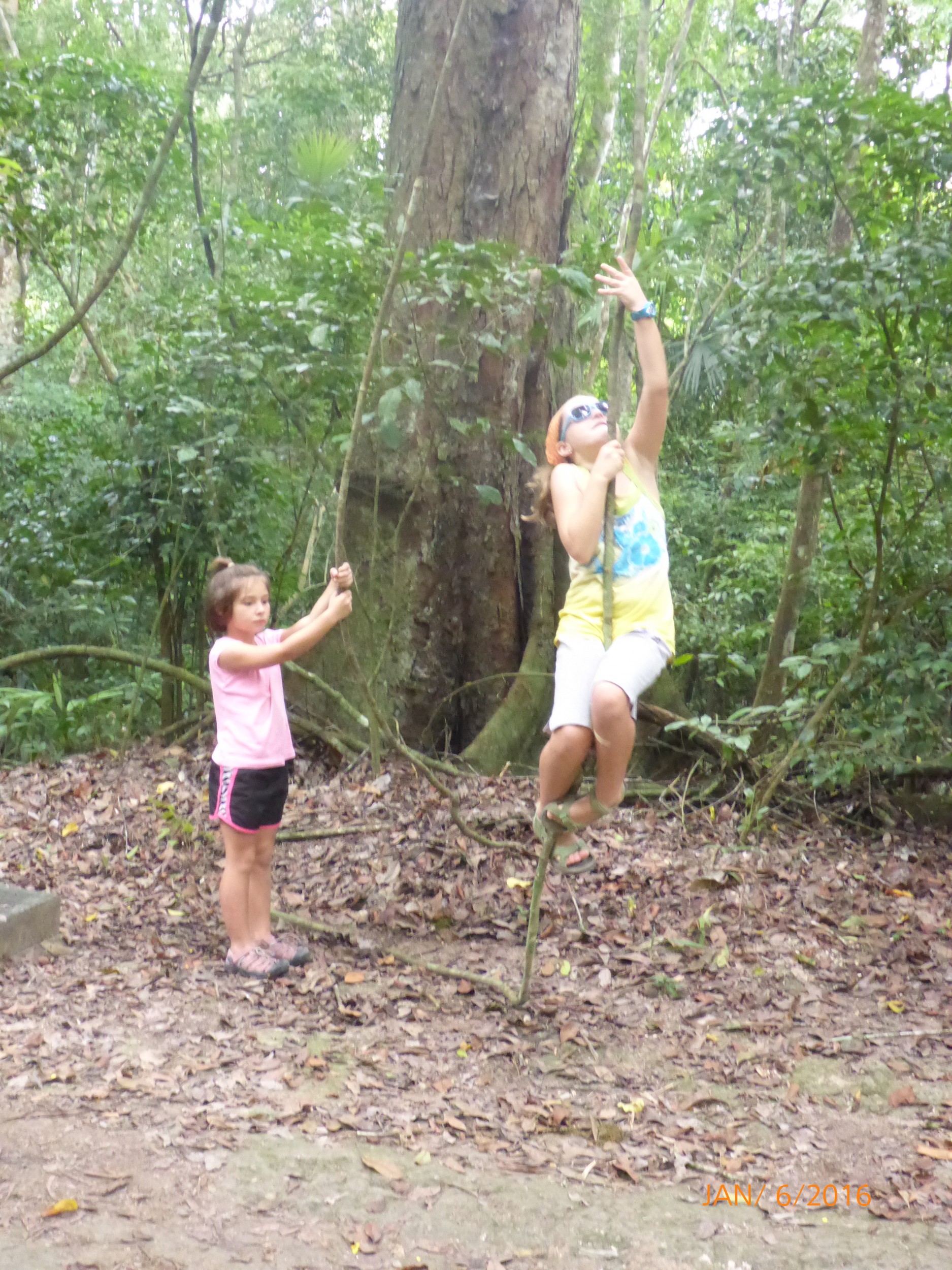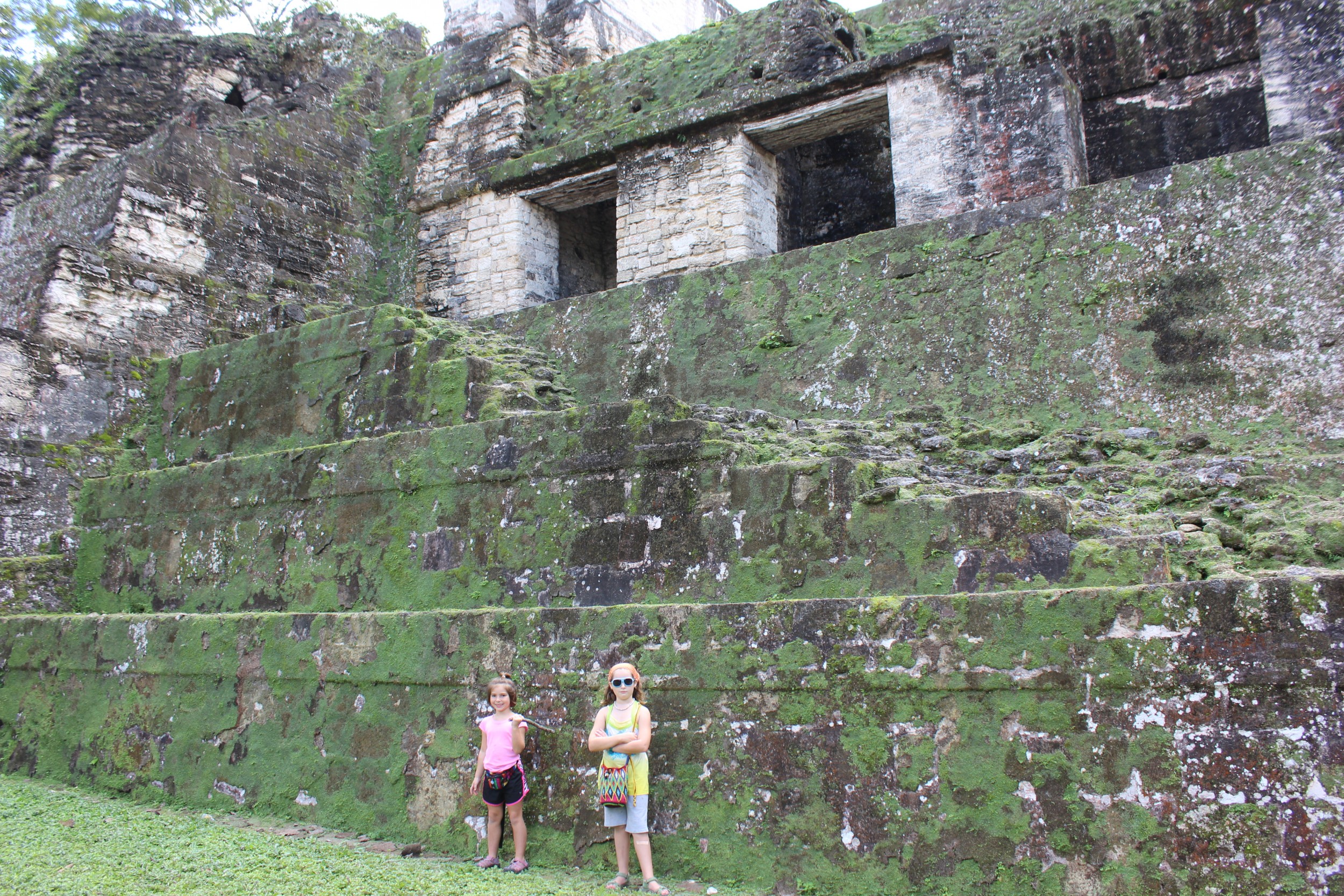 We climbed the biggest temple at the back and looked at the view that was made famous by Star Wars from heights that made Rory and I a little nervous. Most of the temple wasn't really excavated, there were wooden stairs zig zagging up the side to the well preserved top where we could look out at the back of Temples II and III.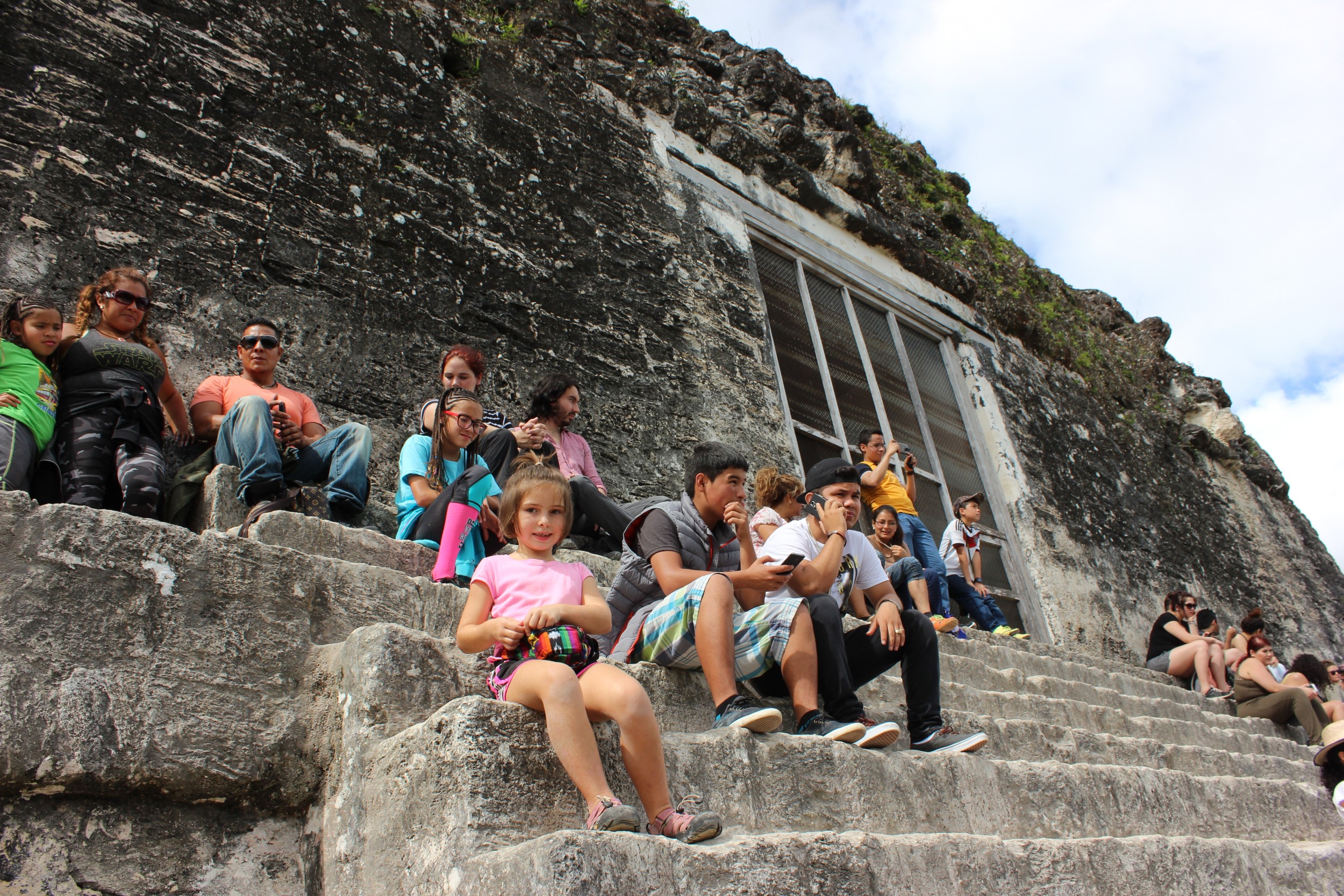 A lot of Tikal wasn't completely dug out, that was part of the magic of the place. There was so much more to be done, so much possibility still within the piles of dirt and rock, it was better, if not prettier, to see it and be able to imagine what it looked like when they first found it.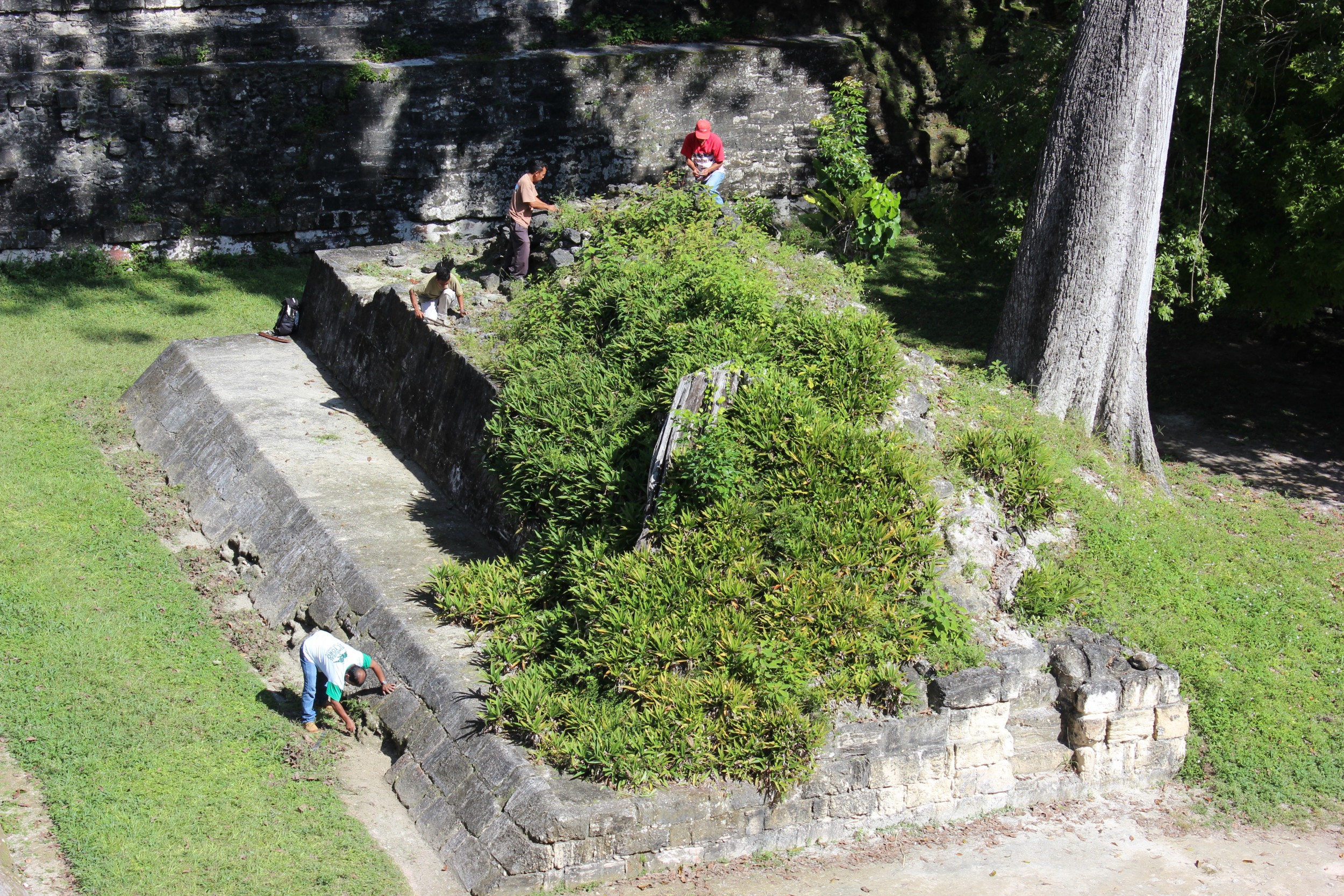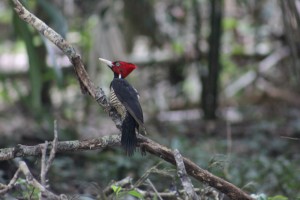 There were monkeys in the trees now and then, and a stunning woodpecker. With so many noisy people around I was surprised we saw much at all. An agouti ran across the road behind us once. We came across a group of bird watchers with binoculars and huge lenses extending from their cameras, and one of them showed me a photo of the tiny green honeycreeper they were staring up at when I failed to spot it.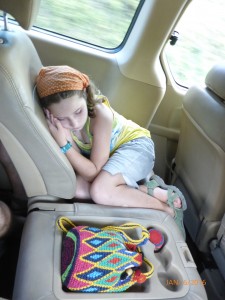 I had wondered if one day at Tikal would be enough, knowing that our friends Jo and Des from World Wide Adventurers had stayed near the entrance and spent 3 days in the ruins. Obviously it was not, so once again we saw just enough of a place to realize we needed more time and would have to come back to truly do it justice. Follow their example and stay close by so you can explore all you want, trust me, it's worth it.
We were back in Flores by 4pm, so we walked the streets exploring before the sun went down. The tourist area is pretty, and the locals were swimming in the lake. We were delighted to find a central square where stalls and games were set up, celebrating 3 Kings Day. The girls jumped on trampolines and played games.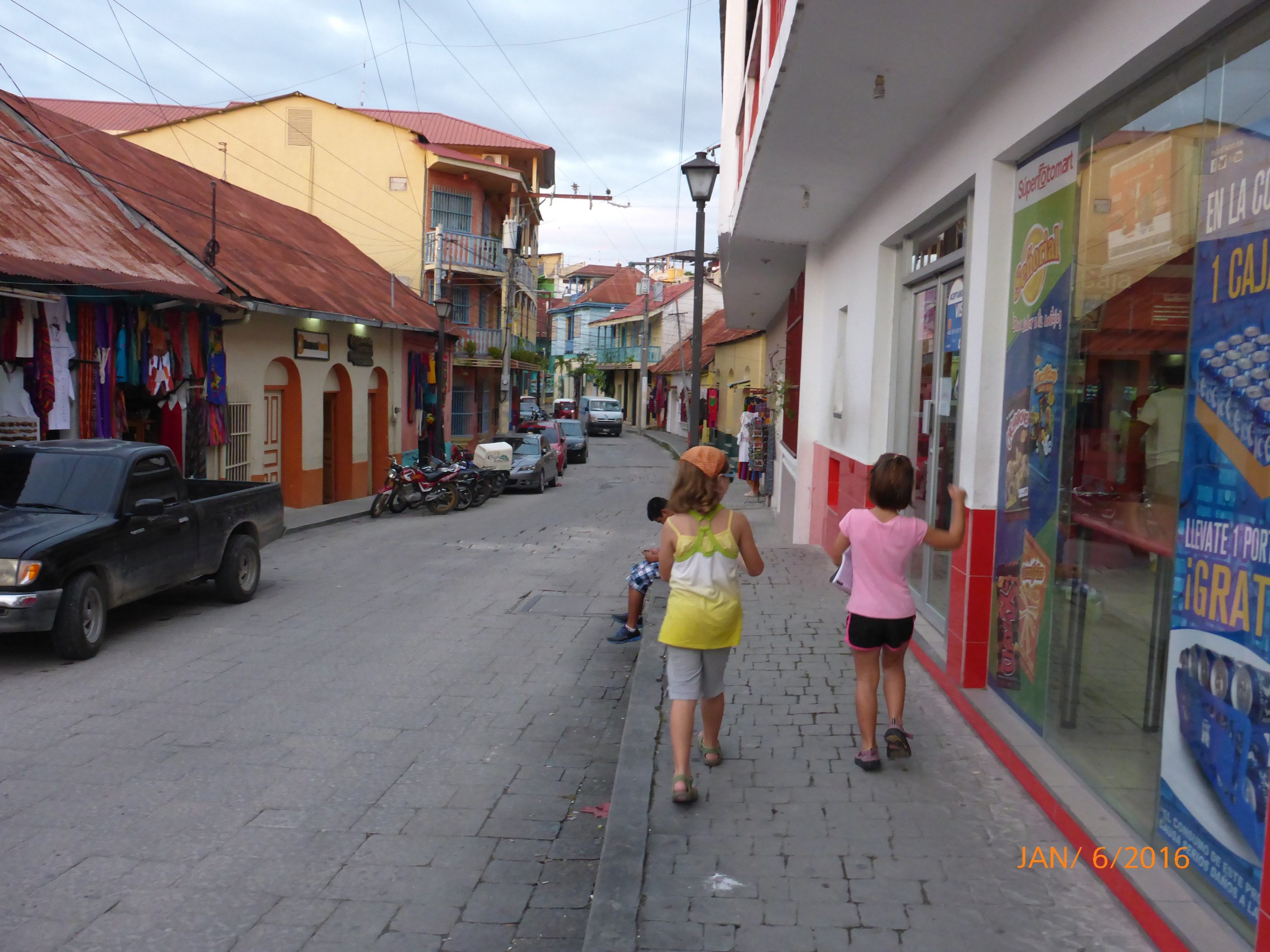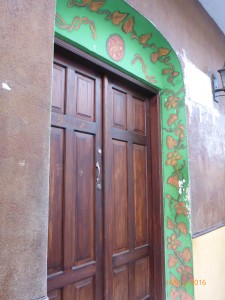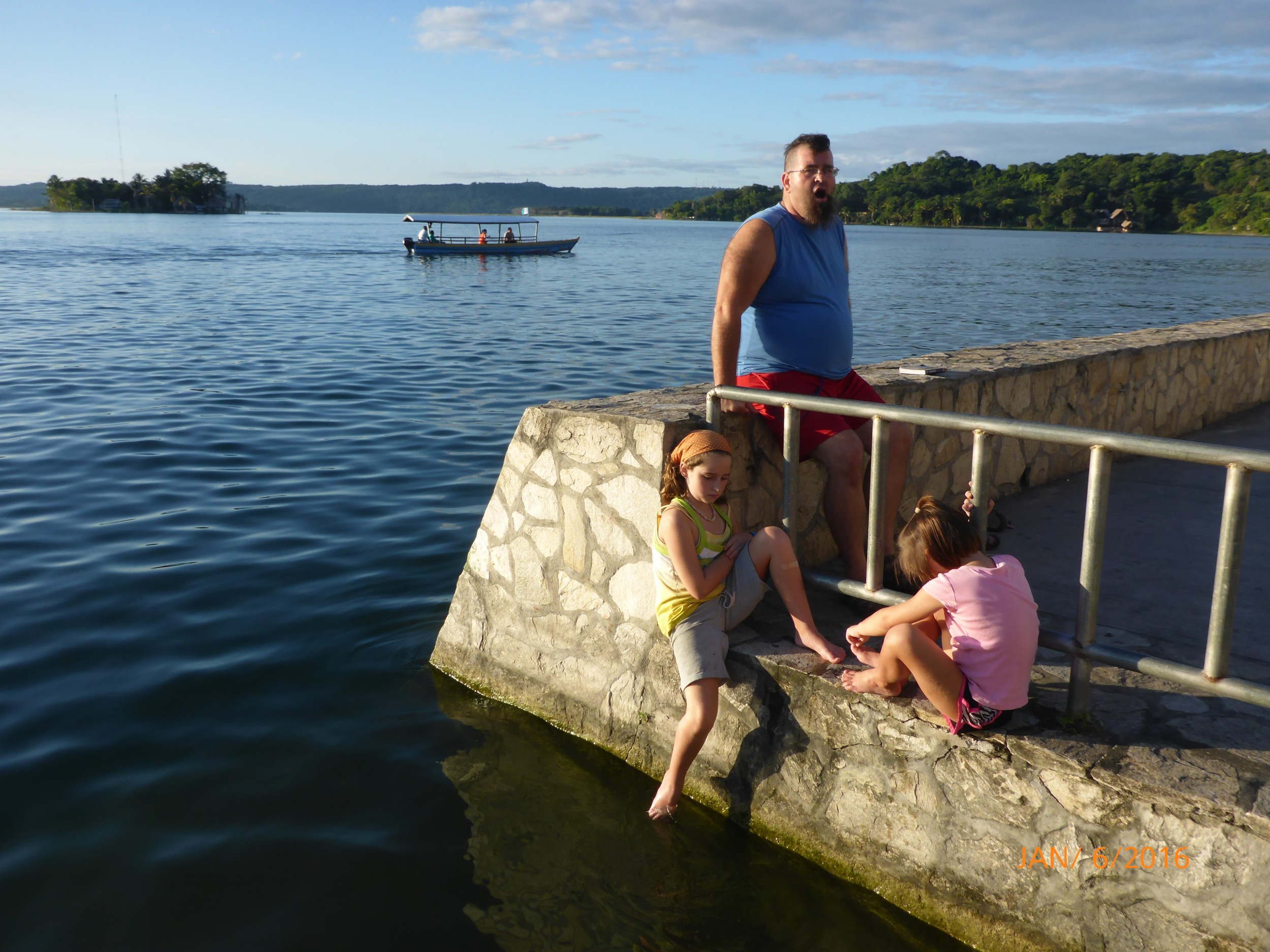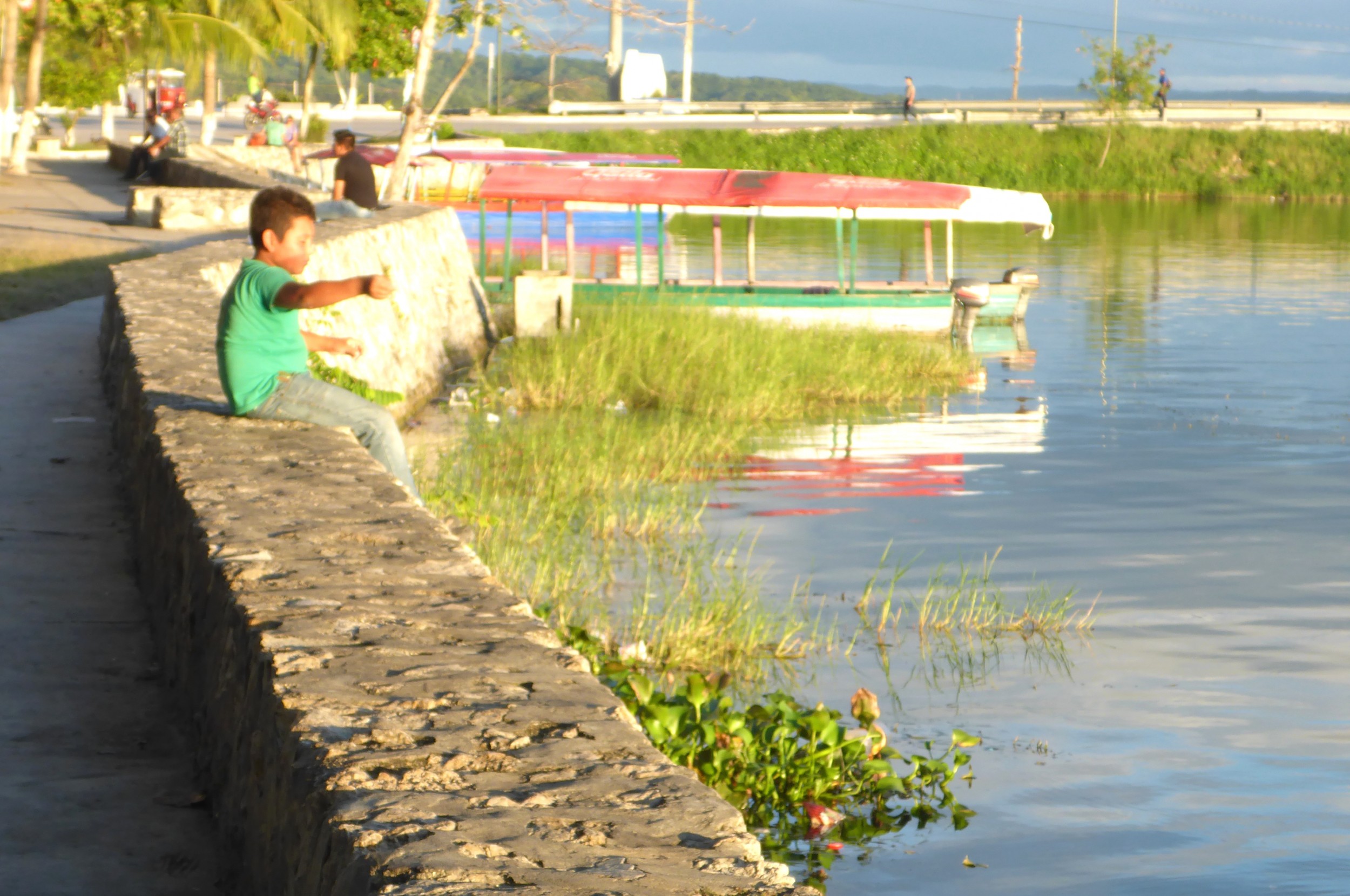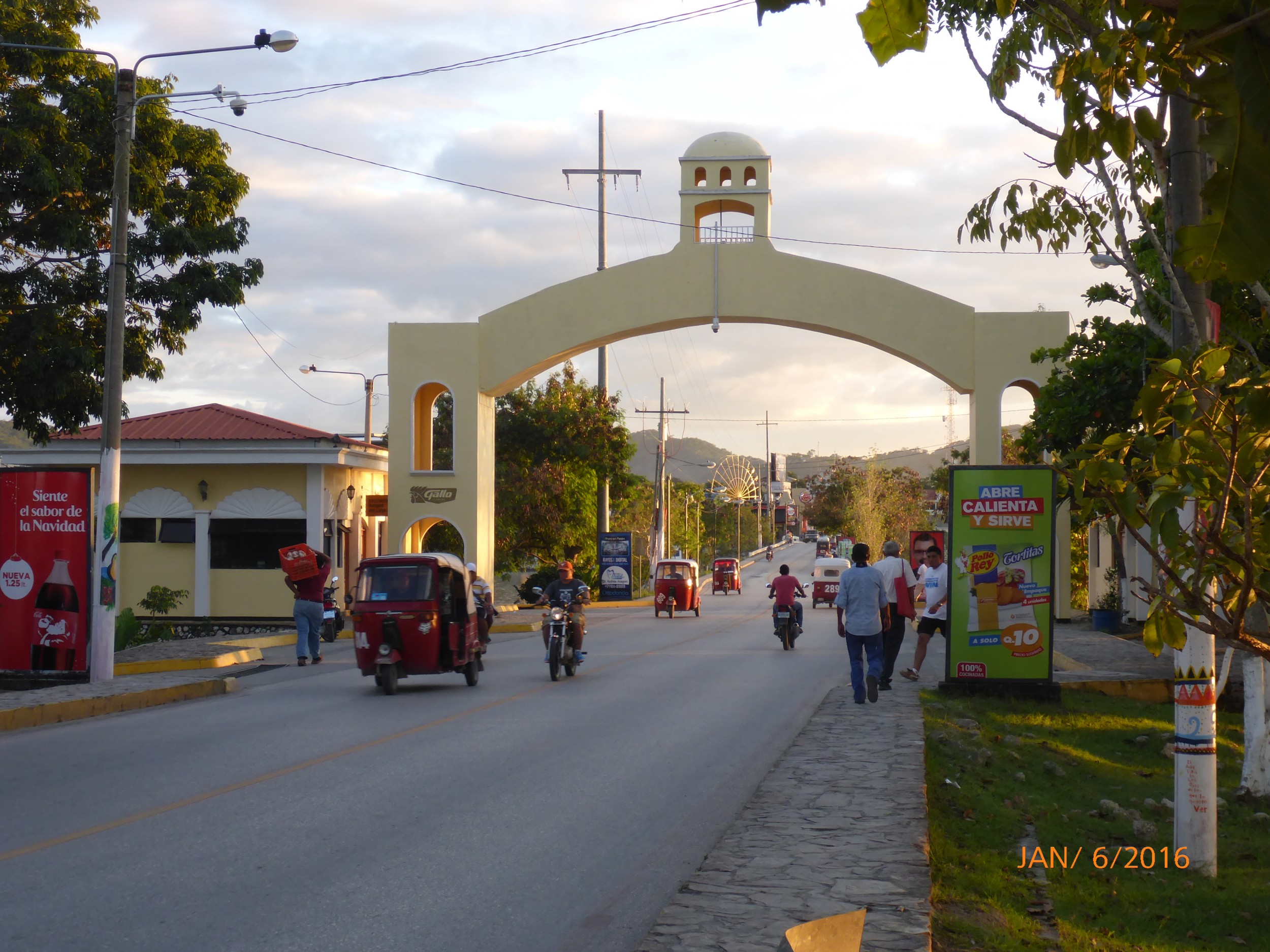 When church let out the crowd suddenly started moving, so we followed to see what was going on. A man with a triangle of pvc pipes covered in cardboard on his back danced back and forth in front of the church as fireworks shot from the structure, mostly up but not always. A bottle rocket shot between June's feet and she jumped. Rory got scared and started to cry. It was fascinating, but alarming.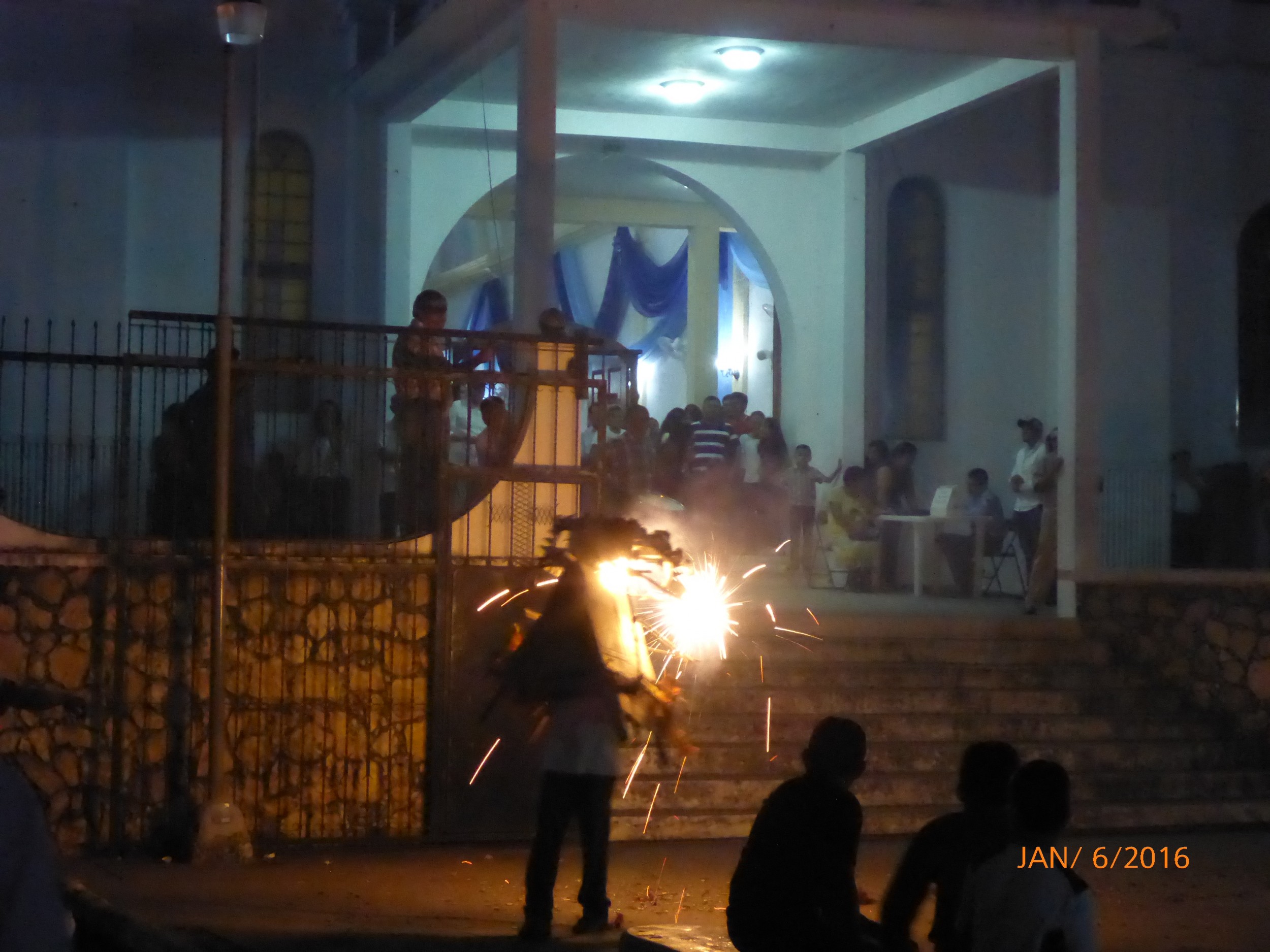 Then they got out a box about 2'x2′, peeled off the paper wrapping and lit it. It sprayed fireworks back and forth into the sky like chain gun, tremendously loud. Ash rained down, and I took Rory further back as she screamed in terror. I thought of American firework displays, controlled by computers and carefully placed in open areas and watched in amazement.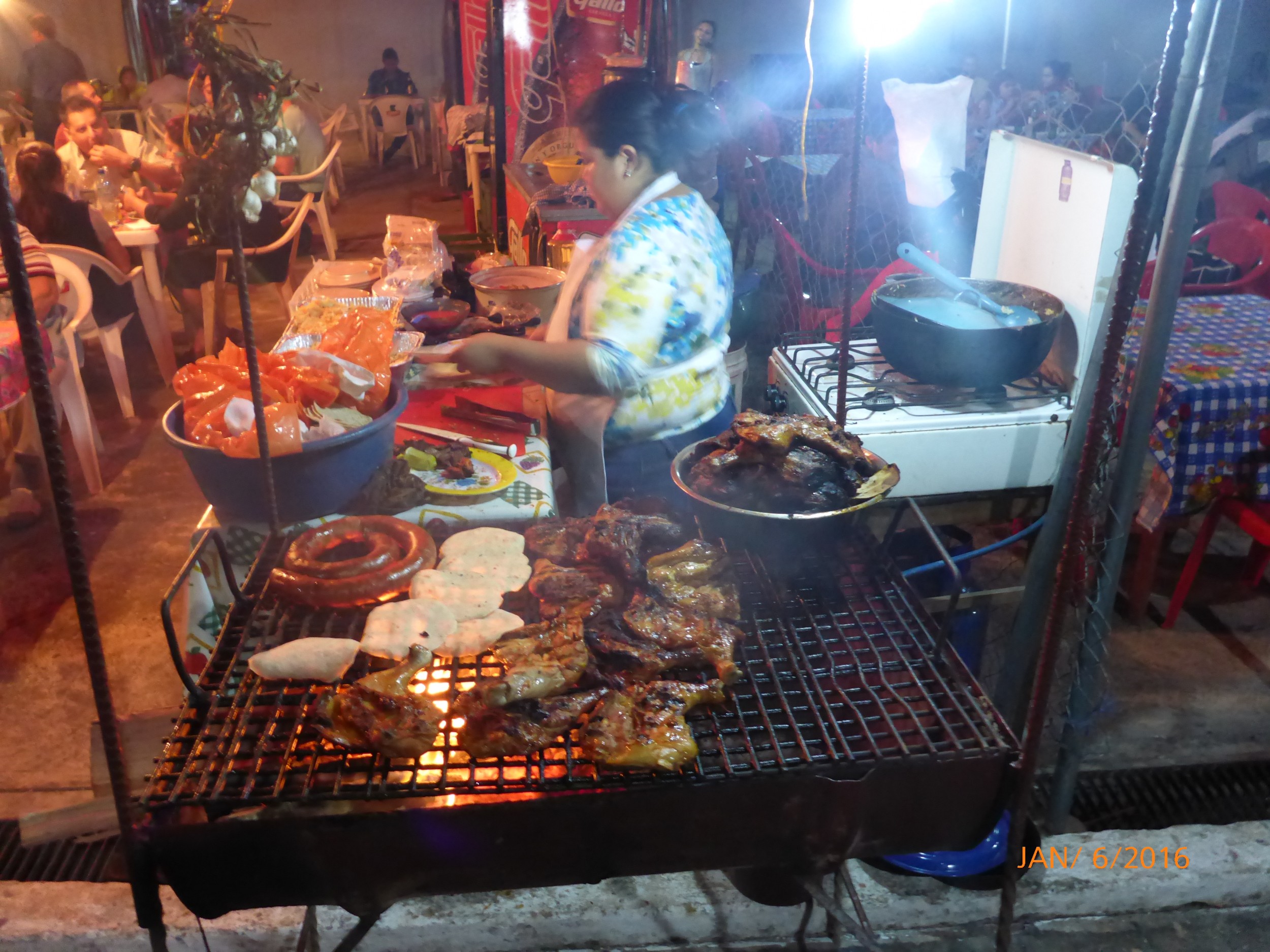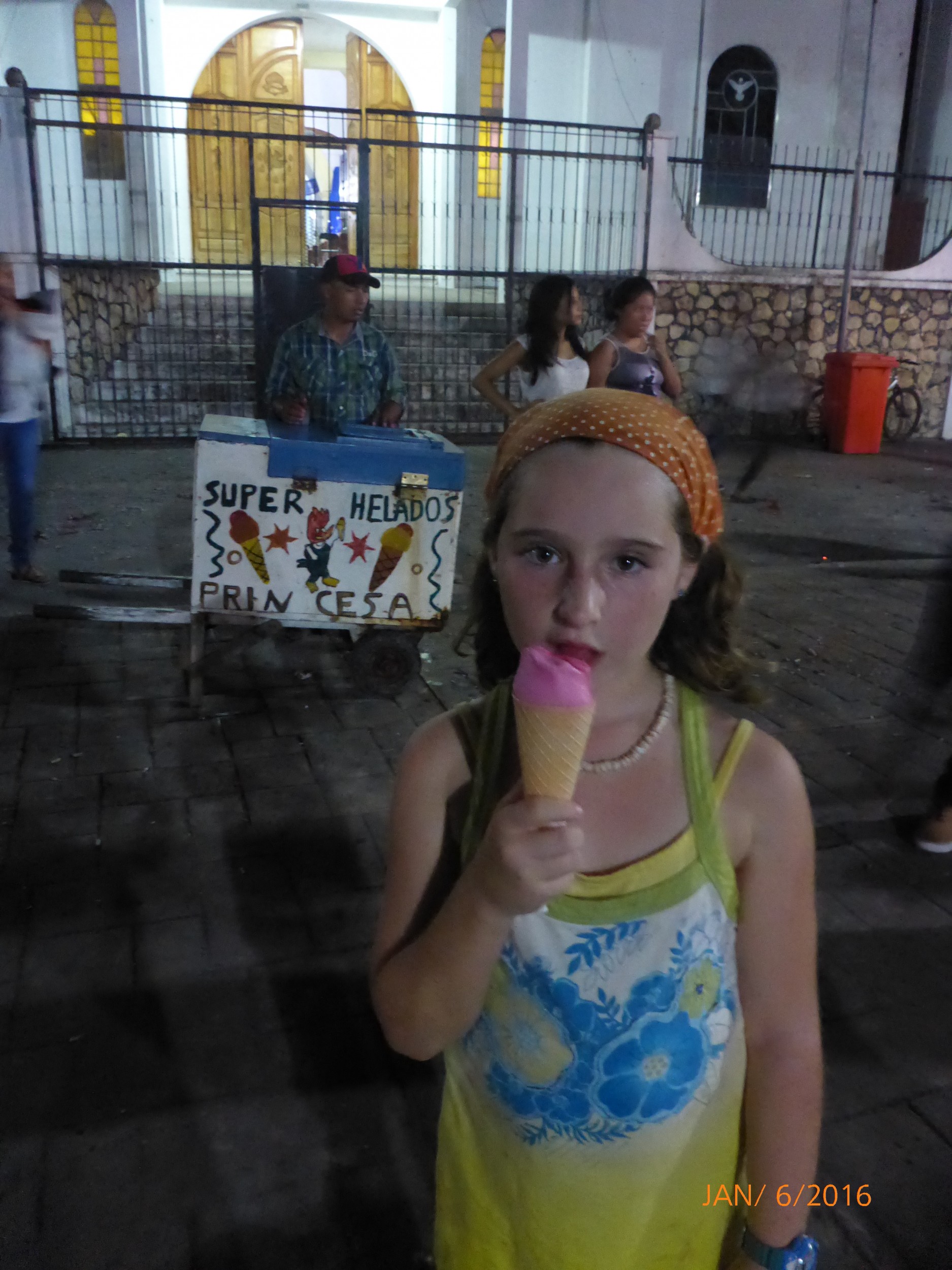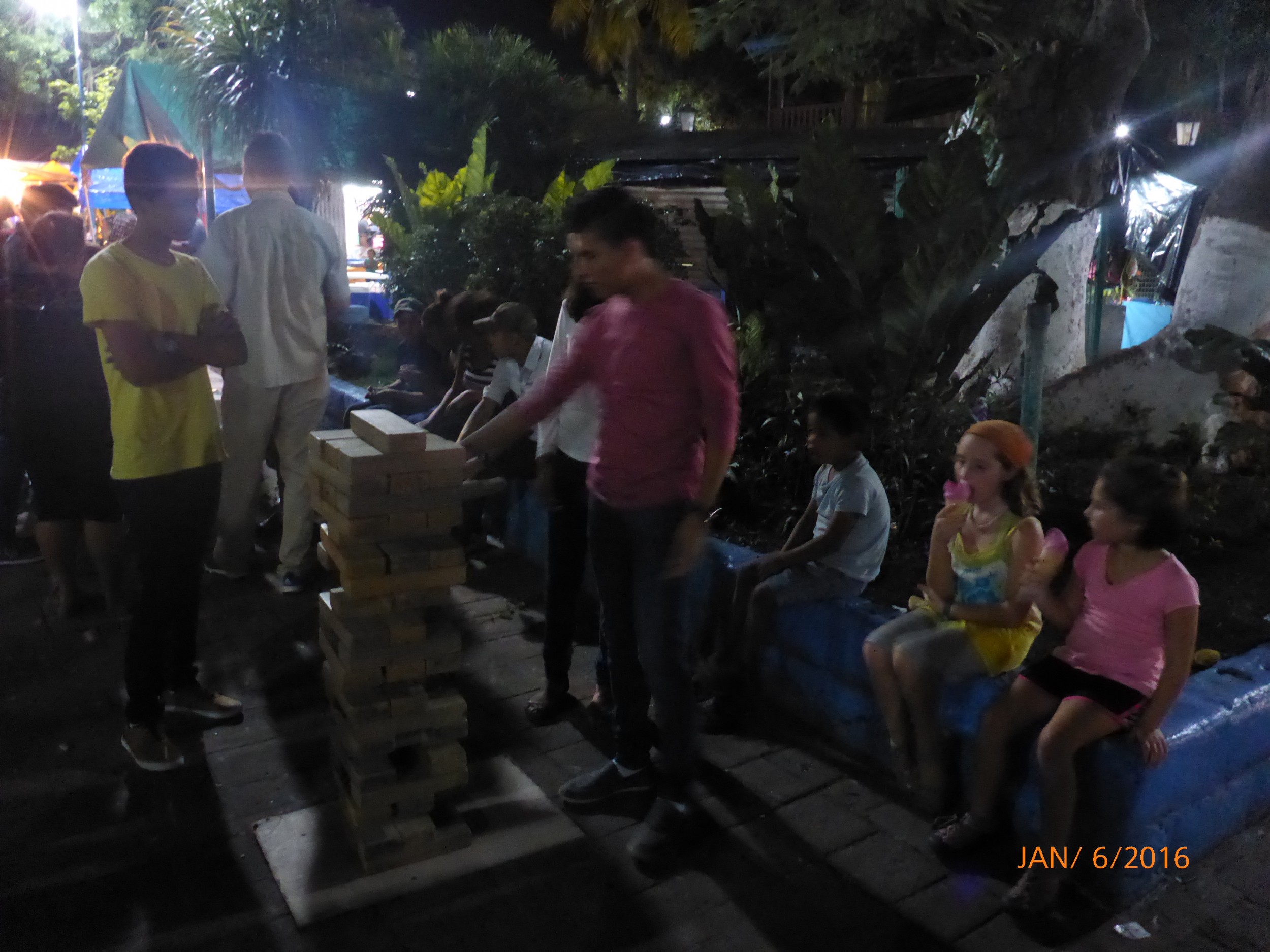 A band took the stage and played American music from the 80s and 90s until late, but we'd had enough noise and went back to the hotel, hearing snippets through our bathroom windows. Regular explosions continued through the night as the celebrations continued.
In the morning a van would take us back to Palenque, and I felt like we hadn't seen much of Guatemala. Another time, we would have to return and do better.