Planning Our First Visa Run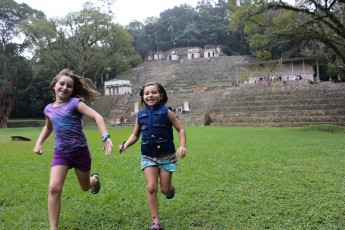 Yesterday we returned from our first visa run/family vacation since our move to Mexico.
What's a visa run you ask? When you enter a foreign country you are using a tourist visa, which gives you legal permission to be there.  You're only visiting so there is a time limit on your stay and in Mexico it's 180 days (many places it's less.) To stay longer you need to renew your tourist visa, meaning you have to leave the country and re-enter. The minimum time out of the country is 3 days officially, but there are people who say they've done as little as a few hours. I prefer to follow the rules because renewing a tourist visa multiple times is kind of skirting those rules anyway and I don't want to find myself and my family stuck on the wrong side of the border.
From Cozumel it's only a 4 hour bus ride to Belize, which was tempting, but I have heard some horror stories of difficulties going that way. Because it's the fastest route many people do it and the officials are expecting them; they're trying to crack down on visa runs (or they've just found that it's a good way to make extra money off people who are desperate to re-enter, who knows.) We weren't that interested in Belize anyway so we decided to go someplace we actually wanted to go.
Guatemala.
Last year I spent some time in Chiapas enjoying a Marginal Boundaries blogger bootcamp in Palenque. The ruins were so different than what we see further North, and the jungle is facinating and complex. I knew even then I wanted to take my family there, and going on into Guatemala to see Tikal would be a relatively easy addition to the trip.
It meant a longer bus ride, about 12 hours each way instead of 4, and we would be in an area of Mexico where few people speak any English if we had problems. We'd also never crossed into another country by land before, always flying in and letting the airlines handle the paperwork. We looked at what it would cost to do it on our own compared to what it would be with the guidance of a tour company and there wasn't enough difference to make it worth it, so after some negotiating we signed on with Operadora Turistica Chambajlum (OTC) for their Cities of the Maya Mexico-Guatemala tour.
Going to new places is intimidating on my own-it's downright terrifying to plan it for my entire family. So how do I figure it out? Hours of research. Using a tour company this time really helped us; we were on someone else's schedule and traveling with other people. I'm usually not a fan of tours because of this very thing, but traveling as a family it was helpful-we couldn't get lazy or skip things and sleep in. The tour we chose was also slow enough that we didn't feel we were running from place to place and they let us customize a little.
My plan looked like this (I'll be putting in links for those who want to skip ahead):
Day 1: take ferry to Playa del Carmen, get on bus and sleep overnight while it drives us to Villahermosa.
Day 2: Arrive in Villahermosa well-rested, drop bags at hotel and go see Olmec heads at Parque Museo La Venta
Day 3: pickup by driver, drop bags at Palenque hotel, go to waterfalls Misol-ha and Agua Azul
Day 4: Get up super early for long drive to ruins Yaxchilan and Bonampak, stay somewhere in the jungle called Lacun-ha.
Day 5: Cross into Guatemala, meet driver that will take us our hotel in Flores
Day 6: Tikal ruins
Day 7: Ride back to the border to cross into Mexico, go all the way back to Palenque
Day 8: Palenque ruins, last day of our tour
Day 9: On our own to explore in Palenque, then overnight bus back to Playa
Neat and tidy…although I knew it wouldn't stay  that way.
After we settled on a plan I found that paying for a tour in Mexico outside of a tourist area was a whole new experience in itself. Kids often get a discount so we haggled a bit before agreeing on a price for all 4 of us. Then I got an email explaining that I would need to pay half up front to reserve it, with the other half due the day the driver picked us up in Villahermosa. In the states we'd just use PayPal, but they don't use it here-they just wire money to a bank account. A personal account. That was scary to me. I asked around to make sure this is really how it's done, and friends said it was, but there was always a chance that I would be sending that money off into oblivion. Jason and I debated a day or so, then decided to take the leap and sent the equivalent of 2 months rent to the bank account they gave me.
I used Xoom to wire the money and found a new way to get cash that we'll be using instead of racking up ATM fees (think Western Union.) For the second half of the payment I knew it would be a bad idea to travel with a large wad of cash, so we figured we'd find a place to wire money to in Villahermosa and pick it up there. (Another thing that sounded easier than it truly was.)
Plans were made, money was allotted, we would be returning with another 6 months on our visas and 10 days of fun family adventure to look back on. We would leave on the ferry  January 1 and ride an overnight ADO bus from Playa del Carmen to Villahermosa, 12 hours and 850 kilometers (about 528 miles.)What could go wrong?
Tommorrow: My family's first overnight bus ride.