A Broken Arm, Upset Tummies and Too Much Work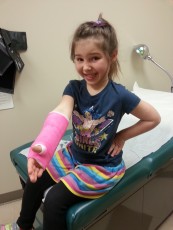 It's been just over two weeks since my youngest, Rory, broke her arm. She fell off a pony that she'd sat on many times before, landed hard on her right arm and buckled the bone a little. As soon as I pulled her up she said "I think I broke my arm," and burst into tears.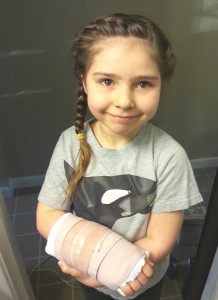 On the way to urgent care to get it x-rayed I couldn't help but think what this would be like if it had happened a few months later, after our move to Mexico. On Cozumel we won't be as familiar with the city of San Miguel as we are with Des Moines after 20 years here. We are far from fluent in Spanish and we might not know where to go without asking for help, or know which clinic or hospital was the best choice with our insurance. In the speeding car I made a mental note to learn more about these things so we will be prepared as soon as we land on the island.
Luckily it's not a bad break. After the first day it hardly slowed her down at all. She liked the attention the huge wrapping on her arm got her, and then when she got her bright pink hard cast everyone wanted to sign it. Watching her made me think back to my days working in veterinary clinics. If you've ever had to put a cone on your dog after a procedure you know there are two ways dogs react: either they get timid and extra careful or they go full speed and bash that cone into everything. Rory goes full speed, and with that hard cast she's more dangerous to the rest of us than herself, but I'm okay with that because it means she feels better.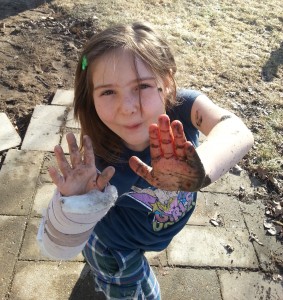 We need to be working on our house getting it ready to sell. I was hoping to have it listed by the middle of March at the latest, but then I got sick. I hate being sick, and I'm a big baby; I shudder when I read about someone getting Dengue or Malaria because I think I might just die from misery. After a few days the main symptoms (of which I will spare you the details) were better, but I was still weak and nauseous. I hardly ate for a week, and wondered if I had some sort of vegetarian-inducing virus because meat was out of the question. I was getting nothing done and feeling crappy both physically and mentally, but there wasn't much to do about it.
My husband Jason usually picks up the slack (thanks Honey!) but this time he got left on his own at work as the other two members of his 3-man team were out of town at training…for 10 days. He was working day and night and computer glitches meant his phone was constantly blowing up with calls and emails. They just approved him working from remote after we move to Mexico so I joked that it was a test and he should look for the hidden camera. Yeah, it was that crazy, and no way he could rip out funky old carpet with that going on.
So it's been a busy month of getting very little done around here. Frustrating, but I keep telling myself we'll get there eventually. It helps that we don't have a solid deadline for getting to Mexico; if the house takes longer to sell, I guess we'll just take a little longer to get there. This is a hard place for me to be since I am a Planner and usually like to have things sorted out far in advance, but I'm trying to stay calm.
This week it's Jason's turn to go to training, so I'm painting and finishing up the kitchen remodel without him (I love power tools!) We had our realtor come take a look even though I felt like I should offer a hard hat with all the construction and cleaning out our house is going through, and he's excited so that's good, right?After the struggle this month has been, part of me is just ready to get back to normal (as if that exists!)
My reward: at the end of this week I'm headed to Boston for the Women in Travel Summit to spend some quality girl time with other travelers. After TBEX last year I'm really excited to go to another travel conference, and I've never been to the East Coast.
Any advice on what I should see in Boston? Will you be at WITS? Give a shout out in the comments!