Aluxes Eco Park – Visa Run Part 10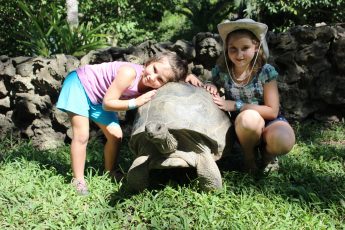 "In Mayan culture the Aluxes are young, happy, and playful elves that care for crops and protect the jungle for Mother Nature."
This is the sign that greets you when you enter Aluxes Eco Parque between the town of Palenque and the ruins. We saw so many signs for the place along the road that we decided to check it out for ourselves on our last day in Chiapas, taking a colectivo van that dropped us off on the side of the highway by the entrance.
Aluxes is more than a zoo. It really is an eco park because they don't acquire animals solely for public entertainment, they rescue and rehabilitate with only those that cannot be released housed on the property. The animals are almost all local species, adding to the educational value, and they have started a breeding program with the scarlet macaws they keep that allows the offspring to be released. Walking in from the road I was excited to hear the wild ones calling in the trees and spotted a glimpse of them flying past.
The money that visitors pay goes directly back into the park programs, so I was happy to spend a little more. Entrance was 100 pesos for adults, 60 for kids with children under 1.3 meters free. There are a variety of add-ons that can be purchased at the same time. We chose to our daughters interact with the macaws and giant tortoise for 50 pesos each and I signed all four of us up to feed manatees because I'm pretty sure that's something we won't have many opportunities to do. Add it up and we spent 920 pesos, (around $50.00 US) on all of it.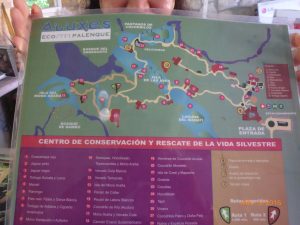 The woman at the desk showed us a map but they don't hand them out (I took a photo to refer back to later.) There is a clearly marked one way path through the park to explore at your own pace.
First stop: the macaws, called guacamaya in Spanish (guac like guacamole, ah-maya.) Both girls would love to have one as a pet but I know they are as smart as a 3-5 year old child and can easily outlive us. They are intelligent and social animals that mate for life, and as much as I like them it seems wrong to keep them as a pet.
There were several different species on perches around the snack area blue and green, large and small. Only one was "working" and we didn't get a choice which one we interacted with. Rory didn't care, but June had really wanted a cute little Yellow-headed Amazon green parrot. Instead we had a scarlet macaw that looked gigantic and they were both a little intimidated, so even though I hadn't bought a ticket for myself I got to hold the parrot while they fed it.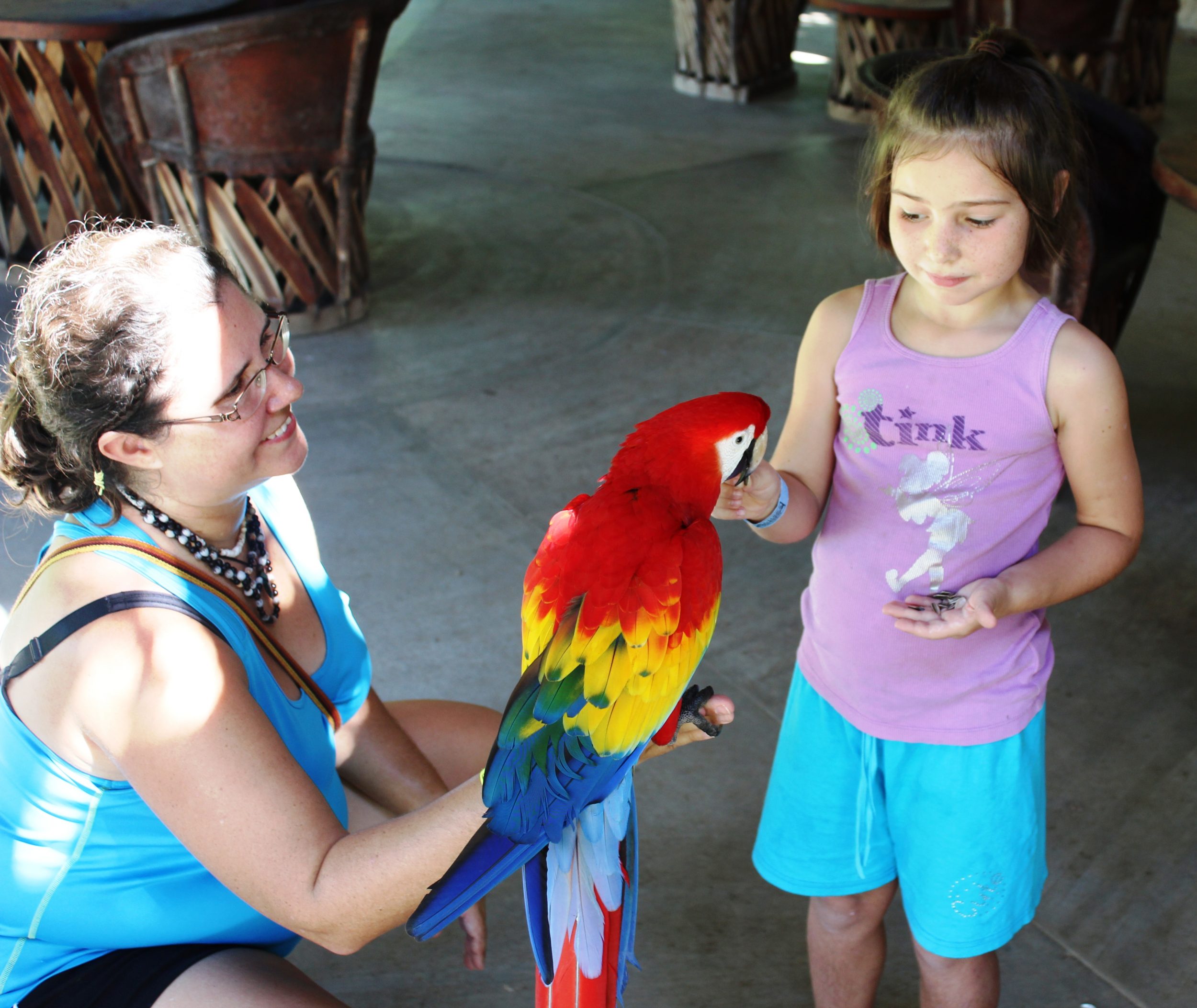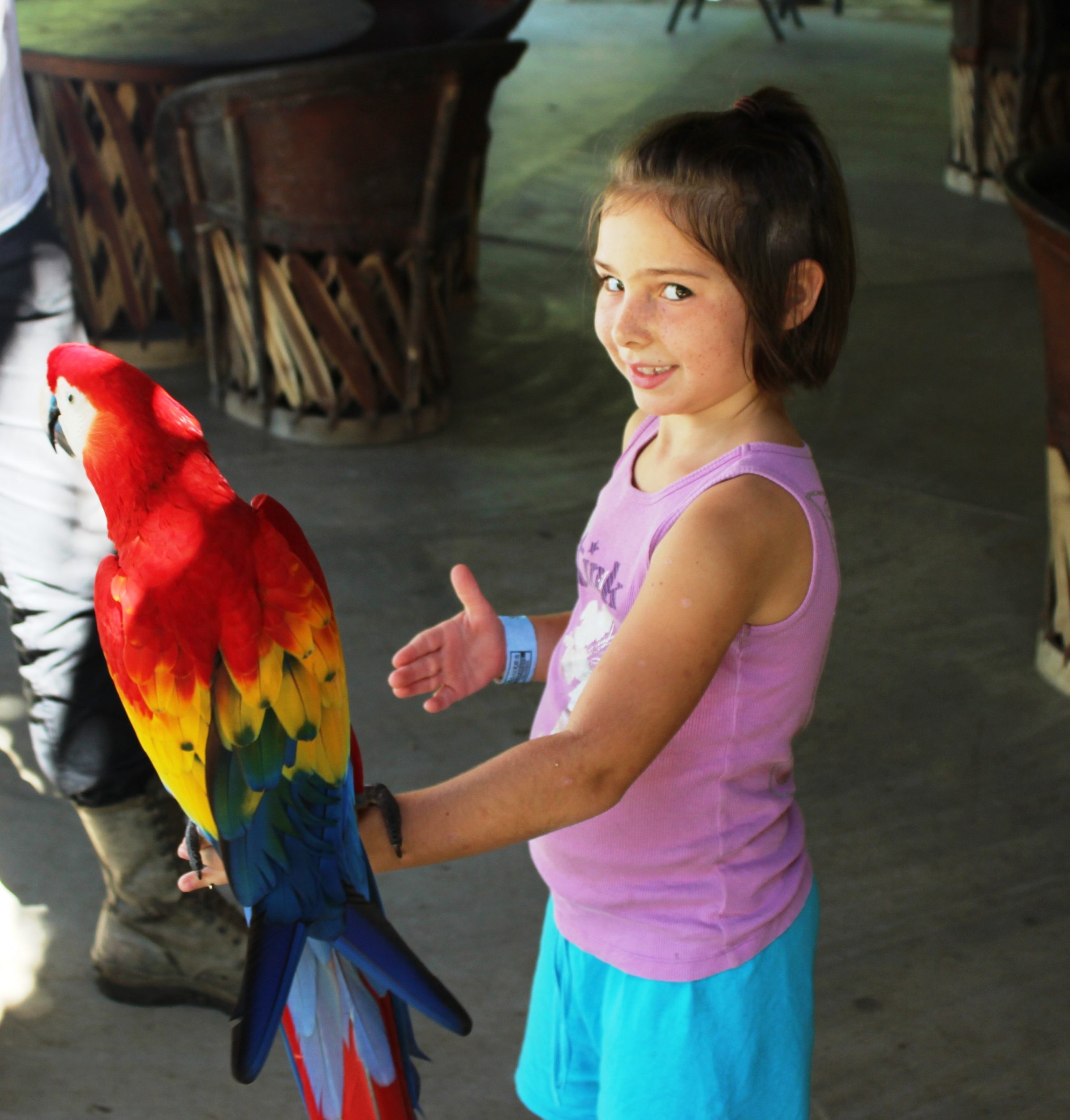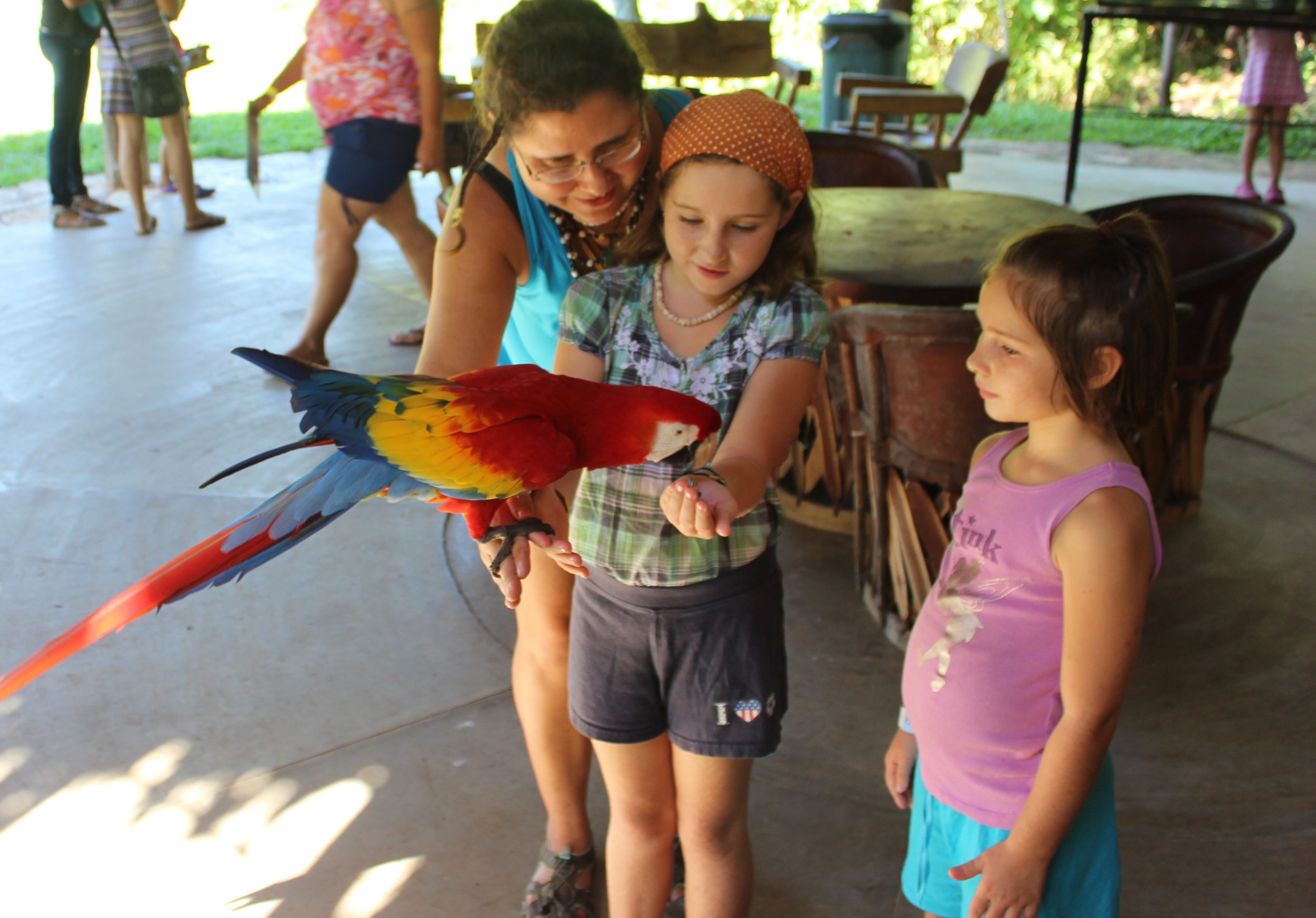 We started walking and found that even the leaf cutter ants that lived along the trail had information boards in Spanish, English and Mayan. The girls made a game of covering the information and then having us guess things like how many babies an animal would have or how long it lived (worldschooling in action people!)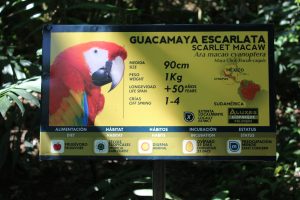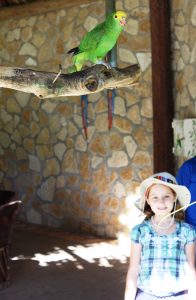 We went into an aviary full of a variety of the green Amazon parrots that June loved, including one that entertained us by trading "holas". They had warned us that these parrots sometimes landed on people and we were kind of hoping they would (please, please sit on Jason's head!) but none did.
Around a corner we found that we had reached the manatee lagoon. A man was working near the water so we showed him our tickets and he got out steel bowls full of vegetables. The manatees have a larger lagoon to swim in but for interactions they are kept in a small area. We couldn't see anything in the brown water, but when the girls kneeled down on the mats gray heads immediately broke the water to greet them. There were four adults of different ages and sizes and one baby, which of course was the favorite. They were not afraid of us at all and we patted and touched them as they bobbed up and down, taking food from our fingers and submerging to eat it. Even Jason was caught up in the magic of being so near these gentle creatures and we spent at least 20 minutes feeding them and taking pictures.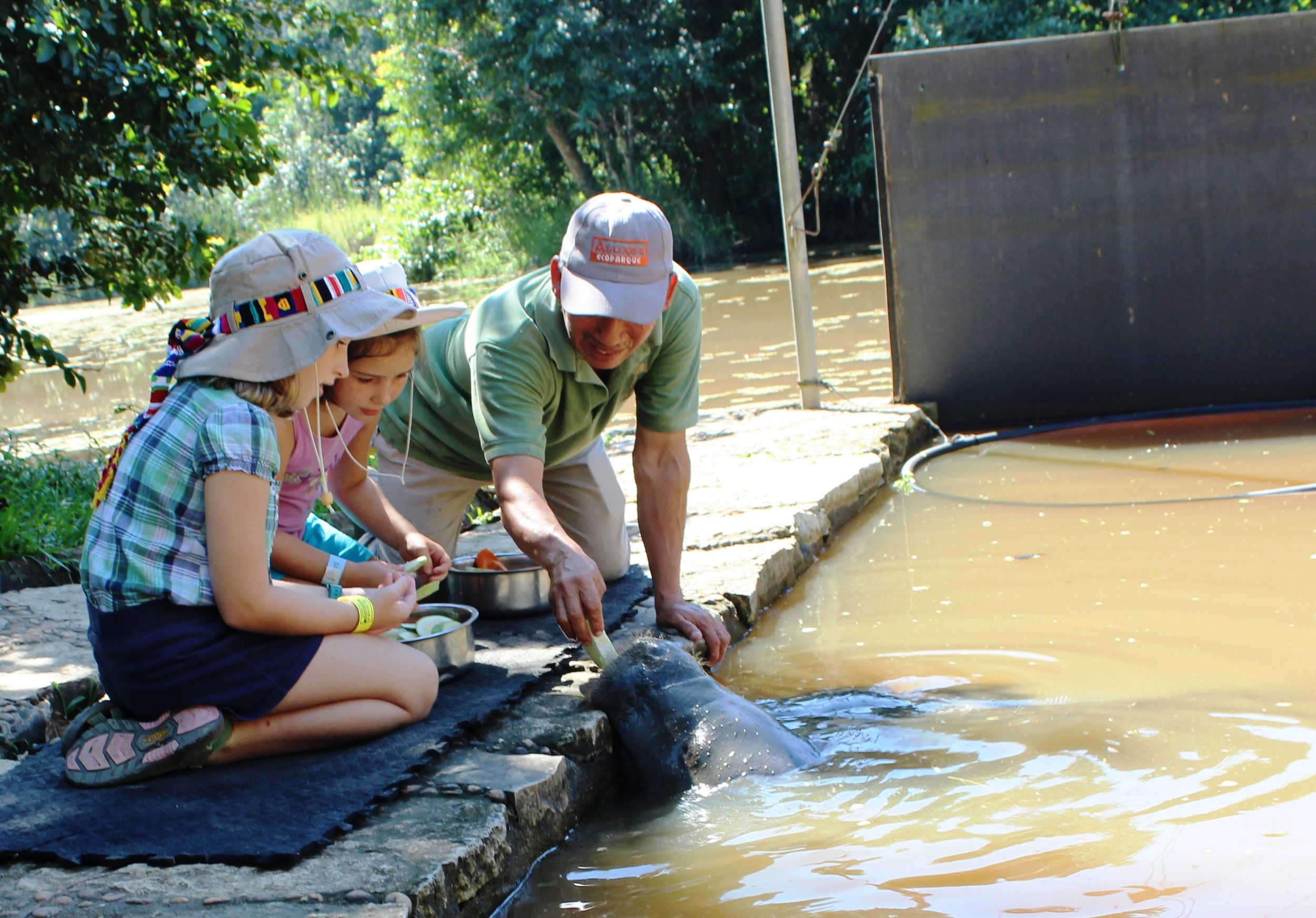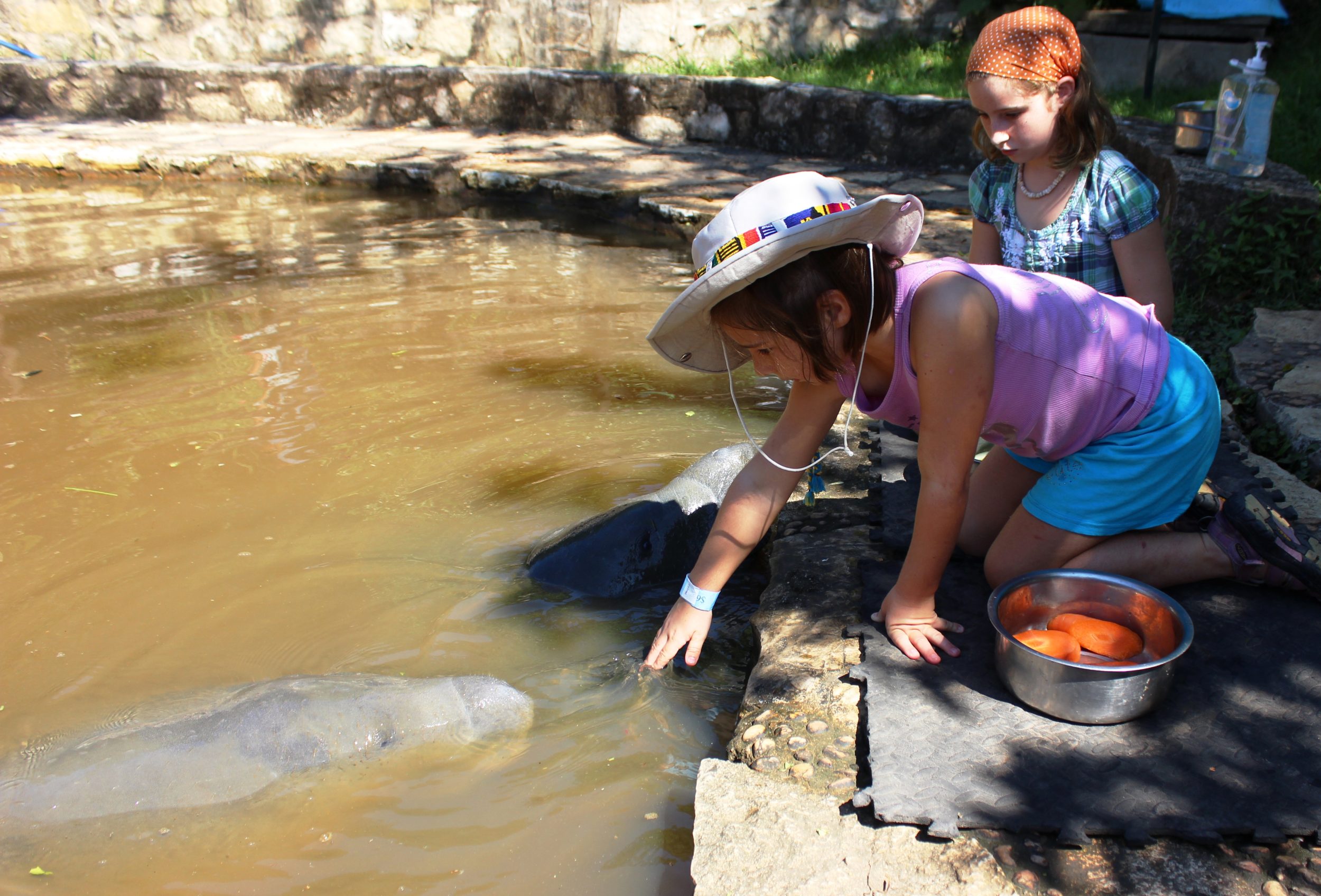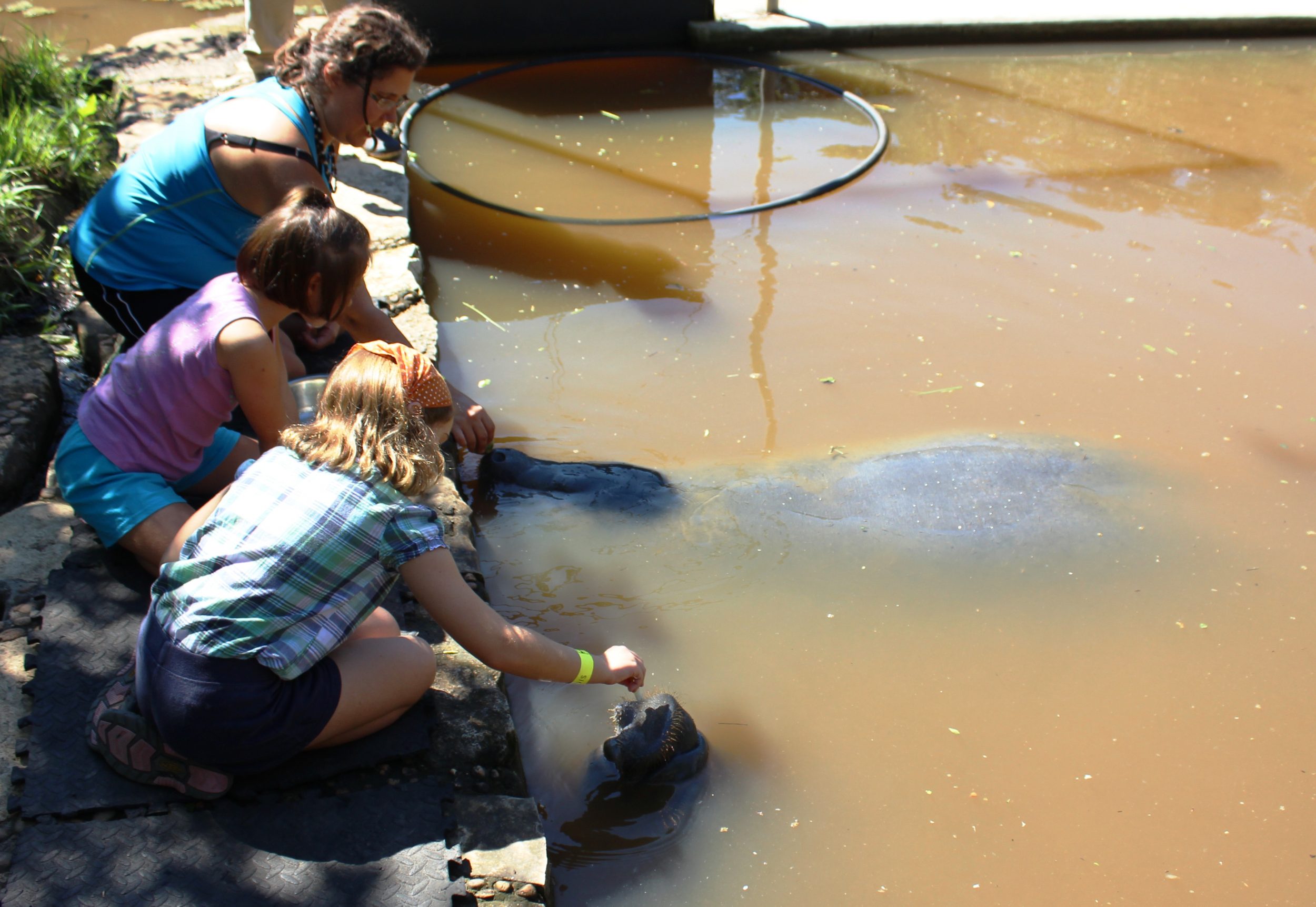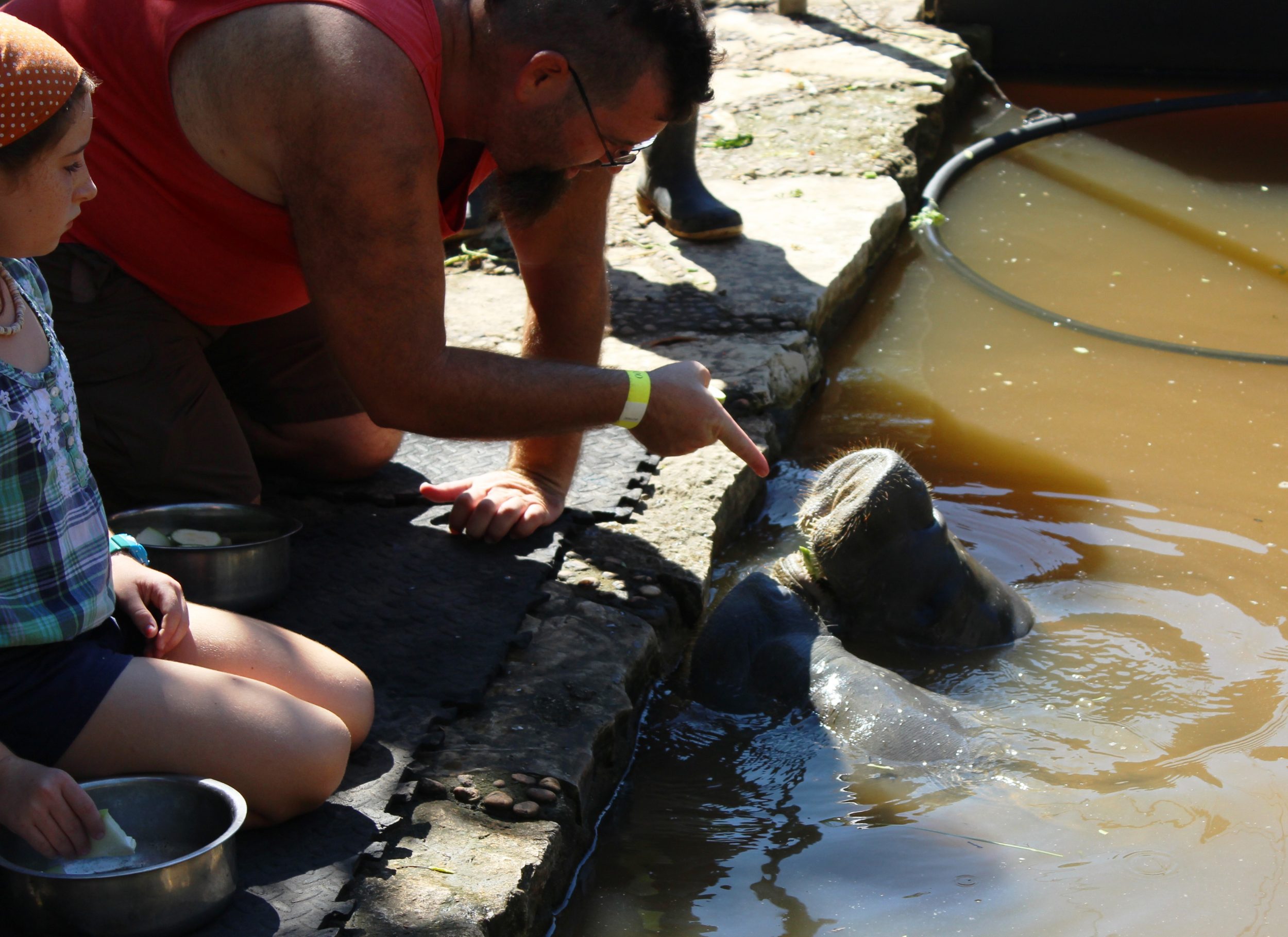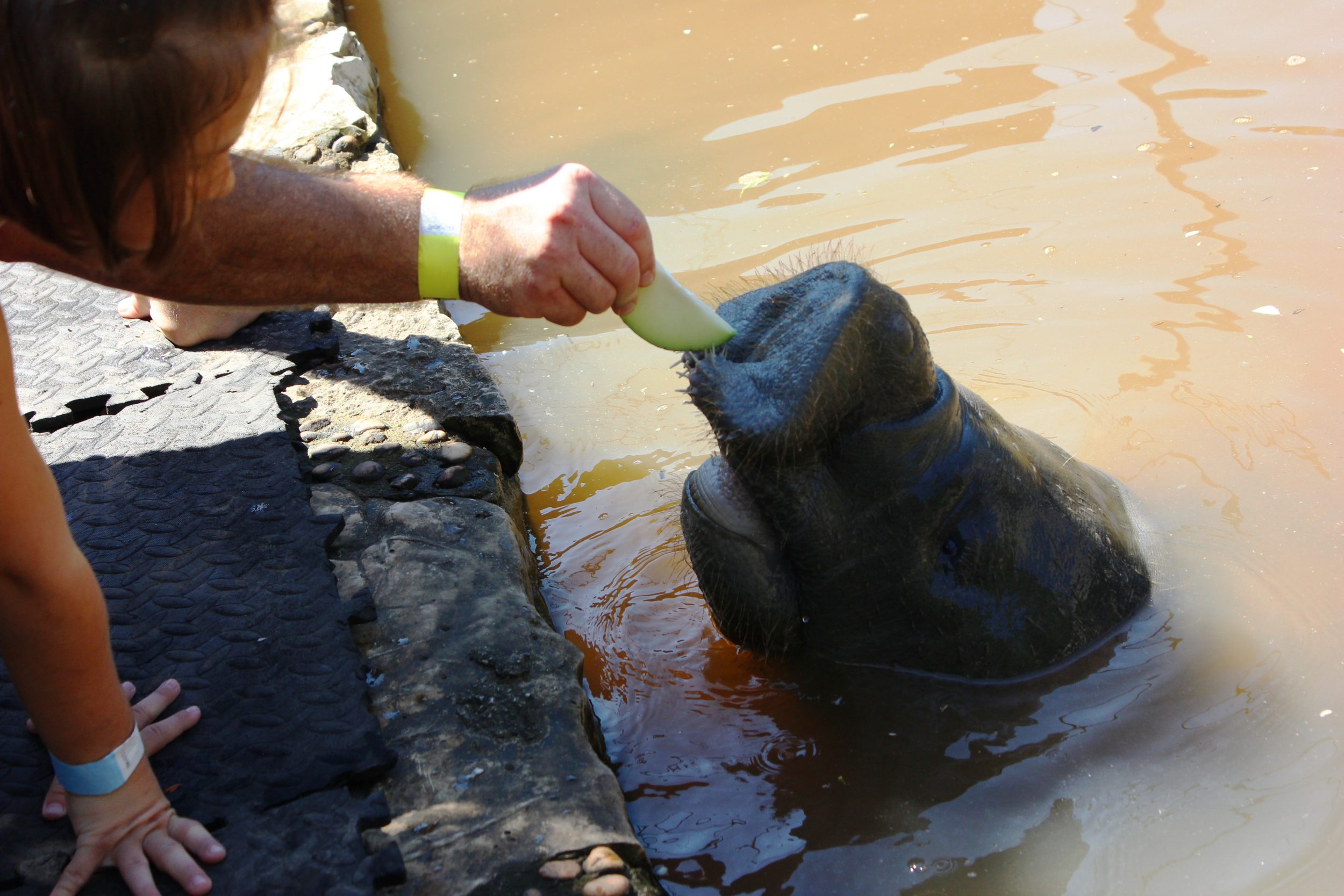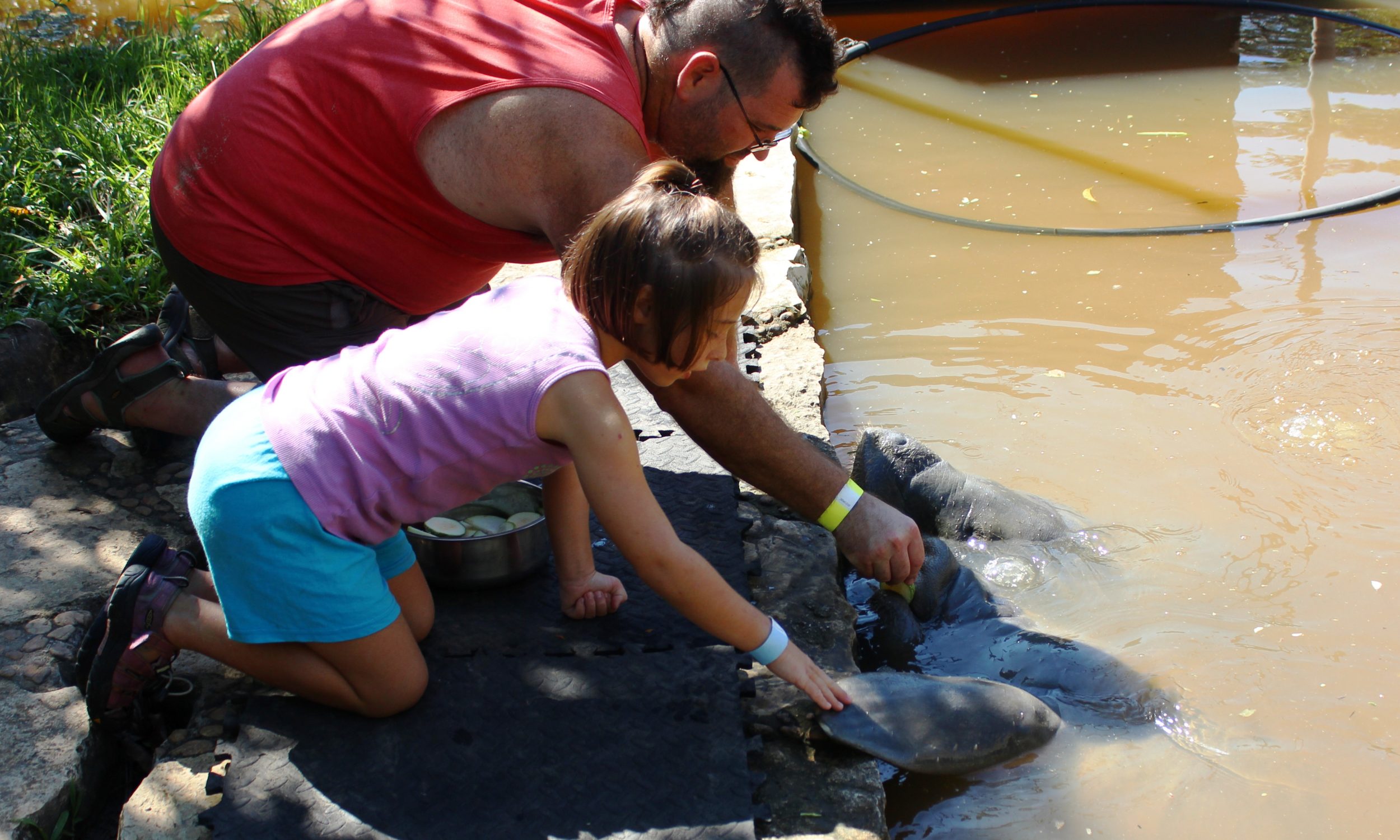 Not everything was pleasant to look at. The black jaguar paced restlessly, and there were so many water turtles they looked crowded. Other visitors have noted that the hawks do not have much space, but I try to keep in mind that they are there because they could not be released and might need restrictions to keep them safer. It's always hard to see animals in cages no matter what the circumstances or how much I love being able to see them.
We laughed at the honking flamingos and found that not all ducks quack, some make a squeaking sound that earned them the name of whistling duck.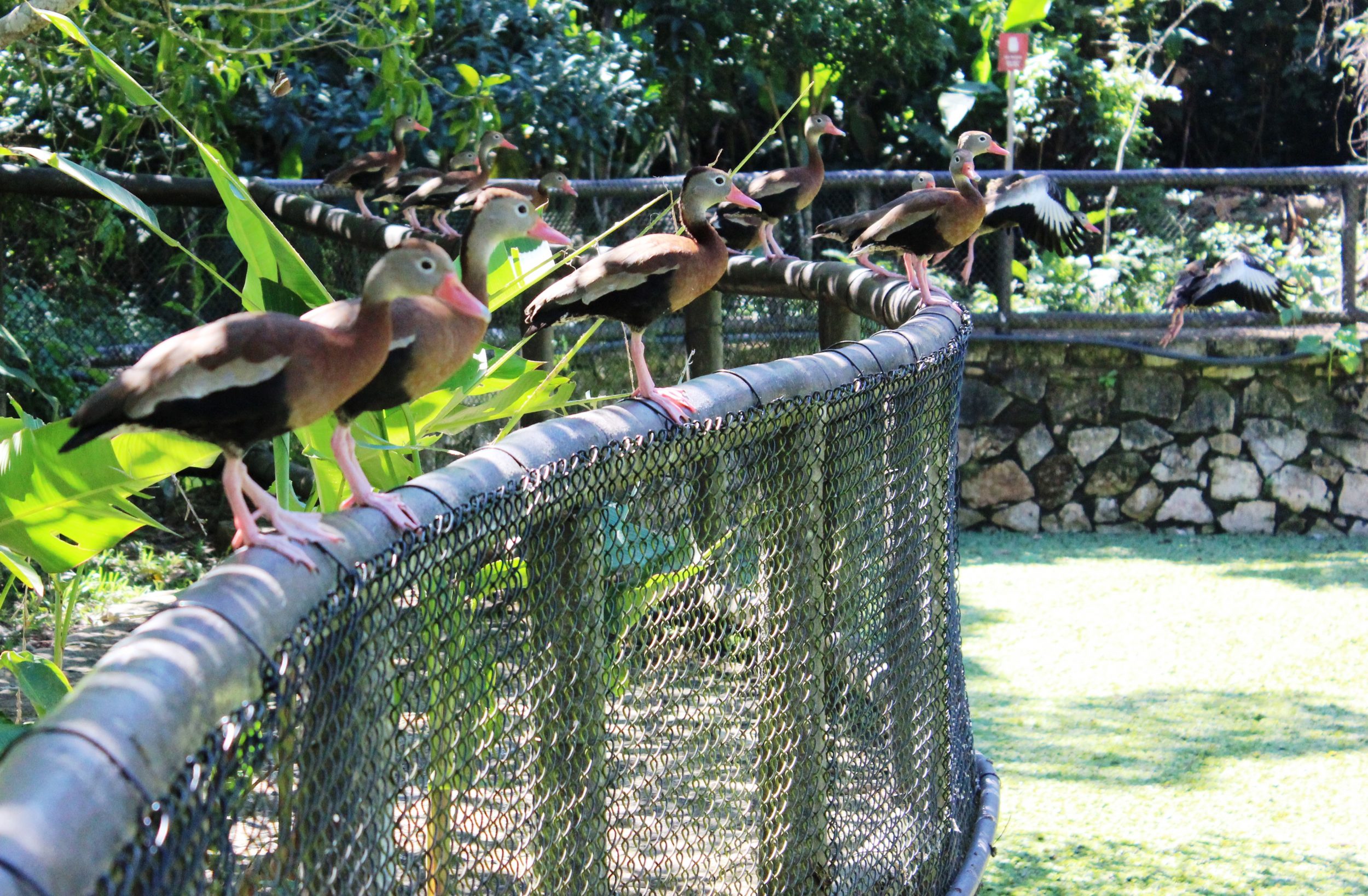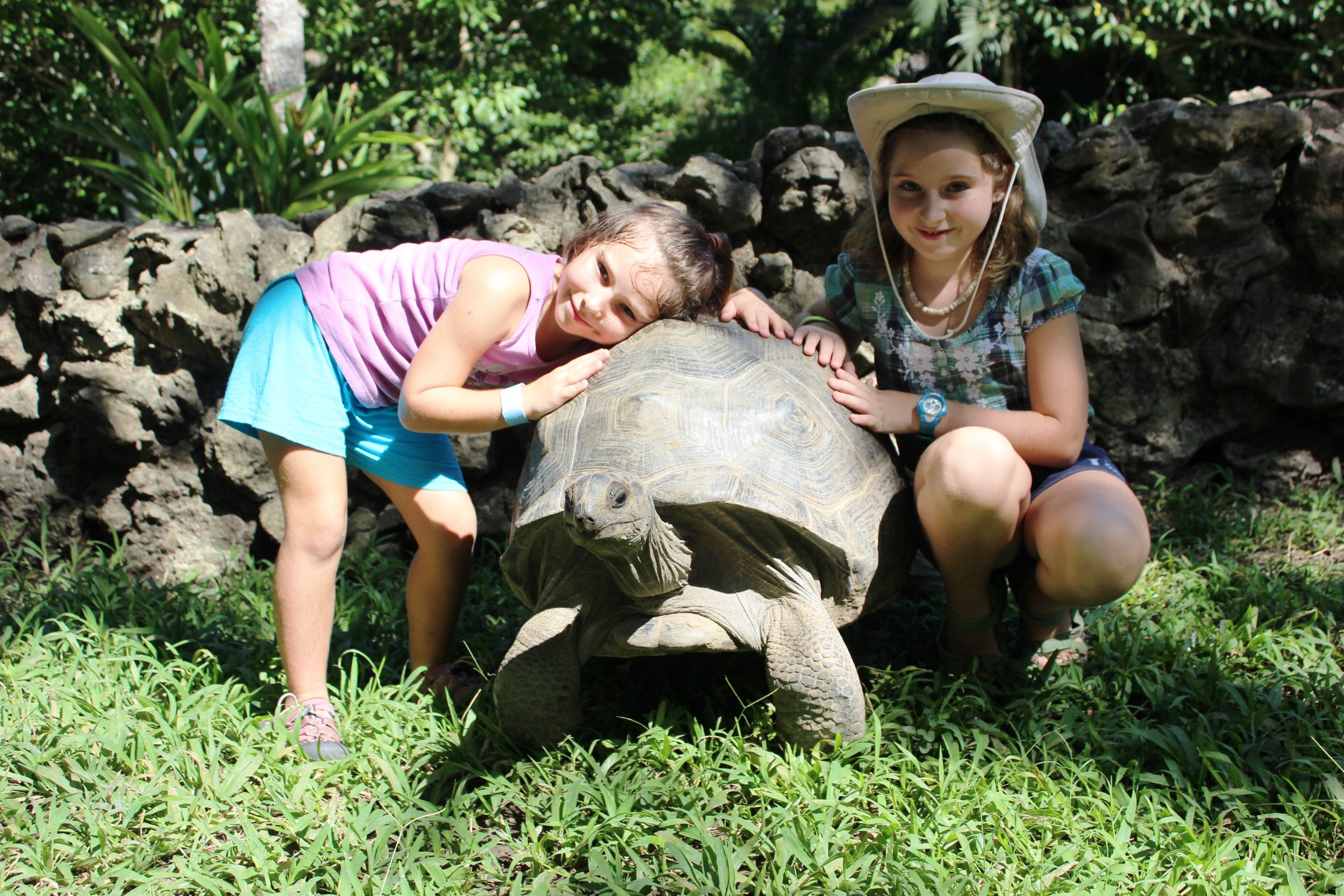 When we found the giant tortise we got out the last of our encounter tickets and we all got to go in and say hello. The big guy didn't seem to mind, I think he was posing for the photo as much as the girls were.
The animals are not crowded together and there is a lot of walking to do, some of it through the jungle. Most of the paths are paved but near the bamboo forest you can go off-road a bit, so wear good shoes.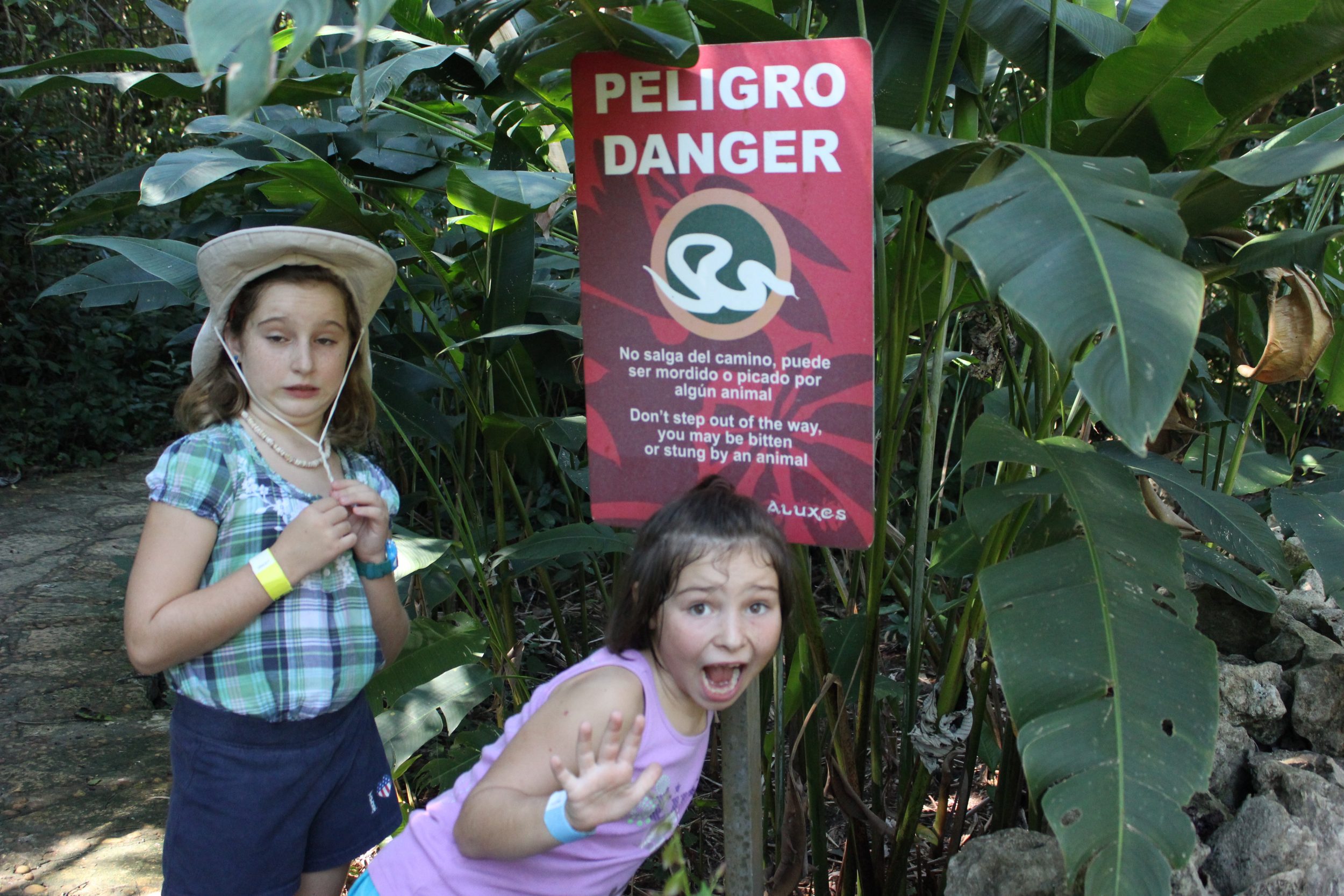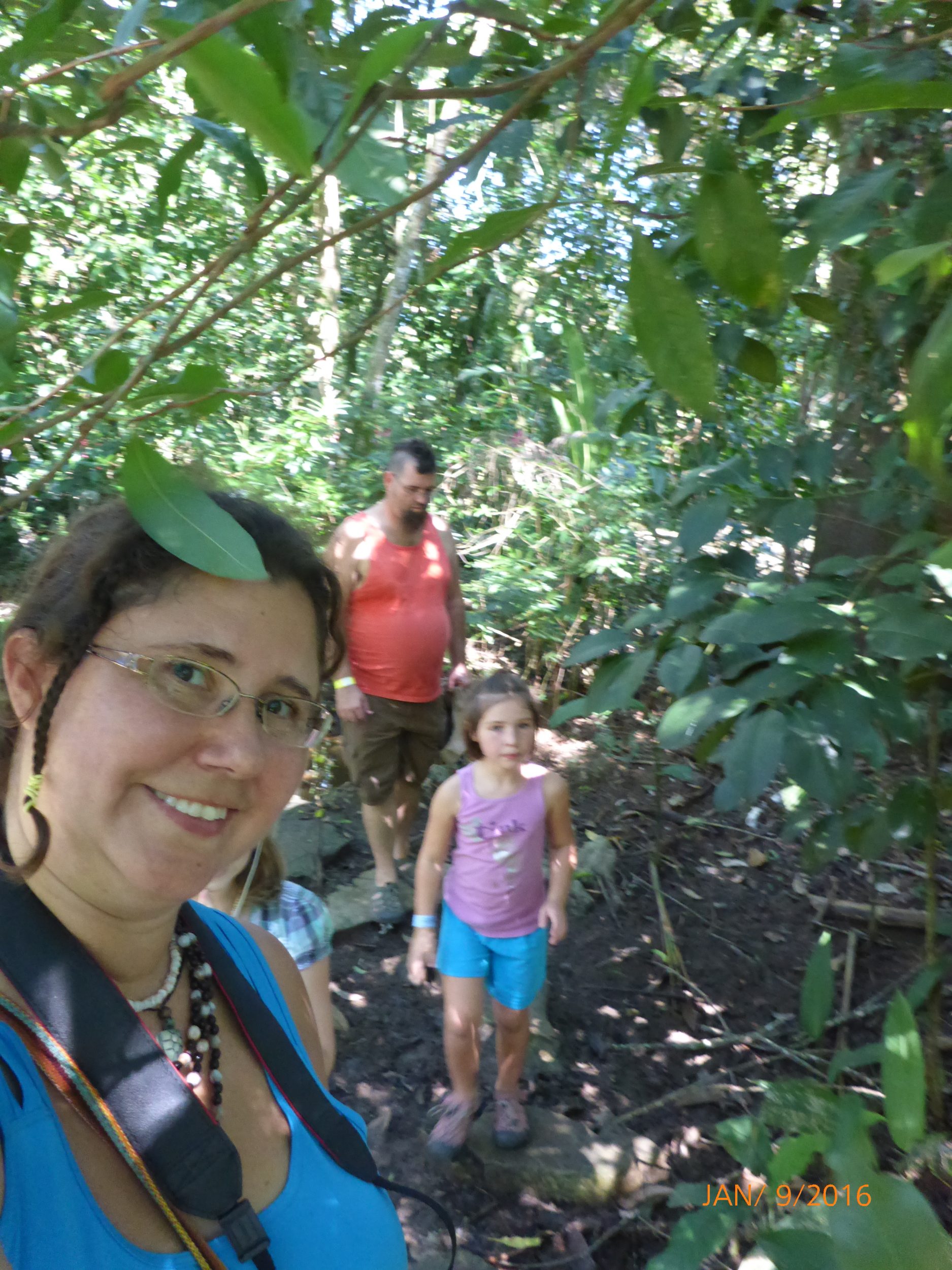 There was an isolated enclosure in the jungle with a sign at the entrance that read:
"I am temporarily living in this lodging but soon I will be free. If ALUXES had not rescued me from illegal traffickers that killed my mother in order to sell me as a pet, I too would be dead."
On this sober note we viewed three juvenile Yucatan Black Howler monkeys, which are critically endangered. The brothers were entertaining, but the best part was when June pressed against the glass and said she saw another monkey up above. We went outside to get a better look and found a group of wild howler monkeys were hanging around on top of the enclosure checking out the juveniles. I loved the thought that maybe this would be their future family.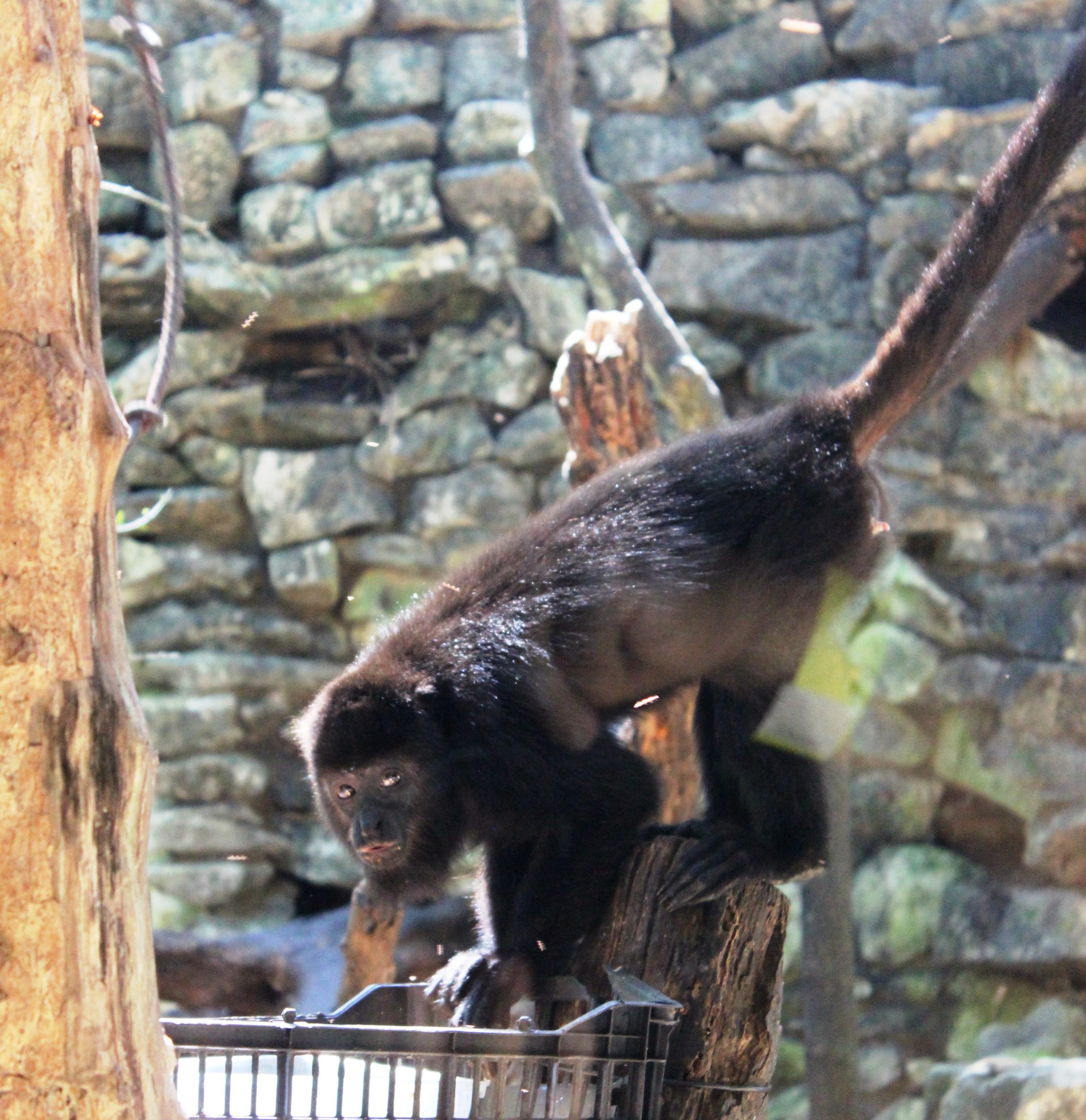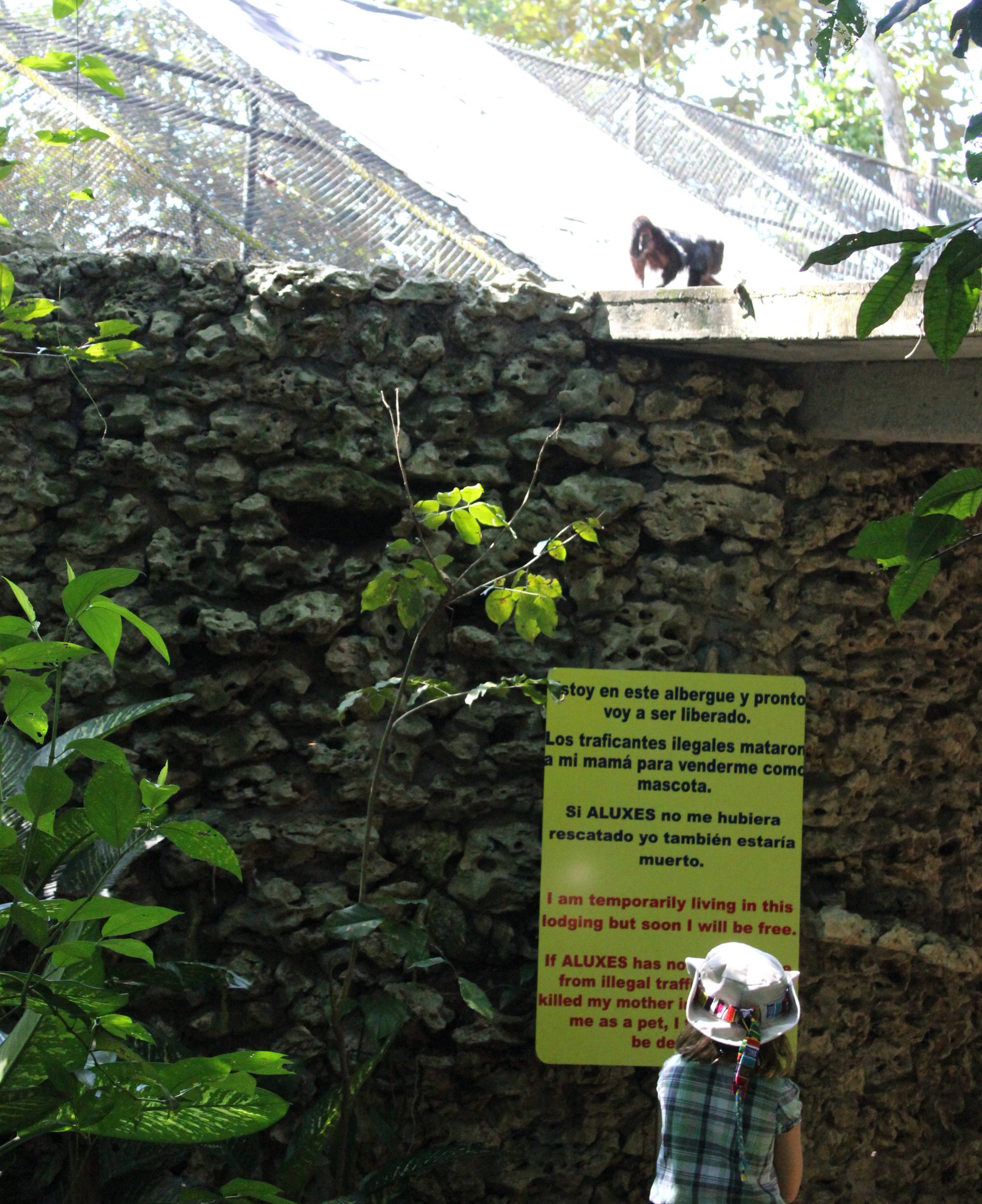 A little island surrounded by shallow water and tadpoles was the home to another primate, a Spider Monkey. He had an unusual buddy in a small white tailed deer and they seemed to be just getting up from their afternoon siesta when we came by.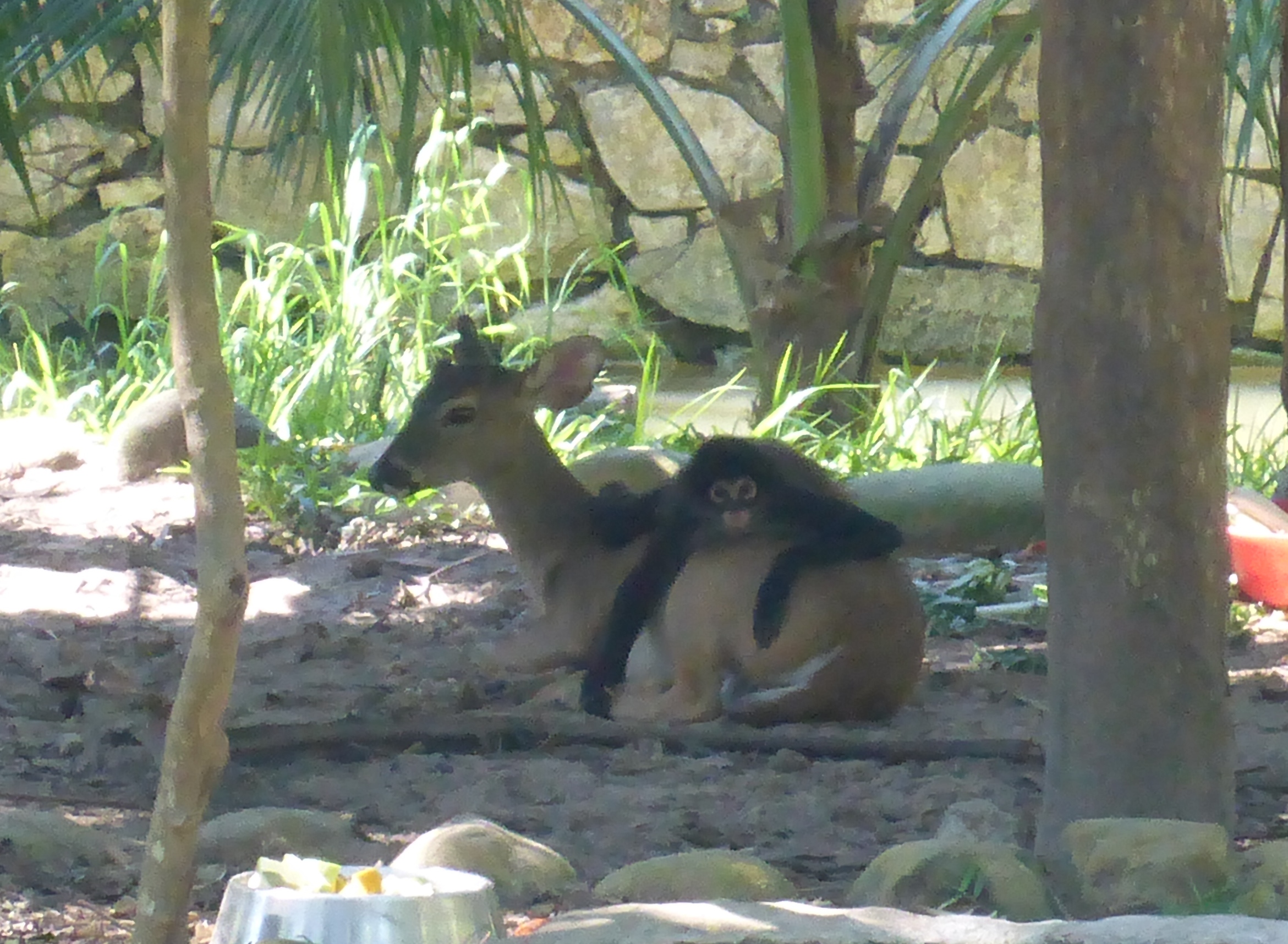 Now we came to the bamboo forest, a slightly wild area of the park. You can skip it and follow the paved trail, but we like to see everything so of course we followed the muddy path into the trees. There is a calm river that must be crossed by stepping stones, and our feet got a little wet. On the other side the jungle gives way to an area that is nothing but giant bamboo, and it's worth the divergence to see it.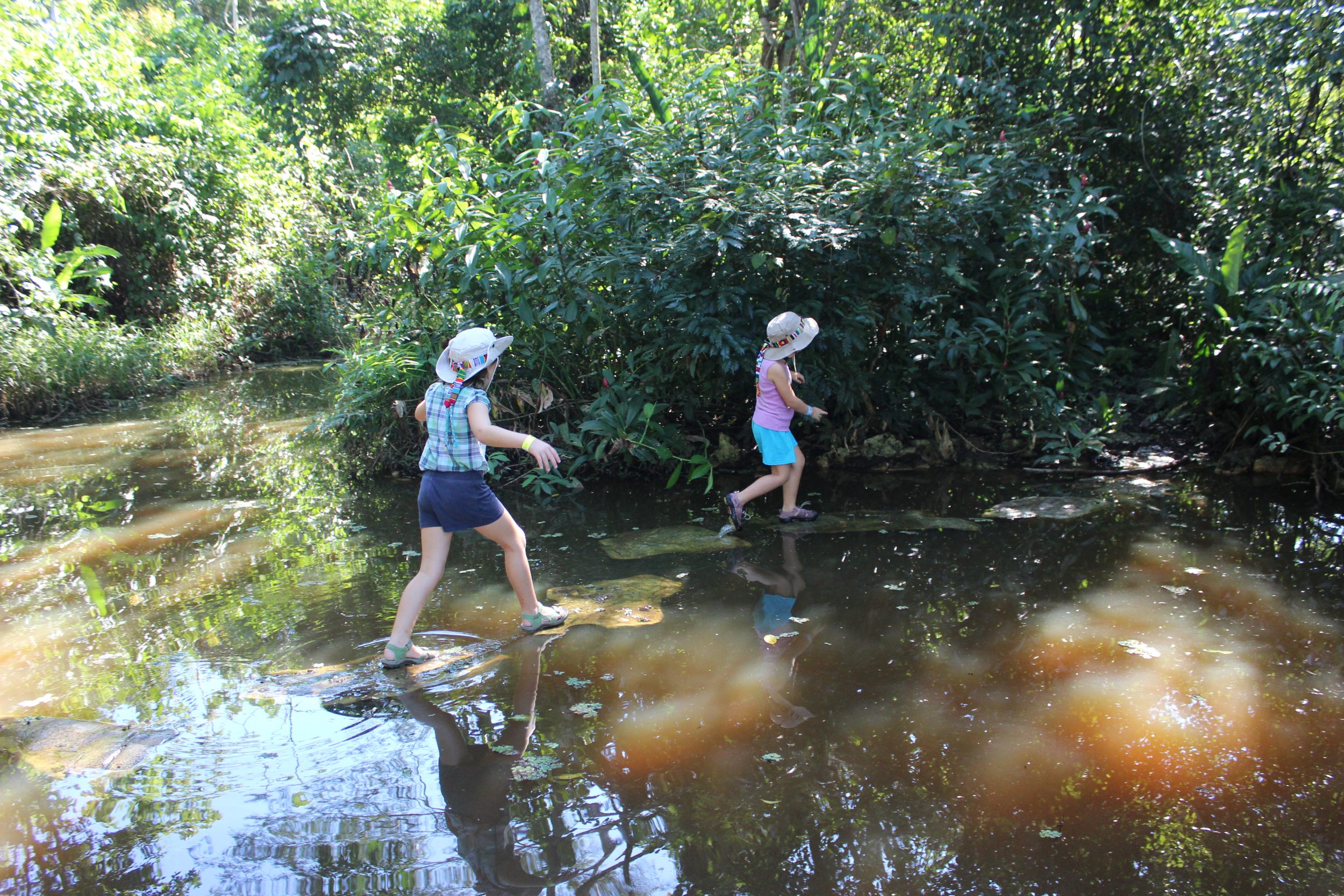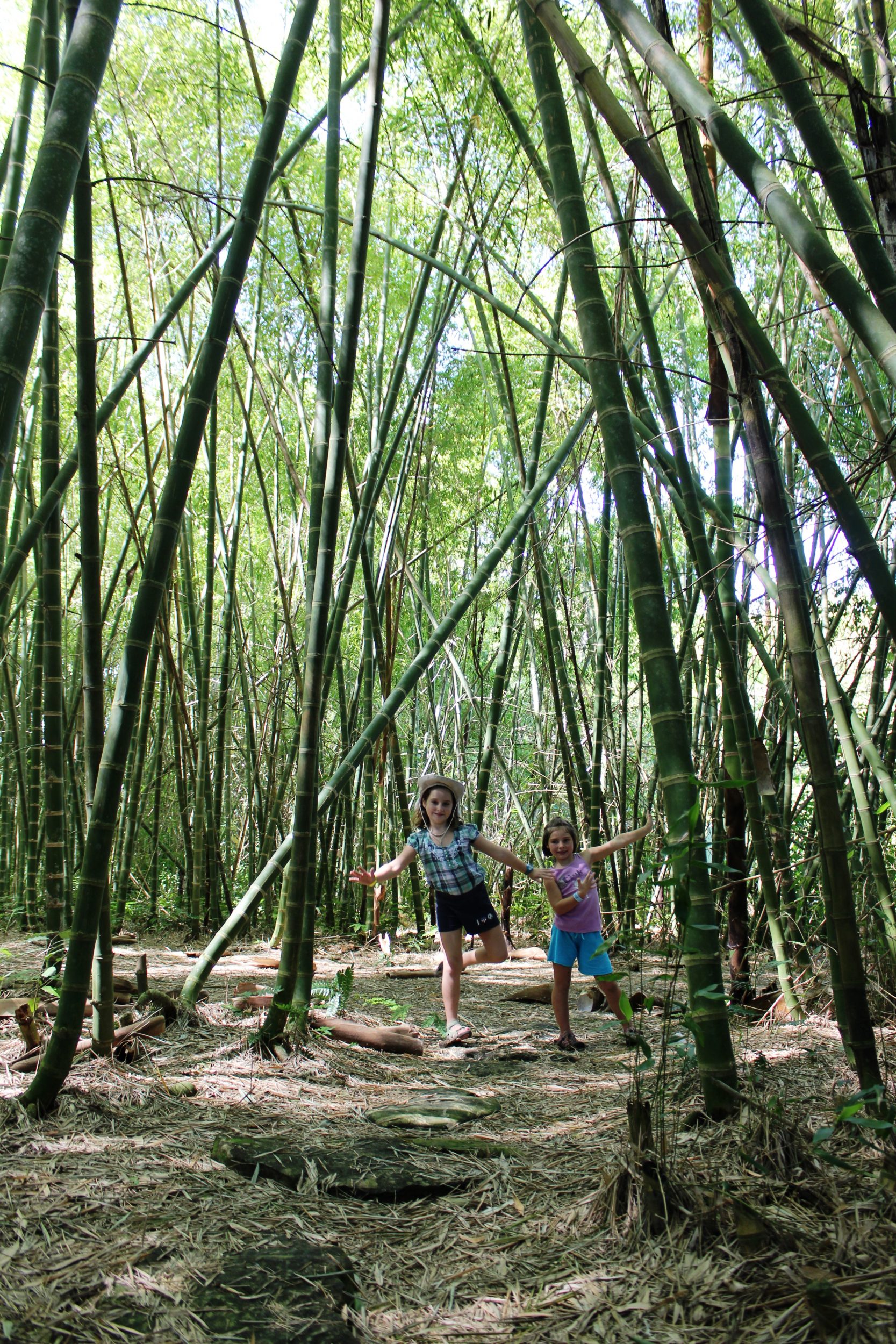 On dry land again we continued down the trail. We could see long-tailed nap takers high in the trees on Spider Monkey Island, although it looked simple enough for them to jump to other trees and escape if they really wanted to. Rory loves pigs, so her favorite area was the two different kinds of peccaries. A deer approached the girls through the fencing as we entered the crocodile area. To our alarm the people coming behind us startled it and it jumped into the water and swam across, but the crocodiles seemed to be confined to other areas or just lazy.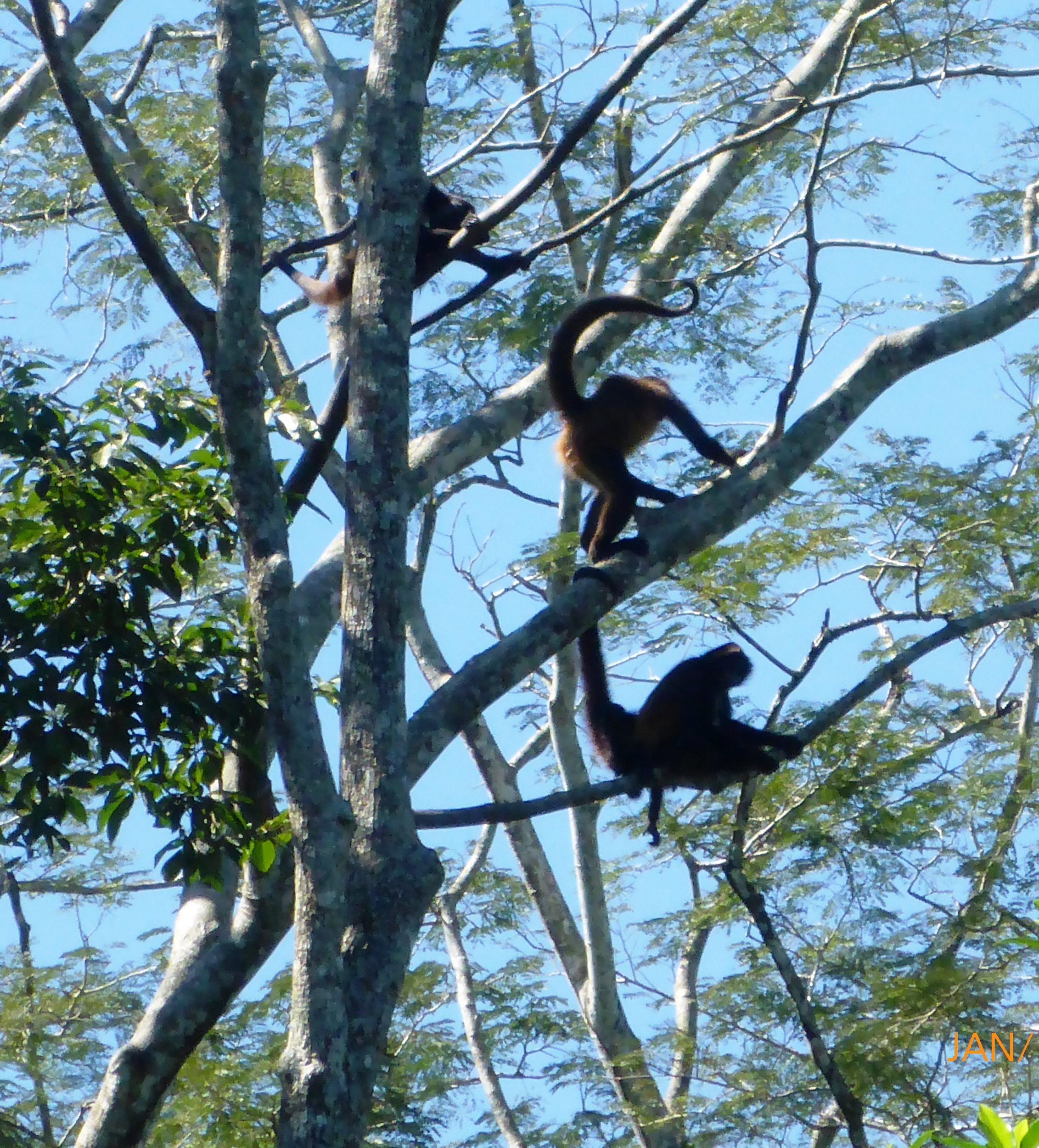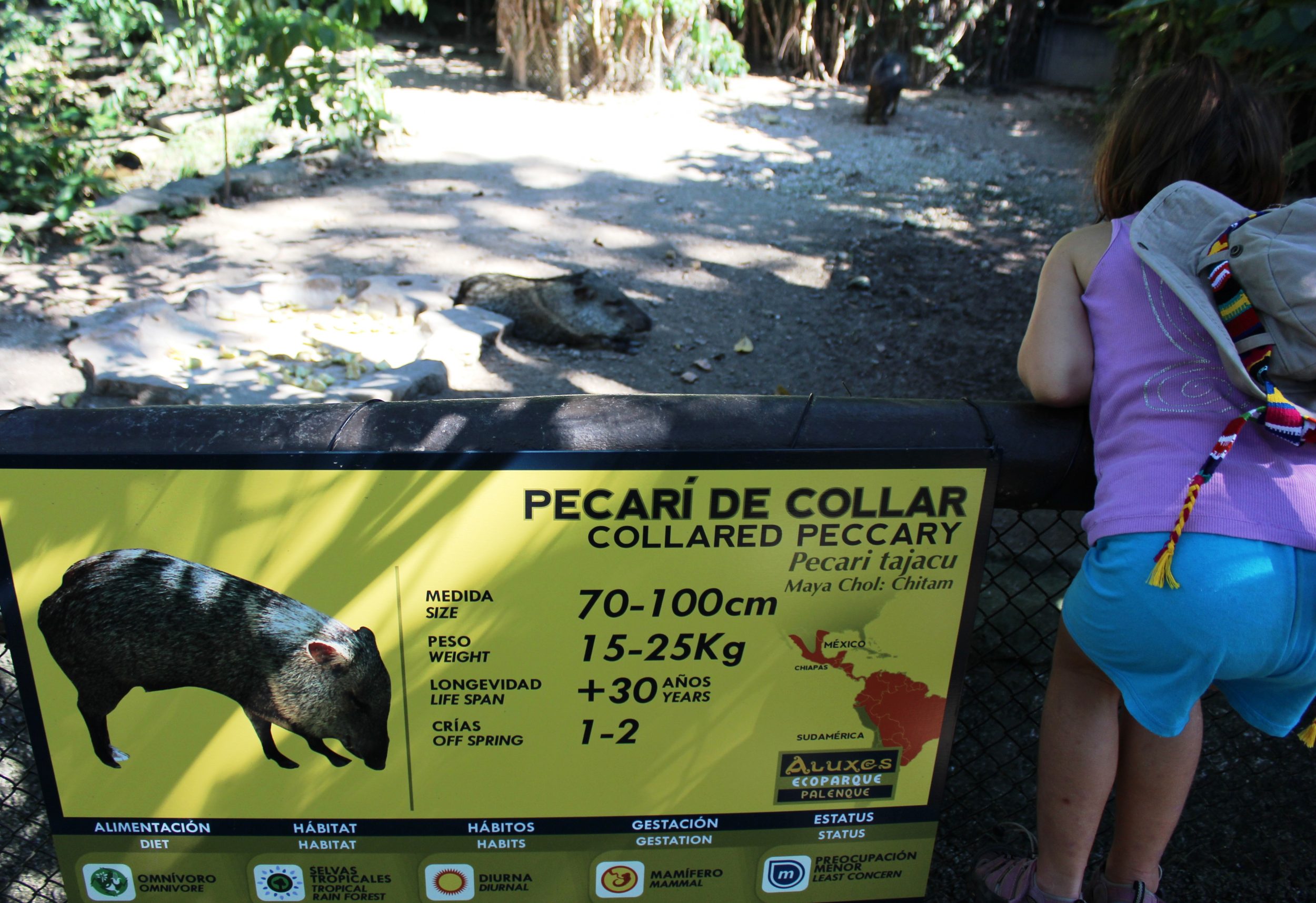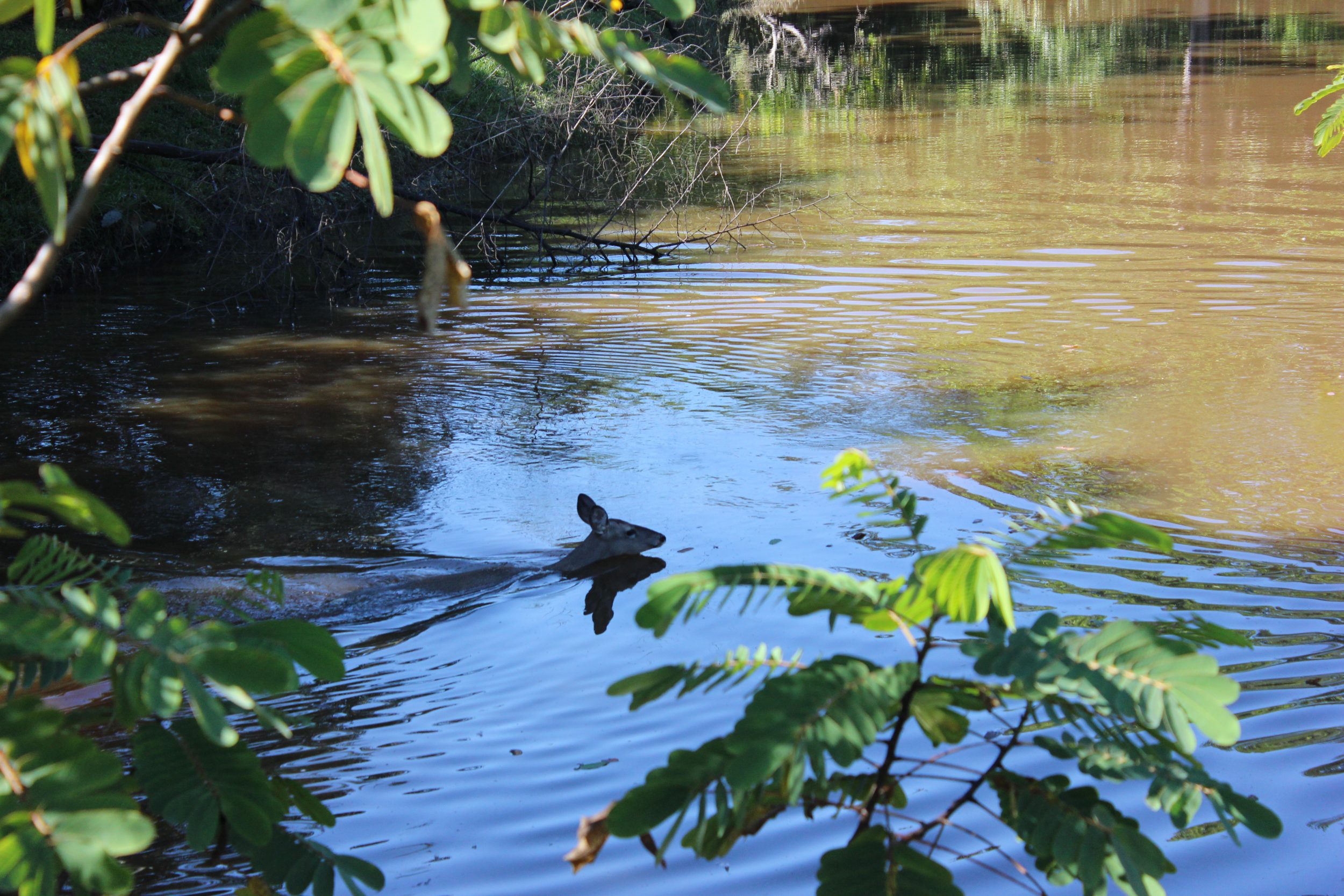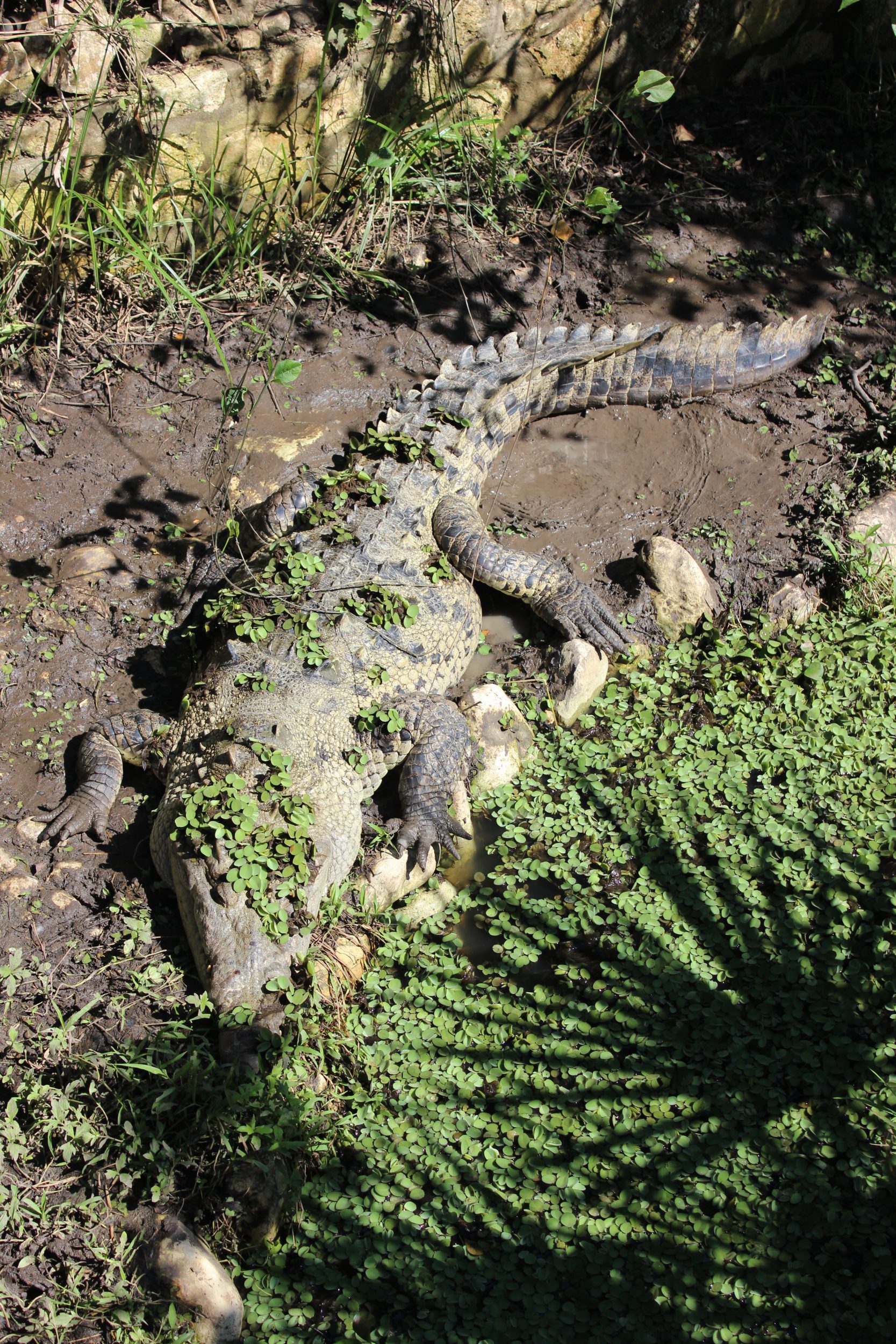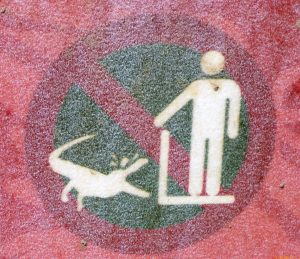 It was getting hot and finding the dozing crocodiles was like a crazy rainforest version of Where's Waldo. We were nearing the end, but I wasn't ready to go yet so we carefully noted every animal before moving on, some easier than others. Near the tapirs the wild scarlet macaws circled overhead then landed in the trees, delighting us all.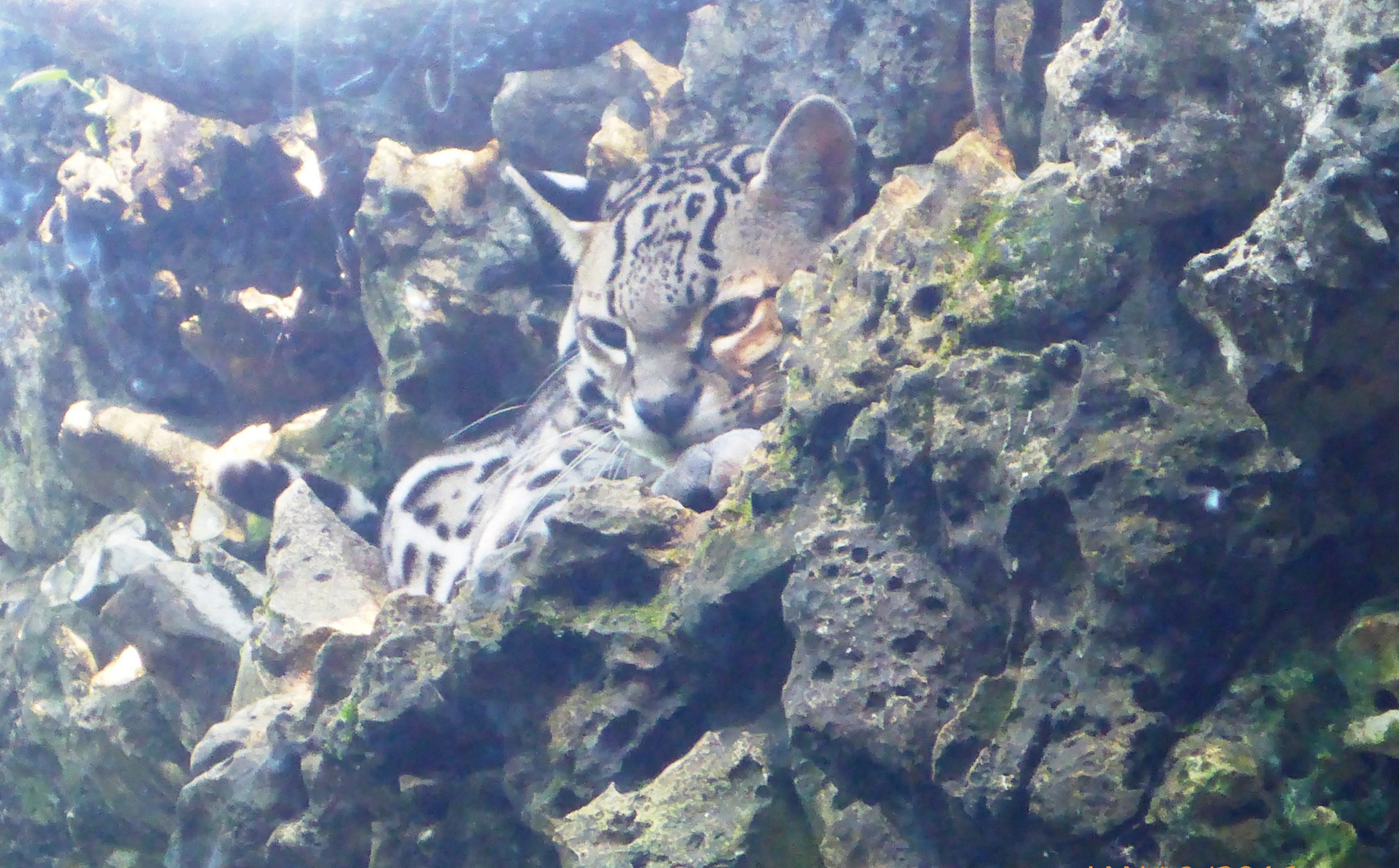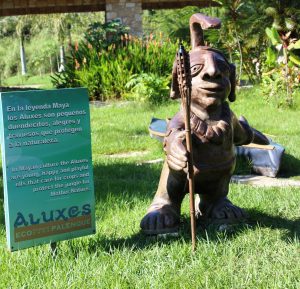 We hadn't planned on going to Aluxes Eco Park but it turned out to be one of the highlights of our trip. We left happy and knowing that the money we spent was going back to the animals we'd visited to make their lives better as well as improve the environment they came from. Not bad for an afternoon.