Visa Run Part 2: The Overnight Bus to Villahermosa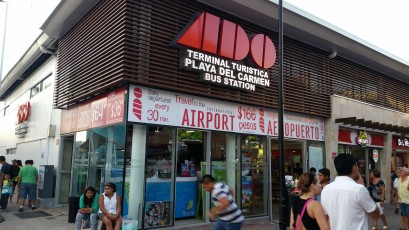 Let's talk about overnight buses. They can be a great way to get somewhere while you sleep, but they can also be terrifying and uncomfortable insomnia inducers. For my family it seems to be a bit of both.
We just returned from our first visa run to Guatemala and we took an overnight bus both ways to get there. I have done this before (learning the hard way how to avoid missing the bus,) but Jason and the kids had not.
The day we left there was a mad scramble of last minute additions to our luggage (isn't there always?) Headphones had disappeared so new ones were bought, provisions were laid out for the cat, all perishable goods were taken out of the kitchen to avoid smelly surprises on our return. Knowing we would be moving around a lot we packed carefully with each person's essentials in their back pack, each with a camelback inside and one carry-on sized suitcase for our clothes. It was only for 10 days after all. My biggest worry was having enough to do on the long bus rides; I carefully chose audiobooks, music, books, Uno cards and a travel version of Monopoly. We were all set, if a bit behind schedule and we just made the 4:00 ferry.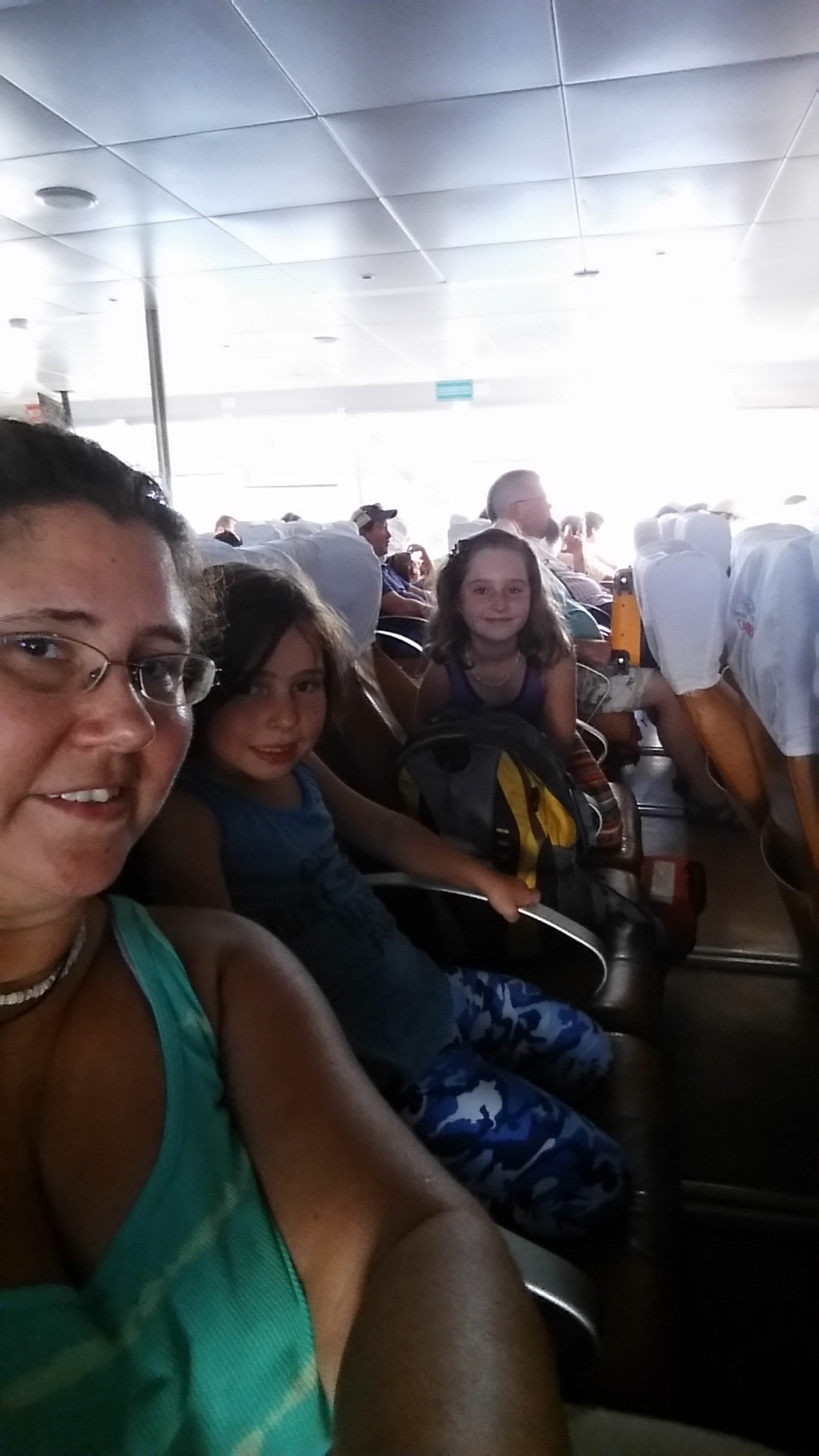 On the ride from Cozumel to Playa del Carmen I felt overheated after the dash to make the boat and started to get nauseous. I always get seasick on a boat if I don't take Bonine, which I did, but not until we'd boarded-oops. June needed to use the bathroom and staggered away toward the back of the boat to find the head (a little sea lingo there.) She came back crying, having pinched the pad of her middle finger in the metal door. There was a blister of torn skin and blood running down her finger. A bandaid only made it worse as it swelled, the pressure making it hurt more, so we took it back off and she held it out in front of her like a lion with a wounded paw. Not off to a great start.
Normally when I take a bus from Playa I use the ADO station right by the beachside plaza in the tourist zone of Ave. 5, just a quick dash a few blocks from the ferry pier. This trip we had opted for the Executive Class to make everyone more comfortable, and I didn't find out until after I bought the tickets that those buses are at the other ADO station, on 12 and 20. Not knowing where it was we took a taxi, one more step to get where we need to be.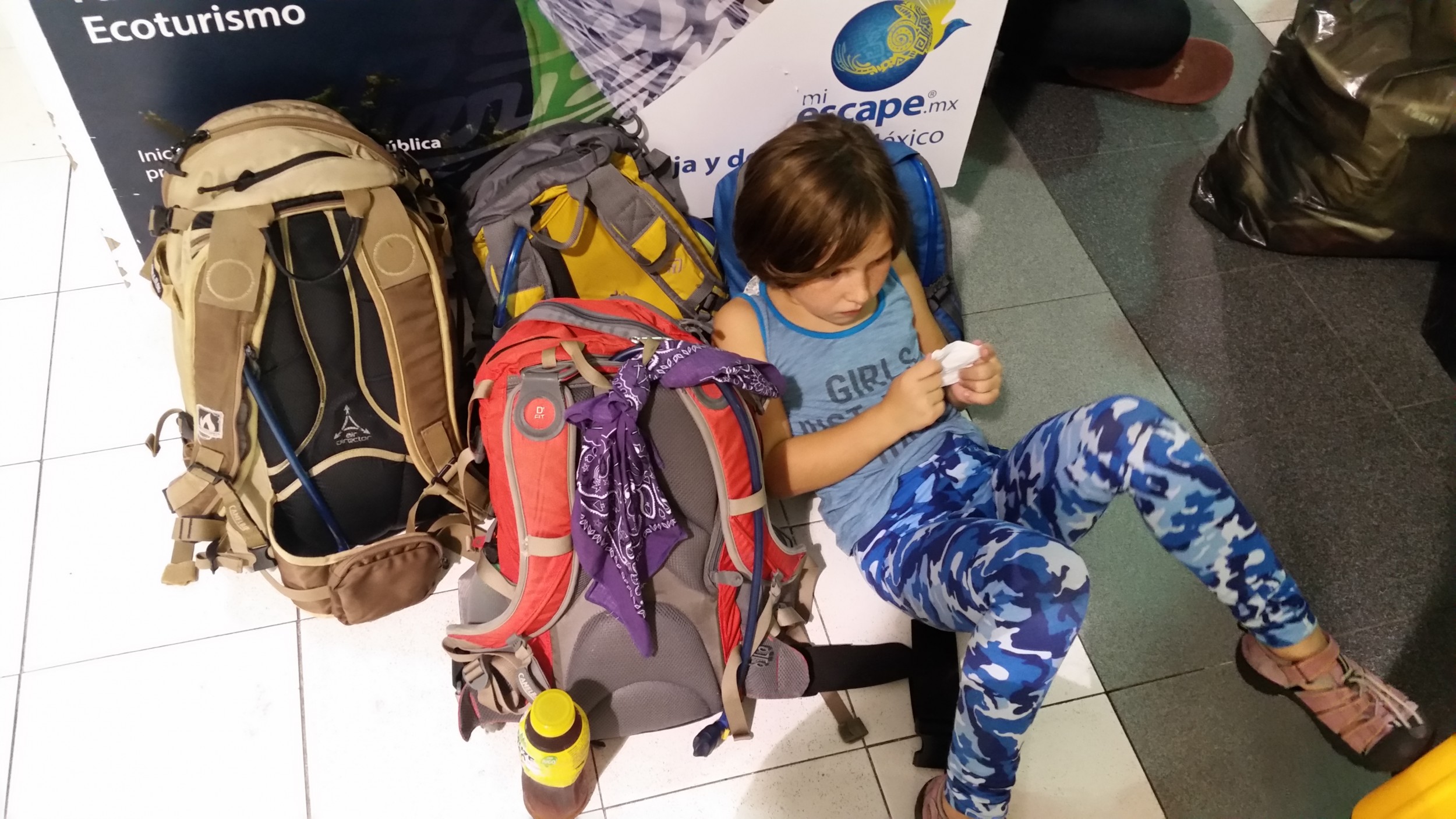 We settled into a spot on the floor of the crowded bus station, bags in a pile with the kids leaning on them listening to ipods. Jason and I took turns putting 5 pesos into the turnstile for us all to use the pay toilets (I think I've mentioned before how I really dislike paying to pee.) Our bus was on time at 6:45pm and I figured we should arrive in Villahermosa between 6 and 7 in the morning. The Parque Museo La Venta that we wanted to visit opened at 8, leaving us time to drop bags at the hotel.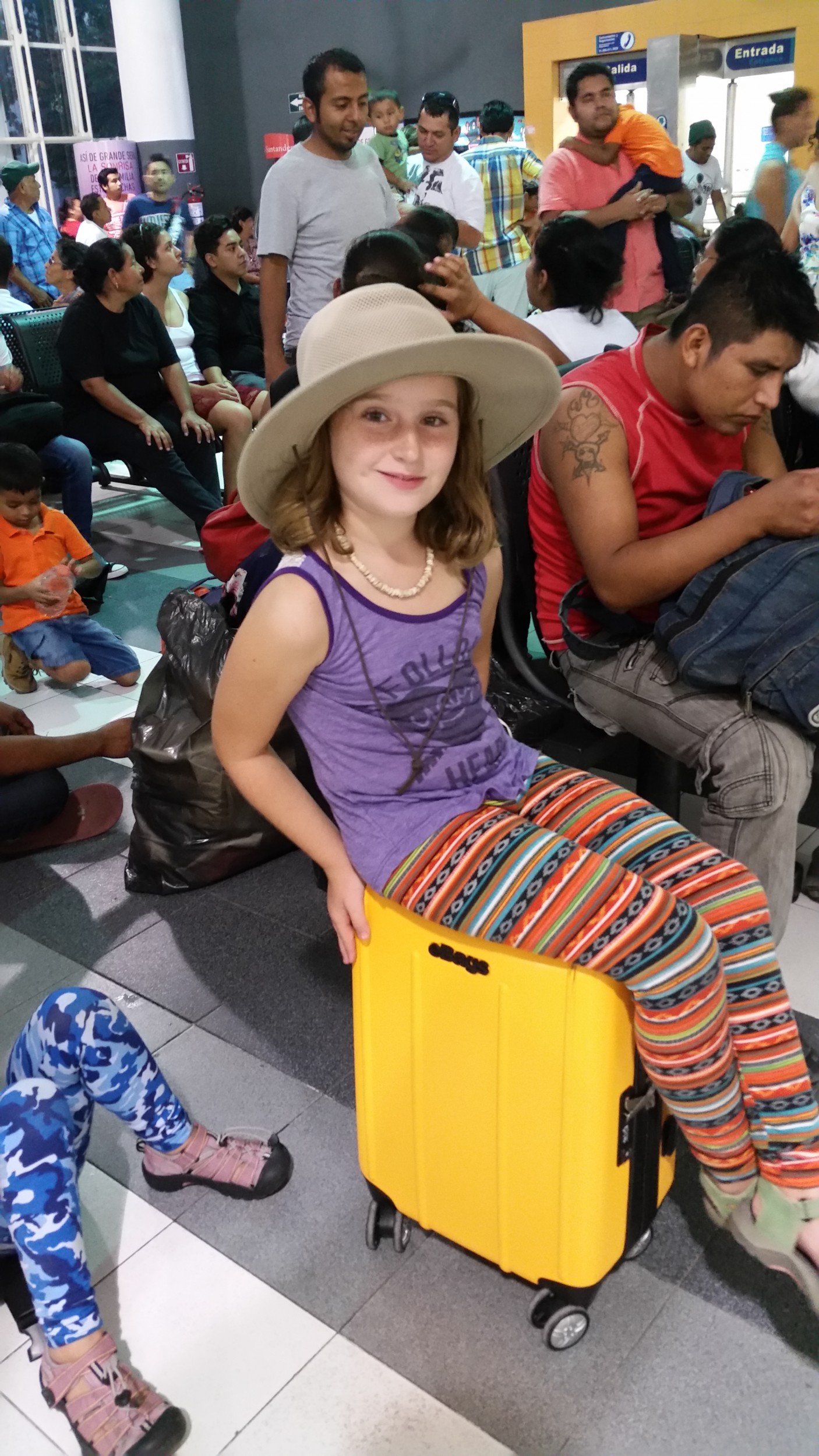 As we approached the bus I was surprised to find a stand in front of it where a woman offered us snacks and drinks. Suspicious, I asked if they were free. She frowned at me like I was slow and said they were, so we each grabbed a water and climbed aboard, eager to be on our way. Bathrooms cost but snacks don't, how strange is that? Still, things seemed to be right on schedule as we pulled out of the bus station.
Curious which route we'd be taking, I pulled up Google Maps on my phone to check our progress…and found we were going north to Cancun instead of south as I expected. Cancun is an hour from Playa del Carmen, so if we went up and back that would add 2 hours to our journey. June looked at it and complained that it was annoying, but I reminded her we'd get there eventually whichever way we took. The bus filled with passengers in Cancun, then headed south but before passing Playa again we turned west and struck out across the Yucatan peninsula. I breathed a sigh of relief.
Executive class ADO buses, called ADO GL, are different from first class not only in that there are free snacks and headphones when you board, there is 10 cm more of leg room, seats are made of memory foam, and there are electrical outlets. We were relying on this last one to keep ipods and phones charged during the long trip so we could listen to audio books like we do at bedtime at home. I had expected one for each seat but found there was only one for each pair of seats, hidden underneath in the middle. If you sit by a stranger I guess you have to play rock-paper-scissors to see who gets it. Another key difference that I appreciated: there are more tv screens but the sound is muted unless you plug your head phones into the seats-no Spanish movie blaring keeping you awake. Executive class is somewhat more expensive; the trip cost us around $50 usd per person (kids get half price tickets, so that helped.)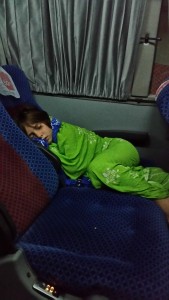 Rory falls asleep on car rides longer than 15 minutes and has slept through almost every plane ride, so I wasn't surprised that she passed right out. At one point she had turned so her legs were up the reclined back of the seat and her head was on the front edge, still fast asleep. June had a harder time getting comfortable, and Jason said he hardly slept at all due to aching knees from sitting so long. I encouraged him to get off and stretch when the bus stopped periodically while I stayed with the kids and made sure he didn't get left. I slept off and on, waking sometimes when the bus rocked alarmingly and trying to ignore the feeling that we were going to tip over.
I had my alarm set for 6:30 am to make sure I wouldn't miss our stop. When I woke up the green jungle outside stood out in stark contrast to the gray fog of the sky and I could hear the rain on the roof. We hadn't planned for rain, bringing only one travel umbrella. No problem, I thought, we'll just stop and get some ponchos, they should be big enough to cover us and our backpacks.
I watched as we passed Sam's Club, Wal-Mart and other huge big box stores, thinking of a remark from someone in Cozumel that there was nothing large south of the island. Villahermosa was big, much bigger than I'd realized, but that was good because we'd be able to find what we needed, right?
We got off the bus and watched the downpour from under the safety of the station's awnings. At least we wouldn't be too hot. Eager to get raingear so we could head to La Venta we got in line for a taxi. When I said Wal-Mart the woman at the taxi stand asked which one. Uh, there's more than one? That hasn't happened since we left the states. I said "Mas cerca," meaning the closest one, and she herded us into a taxi.
Wal-Mart, the biggest Chedraui I've ever seen, and a Del Sol later, we couldn't find any ponchos. There were some umbrellas, and I really didn't want to carry an umbrella all day while trying to take pictures but we gave up and bought a folding one for each of us for 50 pesos apiece. The rain had slowed to a drizzle, but it wasn't going to stop any time soon.
Every store had required us to check all 4 backpacks and our suitcase when we went in and we were tired of hauling them. I showed our 3rd taxi of the morning the address of our hotel, Mission Express Villahermosa, so at least we could leave the suitcase behind. He took us to some other hotel that had "express" in the name, and if I hadn't been looking at the map on my phone to see how close we were to the park we might not have caught it. I corrected him, showing him on my map this time and his face fell as he realized that it was twice as far and he should have charged us more.
Finally at the hotel in the historical district, we checked in and were able to leave most of our bags although our room wouldn't be ready until afternoon. The kids were grouchy from not having breakfast, so we walked down the street and around the corner and ran right into a McDonald's. The kids went crazy, begging to go in. Why not? Breakfast is breakfast, and McDonald's pancakes are just as tasty to me.
Refueled, we got another taxi and were finally on our way to La Venta. Our whole trip up until now had been a series of rides in various vehicles and we were all looking forward to being outside for a while, rain or no rain. As I handed over 100 pesos for our tickets I looked over at one of the vendor stands outside the gates and saw brightly colored plastic ponchos blowing in the wind.
Tomorrow: La Venta Parque and Museo in Villahermosa