It's My Birthday! 40 Before 40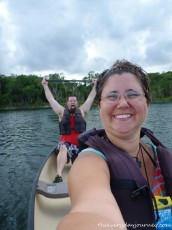 My original goal was for us to live by the ocean before I turned 40. At first the plan was to stay in the U.S., but things progressed and, well, next month we're moving to the island of Cozumel, Mexico. I'd say that goal is met and I need some new ones!
I was inspired by other posts I've read to make a "40 before 40" list of new goals to accomplish before reaching this milestone. Of course since my 39th year also coincides with the beginning of our year living in Mexico my list has been tailored to that in many ways, and I think that makes it pretty unique!
My 40 before 40 list:
Swim with whale sharks in Isla Mujeres
Work with nesting sea turtles
Work with

baby sea turtle release program

on the island

Done! http://theeverydayjourney.com/saving-sea-turtles-at-last/

Be able to carry on a conversation only in Spanish
Run a mile
Learn to salsa (and do it regularly!)
Visit

Frida Kahlo's house

in Mexico City
Turn the peace sign tattoo that I got when I was 17 into a sea turtle
Learn to drive a boat
Learn to surf (but I don't have to be good at it)
Dive in a cenote (and live to tell about it, that part is important!)
Practice yoga twice a week
Make a viable income online-this is vital to our new travel lifestyle
Have date night with my husband once a week-it's important to keep working on that connection. Never able to make it work in the U.S. but improving our life isn't just about seeing the world and expanding our minds, it's also getting closer to each other.
Lose 30 pounds-not for vanity, although I hope I will like the way I look, but for my health.
Be able to do 20 pushups-strength
Go spearfishing for Lionfish-they are an invasive species that is causing widespread devastation of native fish species in the Gulf of Mexico. I want to learn to spear fish, but not to further weaken the ocean ecosystem, so this is a win-win!
Hold my breath for 2 minutes-sometimes scuba is too expensive and snorkel is not enough. The answer for me is to learn freediving, short dives done while holding your breath. I am a former smoker and about to hit 40, so I don't expect to go pro or anything, but working up to 2 minutes seems realistic.
Learn to freedive-see #18
Work regularly with at least 2 volunteer organizations on the island-there are so many great places I don't think this will be hard.
Use that travel certificate from International Expeditions that Jason won-Amazon? Cuba? Ecuador?
Camp on the beach
Take my family back to

Chiapas

-Palenque, Agua Azul and Misol Ha, Yaxchilan and Bonampak. 3 parts, Done, done, and done!
While we're so close, let's do Tikal in Guatemala too.

Done!

Scuba dive the Underwater Museum in Cancun
Learn to meditate
Use my nursing skills in a way that makes me happy-volunteering with Cruz Roja maybe?
Advanced open water scuba certification, probably photography and night diving, maybe cave or wreck diving
Learn to climb a coconut tree
Visit Cuba; like many others I think there will be dramatic changes when it opens up to U.S. tourism and I'd like to go before that happens
Stay somewhere that comps everything because I'm going to write about it. This not only requires that my blog be good enough, but that my confidence be high enough, so it's a big step.
Donate blood. I've done it a few times in Iowa, (not as much as I should) but I am usually right on the edge of passing out. I think this is due to my couch potato health, so as I get stronger I think my tolerance should be better, and blood transfusions are not always easy to get on Cozumel so I'd like to contribute.
Publish an ebook. Anyone can self-publish now but first you have to write it and I suspect that is the hardest part.
Publish on this blog twice per week-I've been sporadic and feel the need for more structure. Plus there will be new things all the time as we get to Mexico, and I want to share.
Read one book by Hemmingway-I haven't attempted any since high school but I find the man fascinating so let's give it another try.
Sing karoke in Spanish. Doesn't that sound fun?
Listen to my children read for at least half an hour every day. I believe that if you can read you can learn anything, so we are going to really focus on that with our homeschooling and worldschooling.
Learn to identify 10 different medicinal plants in Mexico. I know a lot of edible and medicinal plants here in the states and want to add to that knowledge.
Learn to make corn tortillas-mmmmm.
Ok, you're about to turn 40, what do you want to do next? While we're in Florida for TBEX I'm going to Disneyworld with my family.
I'll update these goals as I get them done-time to have some cake! Happy Birthday to me!