Visa Run Part 5: Mayan Ruins of Yaxchilan and Bonampak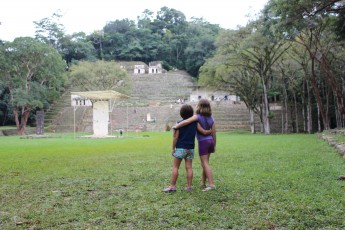 The journey to Mayan ruins of Yaxchilan is one of my favorites so far, off in the remote jungle and only accessible by boats that look like overgrown canoes. I do wish it didn't have to start so early.
We knew we were being picked up at 6am from our hotel in Palenque so June and Rory slept in their clothes and our backpacks were all packed for the day. It was still rough to get up, the kids were a whiny mess and they couldn't get back to sleep in the car. An hour into the ride we stopped for breakfast in the middle of nowhere at a charming buffet that wisely caters to the tourist groups every day. Local women are cooking, the food is good and the coffee is hot.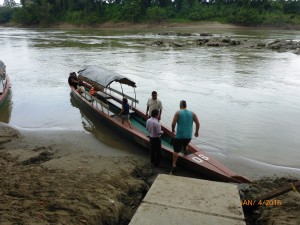 Back in the car for another hour until we arrived at the muddy Usumacinta river which makes up part of the border between Guatemala and Mexico. Tomorrow we would cross here to spend a few days in Guatemala and renew our visas but today we were taking the boats half an hour down river to see the jungle city of Yaxchilan. This is the only way in and out of the ruins and adds to the adventure.
We left our bags with Jose at the car without thinking about how cold it would be zipping across the water on an overcast day. The kids were immediately cold and hid behind Jason and I to get out of the wind. There wasn't anything else to do but suck it up and be chilly, but it wasn't bad. We distracted the kids looking for crocodiles and shared our gum with the boat driver.
When we arrived our boat driver said be back in two hours and left us on our own to climb up to the entrance. The concrete stairs I used on my last visit here had crumbled in the muddy bank and I wondered how often they had to build new ones. I sent the kids to use the only bathroom while I signed the guest book, enjoying putting "writer" in the space for occupation.
When you first enter Yaxchilan there is a side path that climbs the hill or you can go straight into the jungle on a wide path. I prefer to take the wide path to the flat grand plaza first. I told the kids to tell me when they spotted the ruins and when they started to peek through the jungle they hooted and scrambled over the rise to the mossy green stones.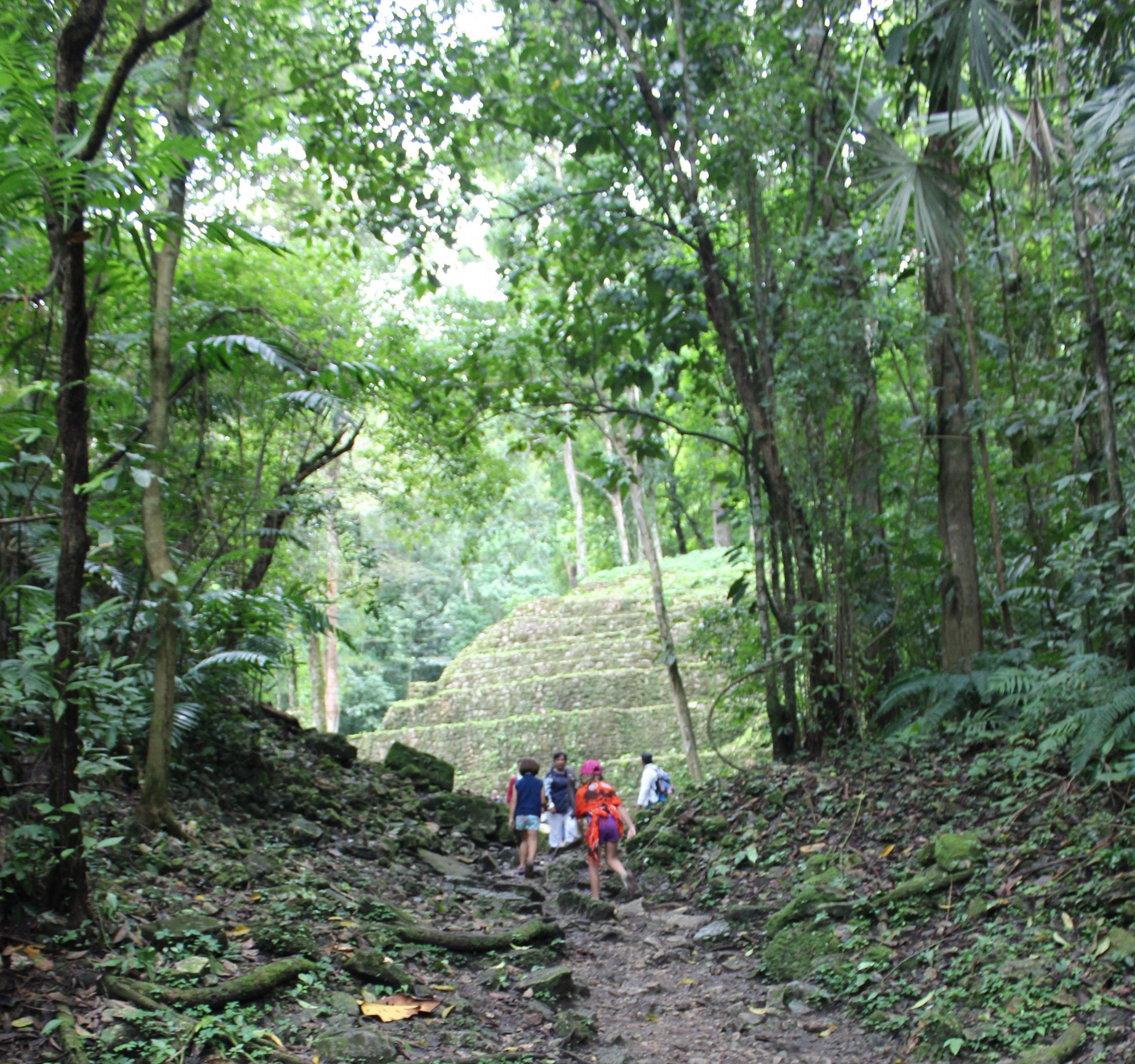 To enter the grand plaza and the rest of the ruins from this way you have to go through the first building which is full of bats and large spiders. The girls insisted we explore every hallway until it dead ended and used the flashlight app on my phone to avoid the spiders while the bats squeaked protests overhead. Being able to go inside an intact building and explore like this is one of the things that makes Yaxchilan special to me.
Once we emerged back into the open plaza there were multiple stone structures to examine among huge ancient trees. By the time we approached the climb to the rest of the city howler monkeys had started calling, the perfect explorer's soundtrack (short of the Indiana Jones theme of course.)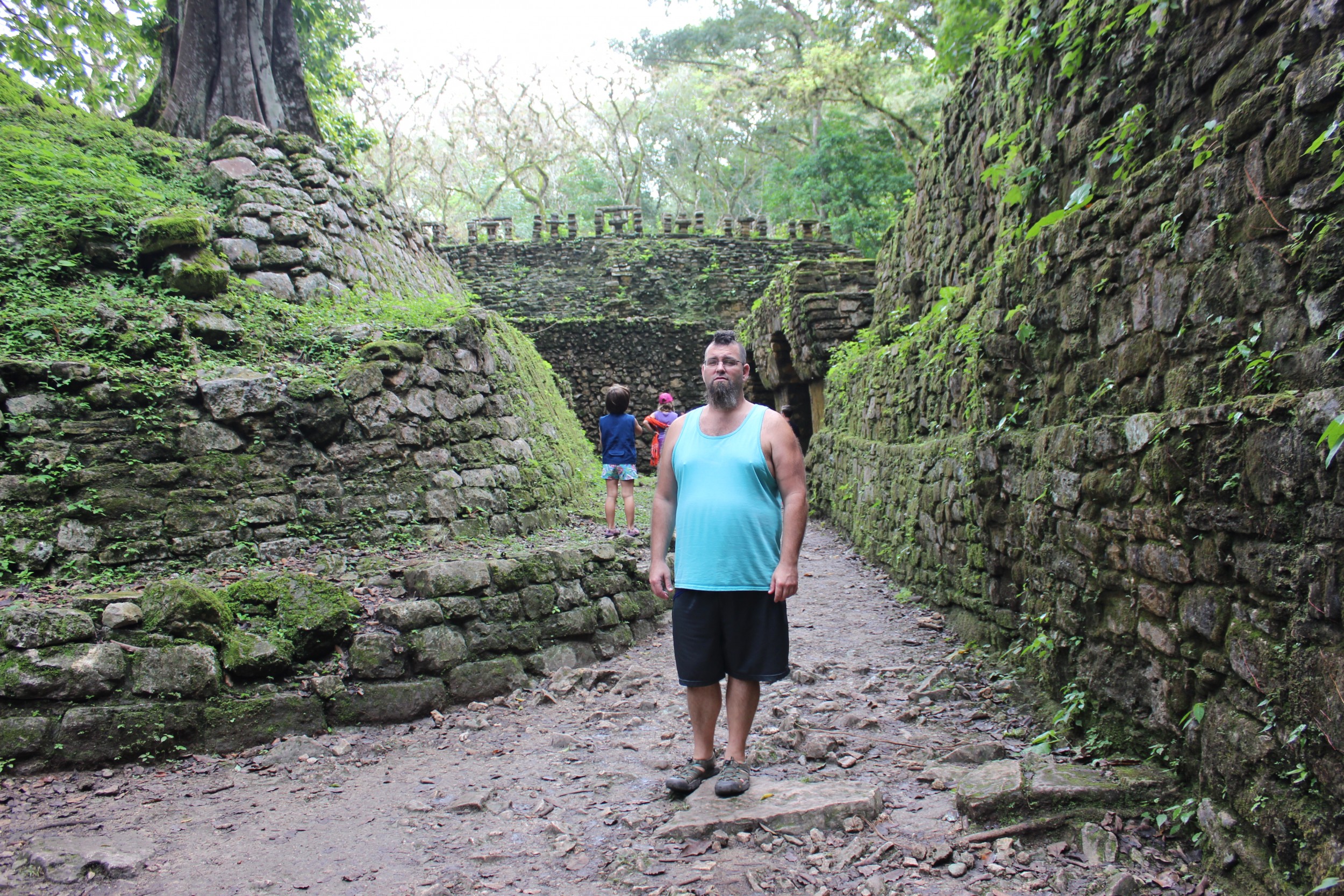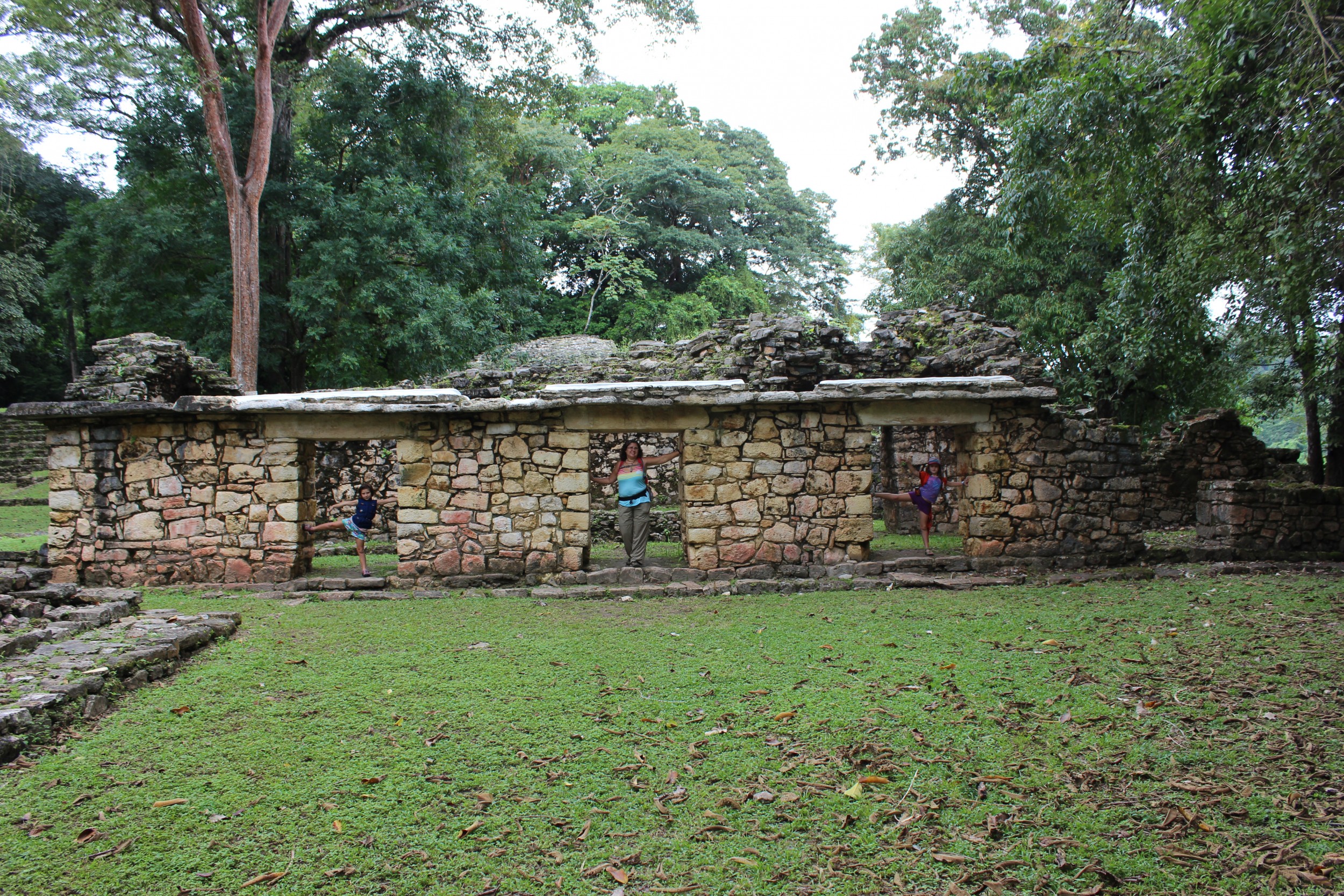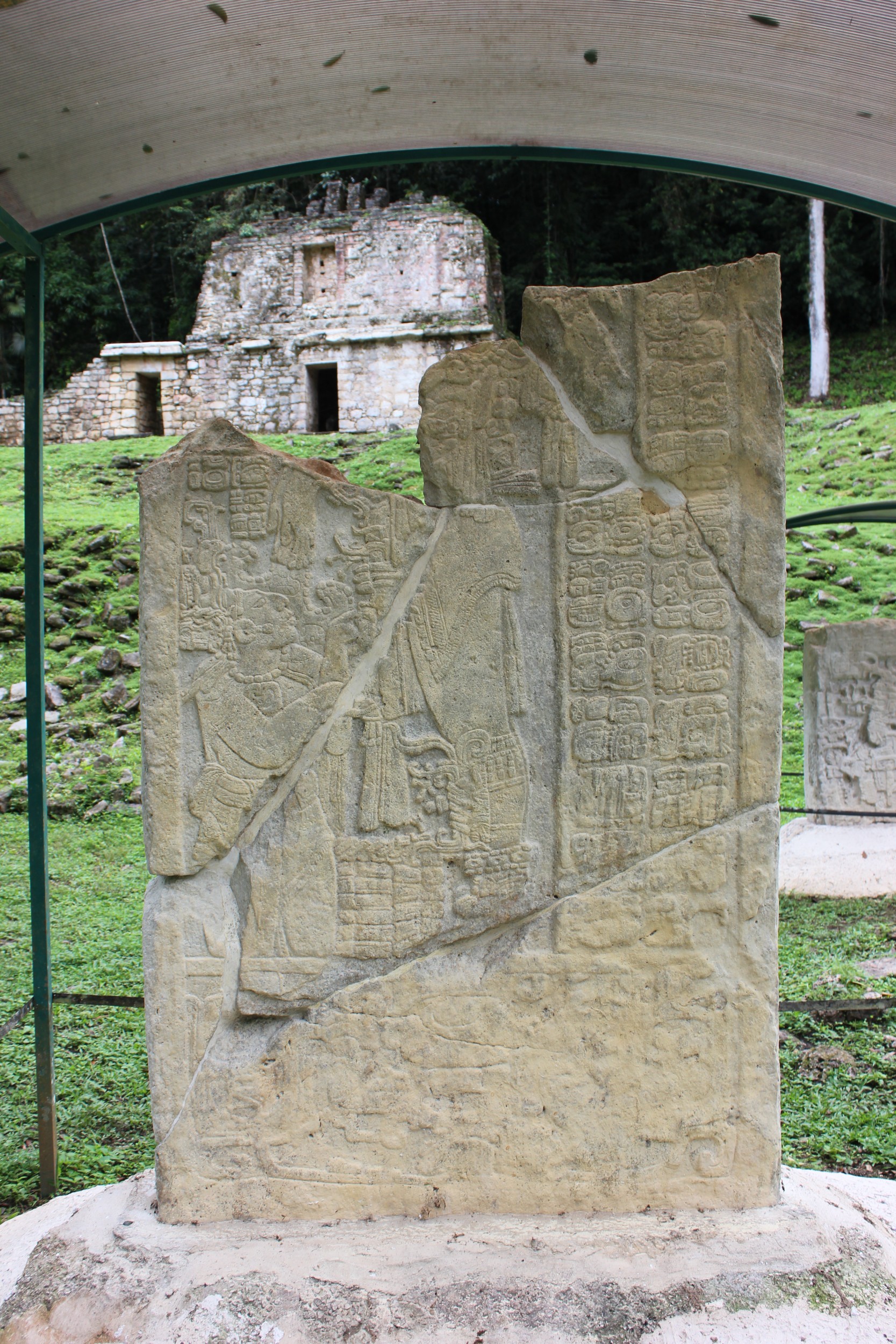 If you want to see all of Yaxchilan you have to move pretty quickly and the climbing over uneven rocks and roots can get brutal. The jungle is green and wet and the path gets slippery. At a fork in the path we chose to climb to an area I had missed last time that seemed to go up forever. By the time we considered turning back we'd gone so far we all wanted to see what the heck was at the end-three structures that were very similar to the others we'd seen. As we gasped for breath I remembered why I'd missed this last time: we'd turned around earlier on the climb when someone coming down had warned us it wasn't worth it. Oh well, at least I could say I'd done it now.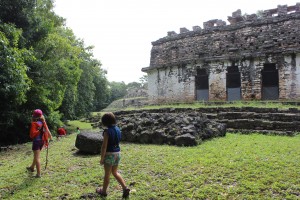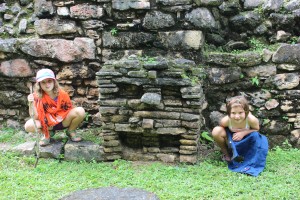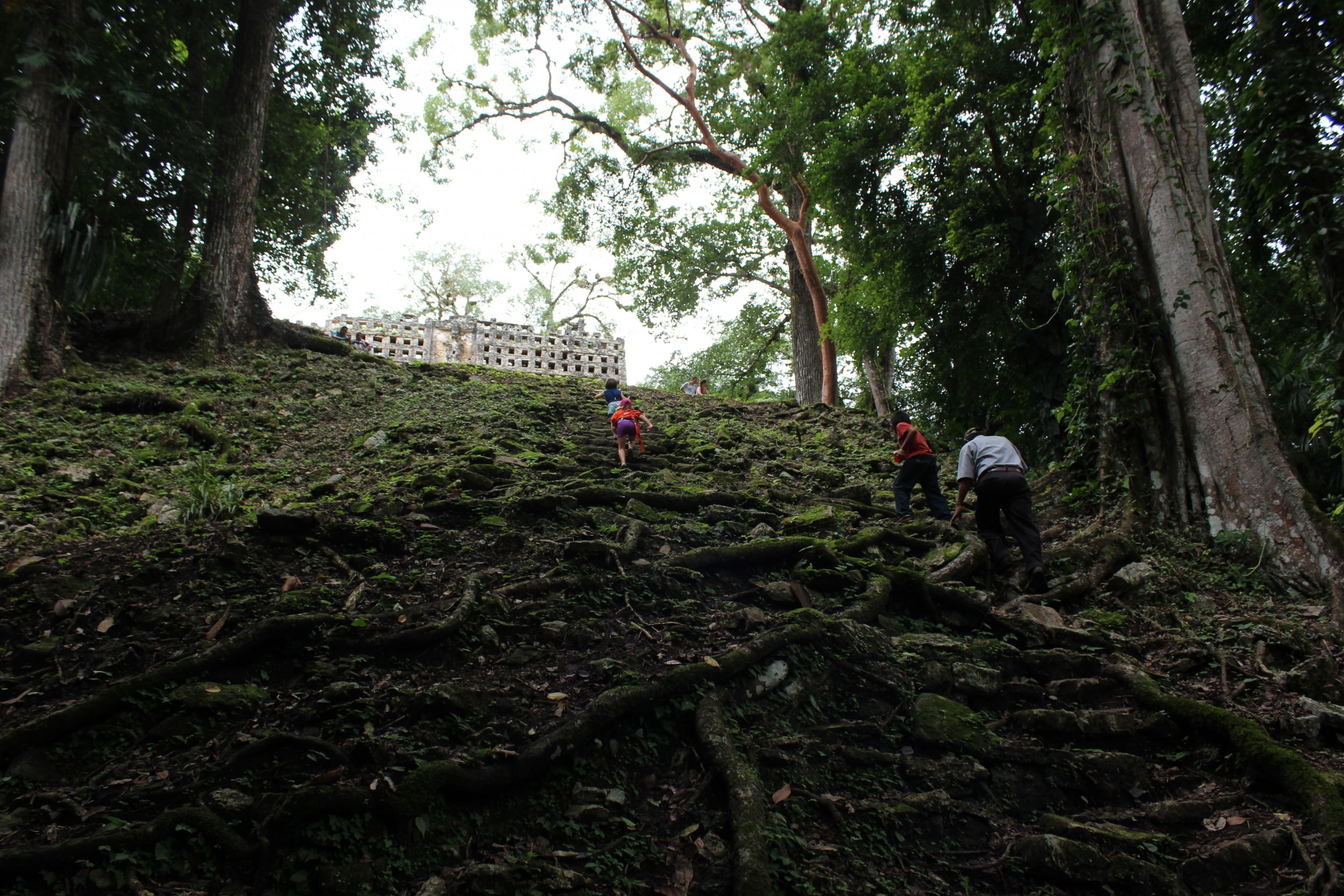 June climbed like a seasoned mountaineer, I couldn't believe how much energy she had and kept having to call to her to wait. Rory got tired but didn't complain. She stuck close so we could catch her if she slipped and her shorter legs had trouble with some of the big steps. On the way down we all slid at least once and Rory fell and scraped her back on a rock just a little. I was afraid one of us would go down and we'd become a "people ball" as June called it, rolling uncontrollably to the bottom. We were starting to run out of time but I decided I'd rather be in one piece than worry about punctuality, and we still made it down within about 10 minutes of the boat driver's deadline. It was a relief to pile back into the boat and cuddle together as we drove back upstream toward lunch.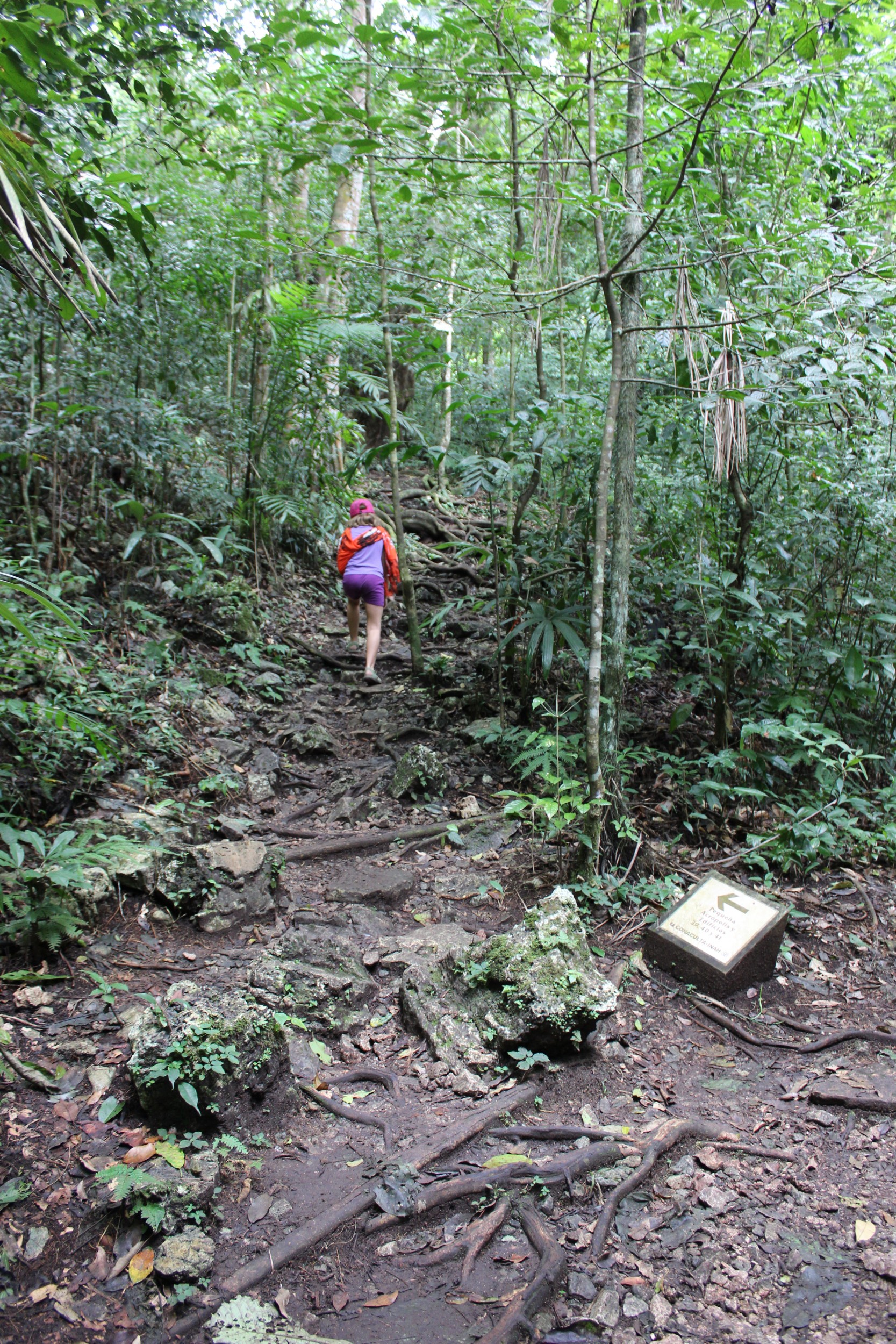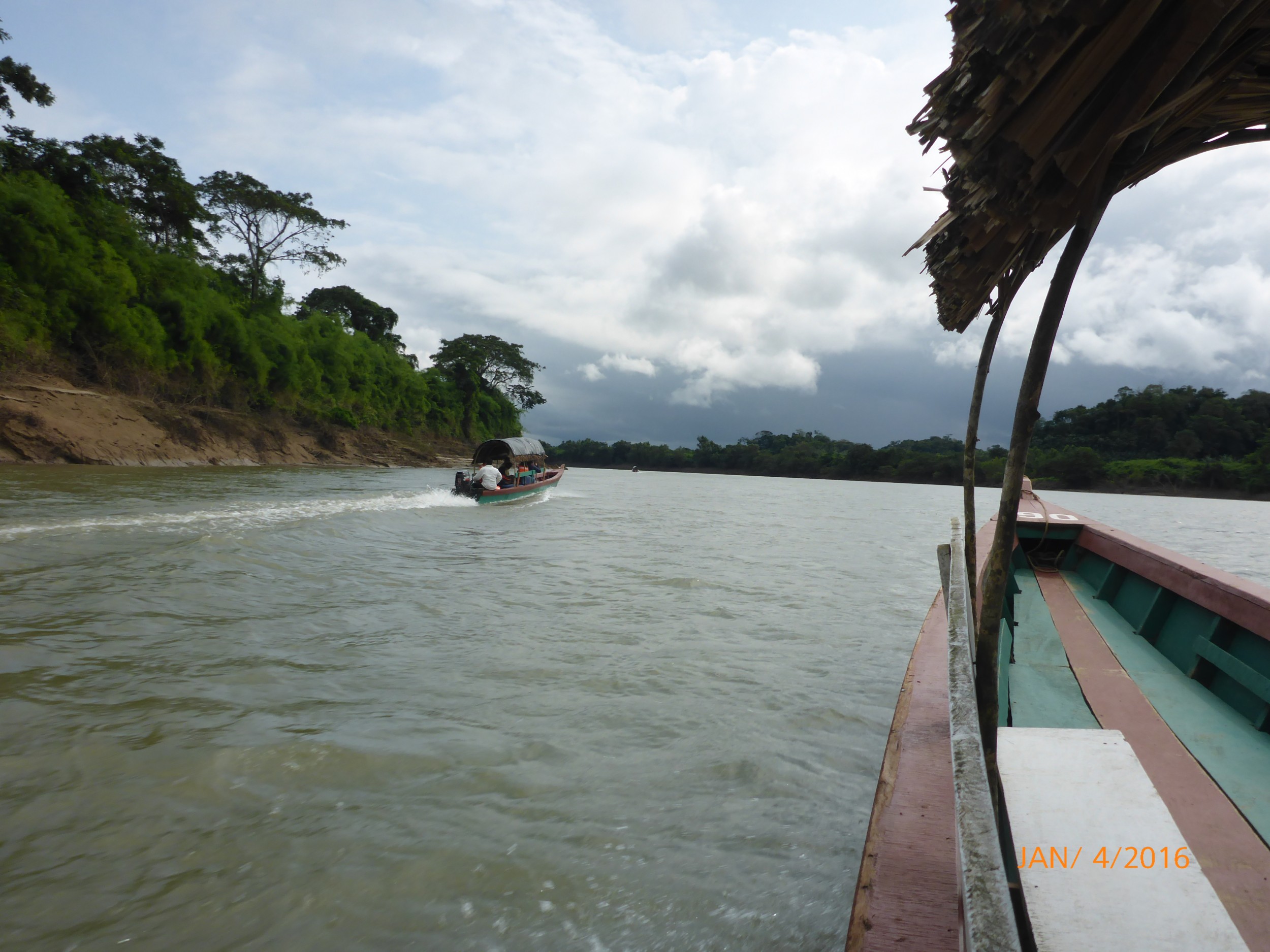 Jose met us and brought us to a restaurant just outside some nice cabanas for the standard tour fare of chicken or beef, drinks not included. I wasn't clear on where our accommodations were and asked hopefully if we would be coming back to stay in them tonight, but he said no we were in other cabanas. The kids finished their meals and played hide and seek while Jason and I relaxed a few minutes at the table.
It would be another 45 minutes to Bonampak, and I knew that when we approached we would have to change to one of their vehicles. The local indigenous people have tight control at Bonampak; you have to use one of their drivers to go the last 15 minutes into the reserve, and there are men inside that will watch to be sure no one damages the original colored murals that are the crown jewel of the site. They take it very seriously, and I can't say I blame them for protecting their heritage and their source of income. In their van we met a couple that was on holiday, Frank from France and Raquel from Spain. We compared travel notes on the ride and Rory informed them that it was almost her birthday (she did that the whole time.)
Arriving at the entrance for Bonampak there is a ticket seller near the bathrooms. This is where you get the tickets that allow you to see the murals-if you climb up the ruins and try to approach without it they will tell you to back up all the way across the plaza and through the gauntlet of women selling jewelry and get that ticket (maybe a quarter mile?) It's best just not to forget your ticket. With ours safely in my pocket we walked down the gravel road that led us into Bonampak.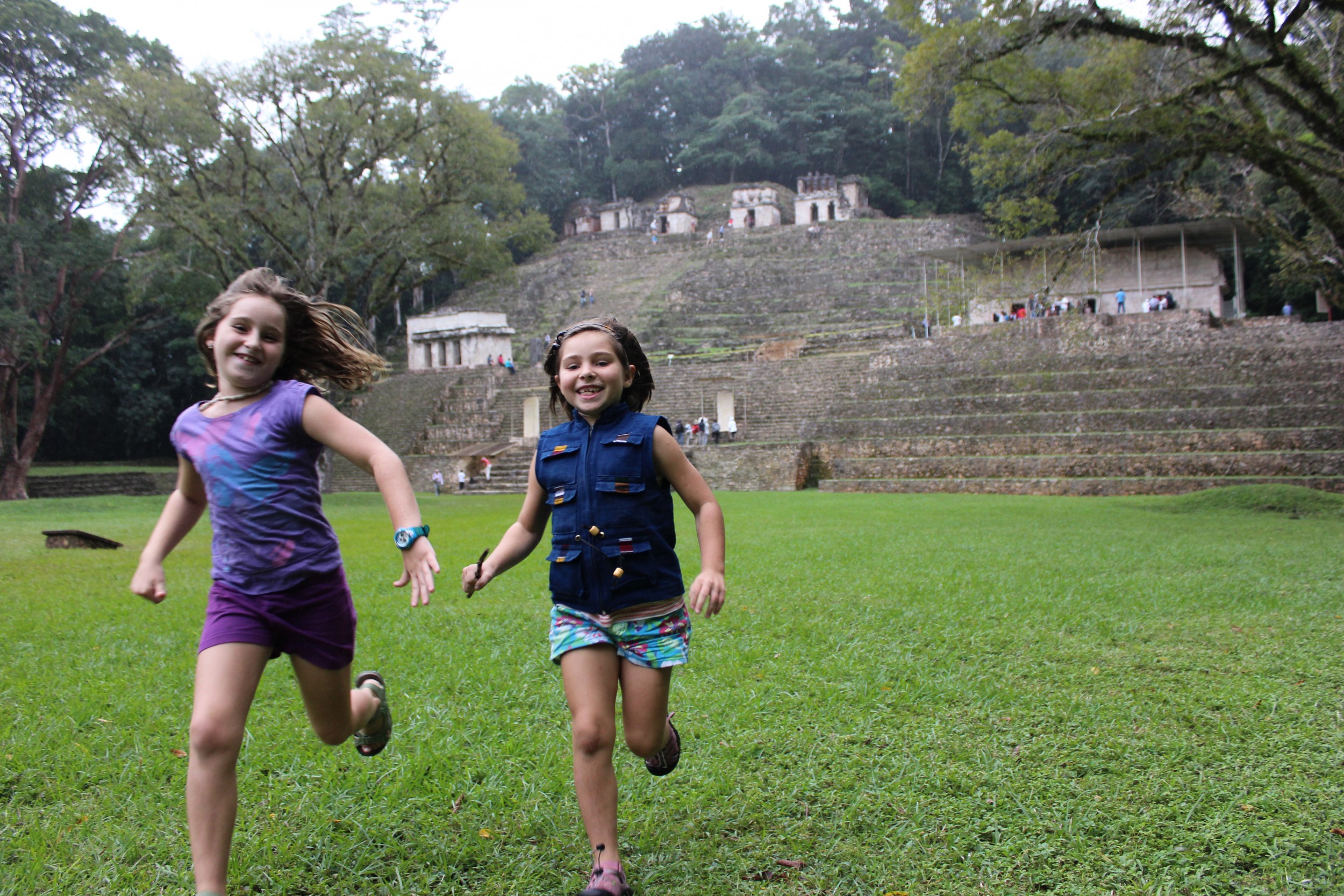 This is one of the smaller ruins, good for the end of the day when you are tired from climbing all over Yaxchilan. June and Rory played tag in the open grass of the plaza, their energy restored during the drive. The murals are about halfway up and to one side, 3 rooms with a protective covering and signs posted about all the things you cannot have when you peek inside. Locals stand guard and will come after you if you forget to take off a hat or backpack or anything that might brush the walls. What makes these murals special is that they are the originals from 800 A.D. and the colors are still true. They are not perfect, but even my children were impressed.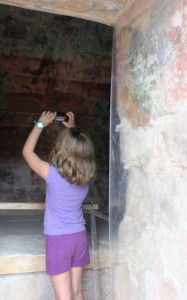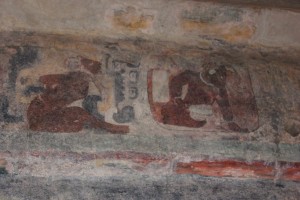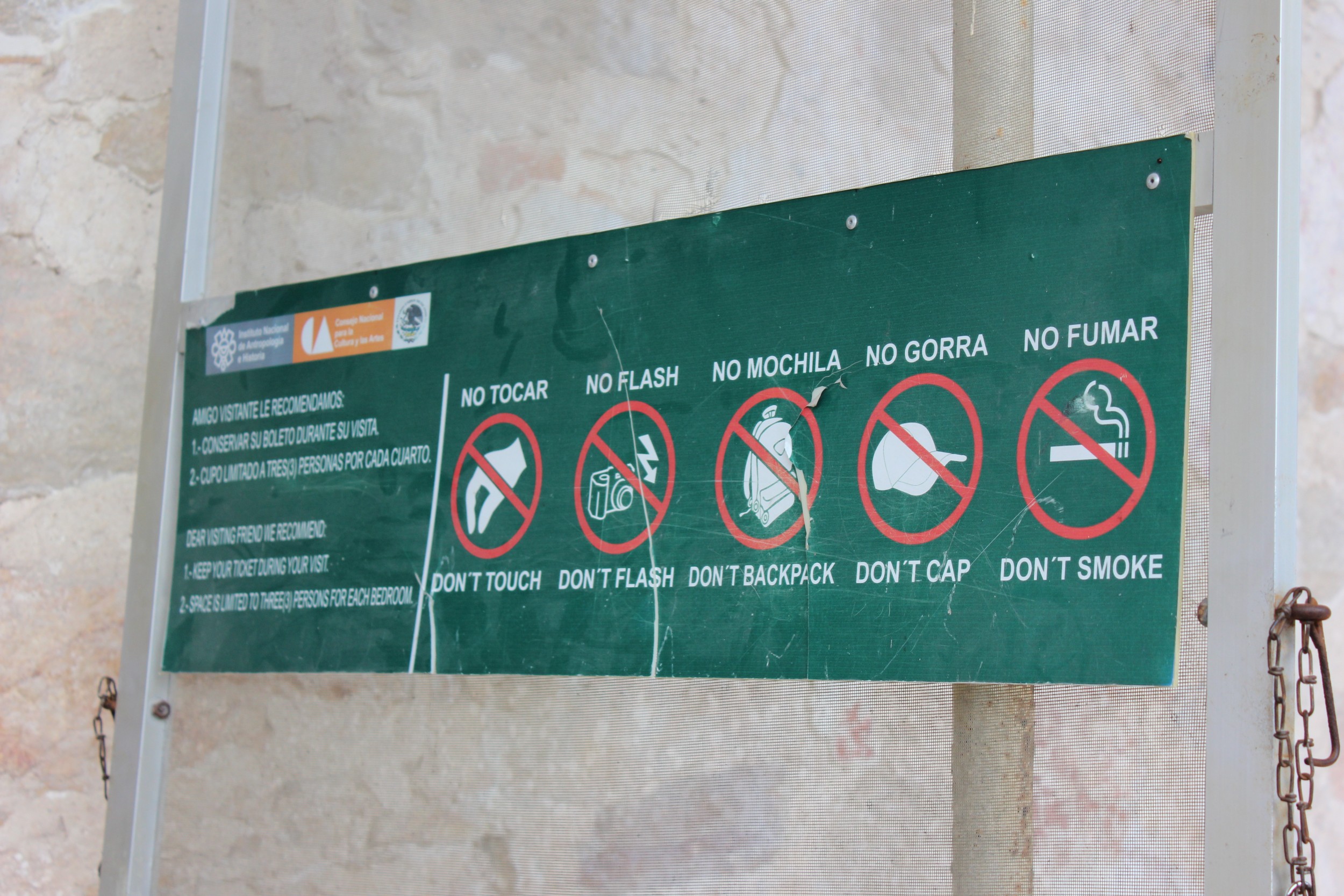 Climbing the second half of the ruins is just kind of a "why not?" so we followed June as she raced ahead to the top. The stairs here are narrow and we were recently shown the trick of climbing diagonally instead of straight up, which makes it easier. The view over the plaza is good, but the drivers only allow around an hour and our time was almost up.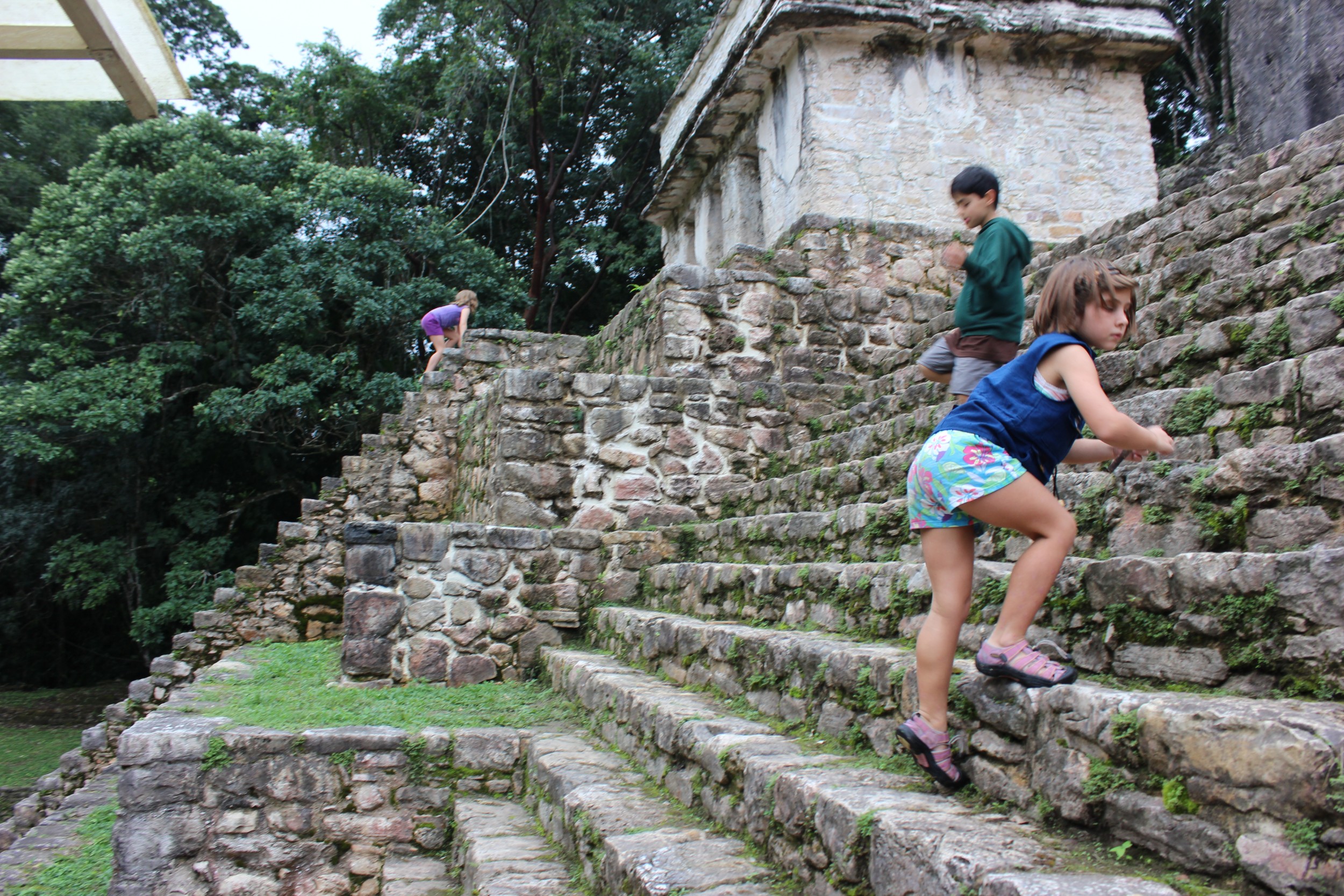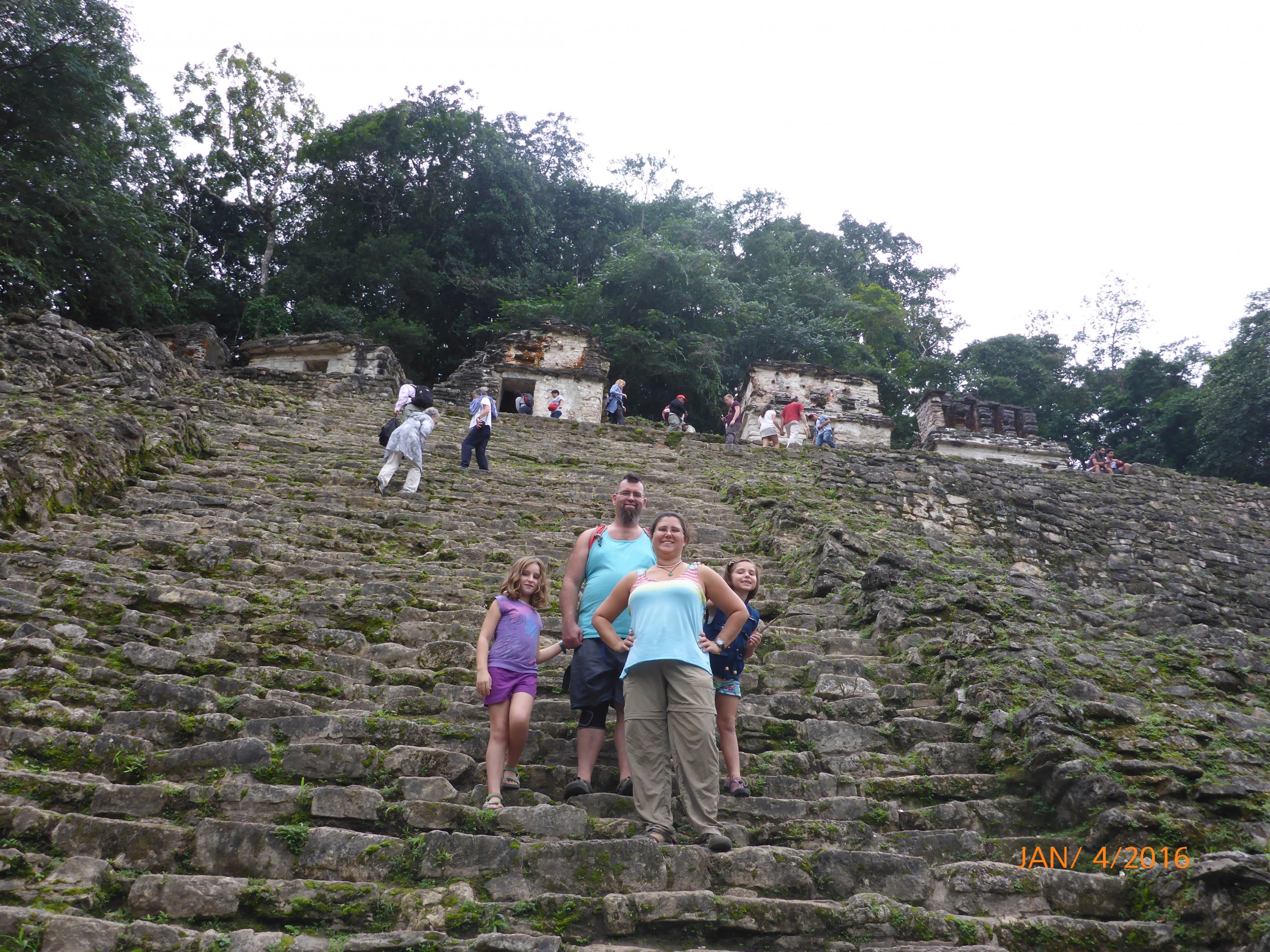 We rode back through the jungle and climbed in the car with Jose for our final trip to our cabana at Lacuna-ha. I had no idea what to expect, but I figured it would be more primitive and it definitely was. Jose got us checked in after a little arguing with reception. I got the impression that they had put us in a smaller room and he had corrected it for us, great guy that he was.  We were led from the main building through a tunnel of greenery to a building with plain board walls, concrete floors and a sheet metal roof. The beds had mosquito nets and there was a fan. I don't mind rustic backpacker places but this was Jason's first time and I wondered how he would like it.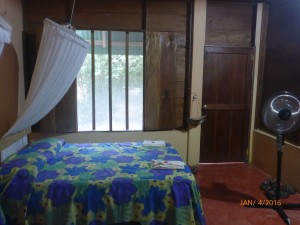 Meals were included at the main building but no one had been there when we arrived a little after 5 and we didn't know when dinner might be served. Several dogs roamed the property and the girls named them and played with the puppies while I admired the free range chickens. Somewhere we could hear a turkey and running water so we went exploring between the other cabanas and found a pleasant stream. I couldn't help thinking the cabana next to it would be ideal, white noise all night to help occupants sleep plus it was very pretty.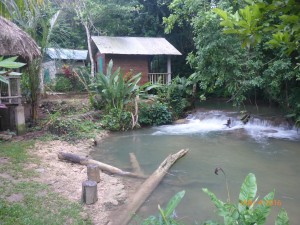 We got settled in and started taking turns washing off the mud in the shower. It was getting dark and everyone was done except me when the power went out. We could see the lights outside along the paths and at the next building were still on, it was just our building that was dark. Maybe a blown fuse? Deciding that meant it was time to go see about dinner we walked back to the main building.
Other people were sitting at the tables now and a very soft spoken woman came out to ask what we wanted to drink. I asked for "manzanita," meaning the apple soda that the girls like to drink and she nodded. What she brought was "manzanilla," chamomile tea. This turned out to be a happy accident. I've been trying to get my girls to drink herbal teas for years but they always refuse to try it. With limited options they weren't so picky and found that with a little sugar manzanilla tea was their new favorite drink. We had two cups each. Jason still had an angry digestive system from our unfortunate meal at Hotel Tulija's restaurant and he couldn't eat, but he could drink the tea to stay hydrated and calm his stomach.
Our choice of meal was enchiladas of some sort and quesadillas, so I ordered some of each. While we waited the kids were supposed to be writing in the journals but they were distracted by the audience this attracted. The local kids crowded around, even taking my seat when I got up. I didn't know if they were fascinated by gringa children, or the books, or the english words. They just put their faces right into whatever we were doing and chattered away not caring that we didn't understand. June was especially uncomfortable with this, so when it became obvious they weren't going to go away I let her close her book and get up to play with them instead.
One little girl who looked about 3 loved Jason. She kept climbing onto the bench next to him where she would stand and pat the mohawk on top of his head. Smiling she told me, "Es una gallina," and I laughed out loud. "What did she call me?" Jason asked and I repeated it, then explained the words mean that he looks like a chicken. Since he shaved his hair into a mohawk our Mexican friends have been perplexed, asking "What happened to your hair?" Now we know why. Jason laughed so hard he almost fell off the bench.
In my rudimentary Spanish I told the woman who was serving tables that our power was off. "Cabana no electricidad." She looked at me blankly, so I tried again. "En mi cabana la luz," here I flopped my head over and grunted like I had died, sticking my tongue out. She smiled and nodded, then pointed and said something about the reception window around the corner. Reception and the cooking area seemed to all be together in the back, so no one was at the window. I banged on the desk and hollered "Hola!" a few times before another woman appeared. Again I had to explain both ways before she understood, then she said ok and went back around the corner to the kitchen. I hoped that meant they would check on it soon.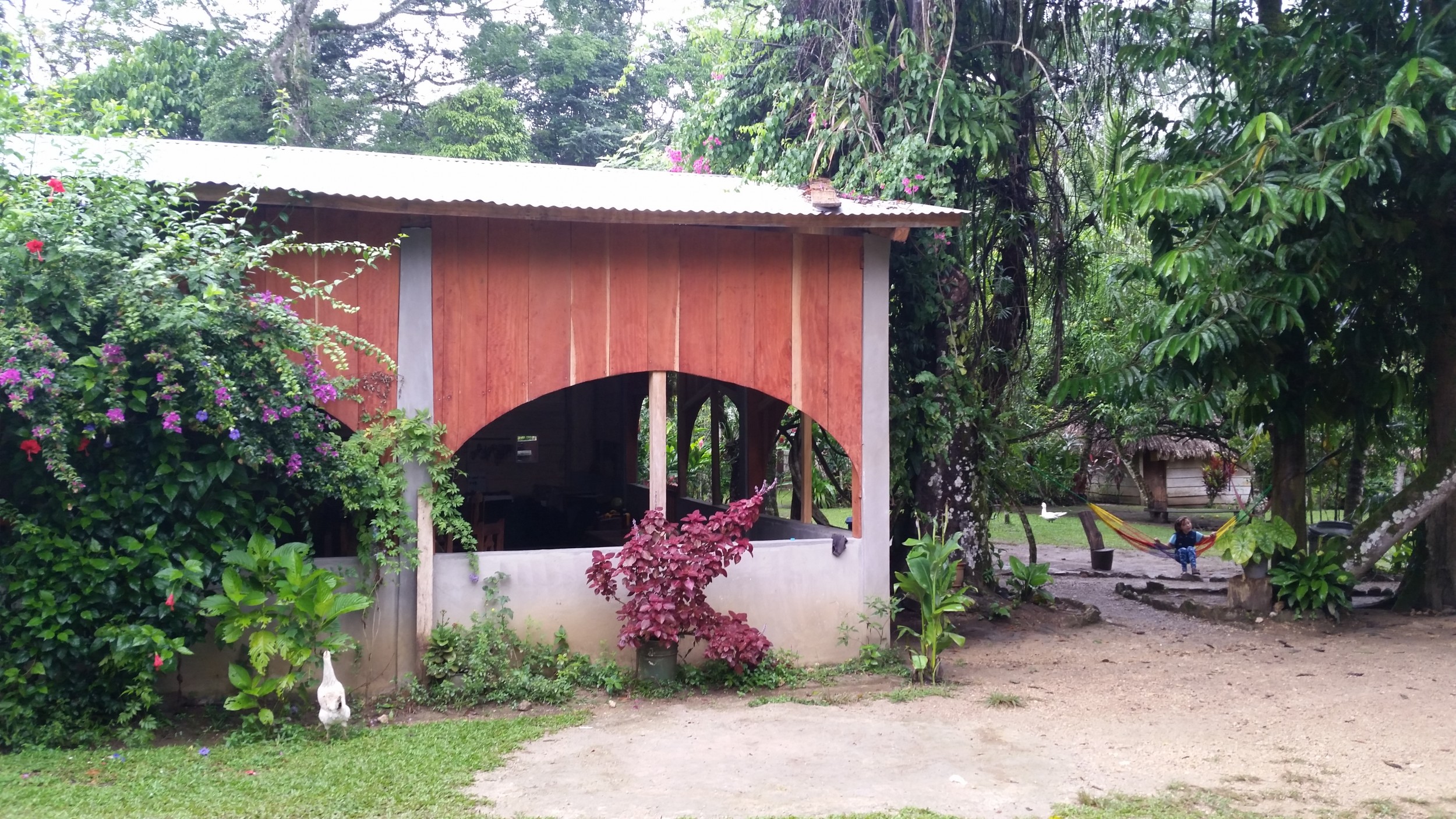 We ate dinner and played with the kids for a while, but we were up early and we were tired. The kids were in danger of getting muddy again and I really wanted a shower so we headed back to our little house. Still no power. I went back up and told them again, and the woman said something that ended in a word that sounded like repair. We saw a man and woman come down and poke around, then leave again with the lights still off. I couldn't shower in the pitch black so I gave up. We used the flashlights apps on our phones, but we wouldn't be able to charge ipods or phones and tomorrow we would be spending all day on a bus getting to Guatemala. We were not happy.
Four people with 2 flashlights was tricky, and in a sudden flash of inspiration I set the phone down and put a bottle of water on top of the light. The water reflected and lit up the room pretty well while we got ready for bed. It was only around 8pm but there wasn't much else we could do. We hadn't seen any bugs but spread the mosquito nets out for the novelty of sleeping under them. A few hours later the power came back on, the fan and lights kicked on and Jason and I got up and plugged things in to charge.  The beds were small so we put one adult and one child in each bed to have more room.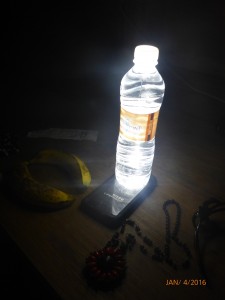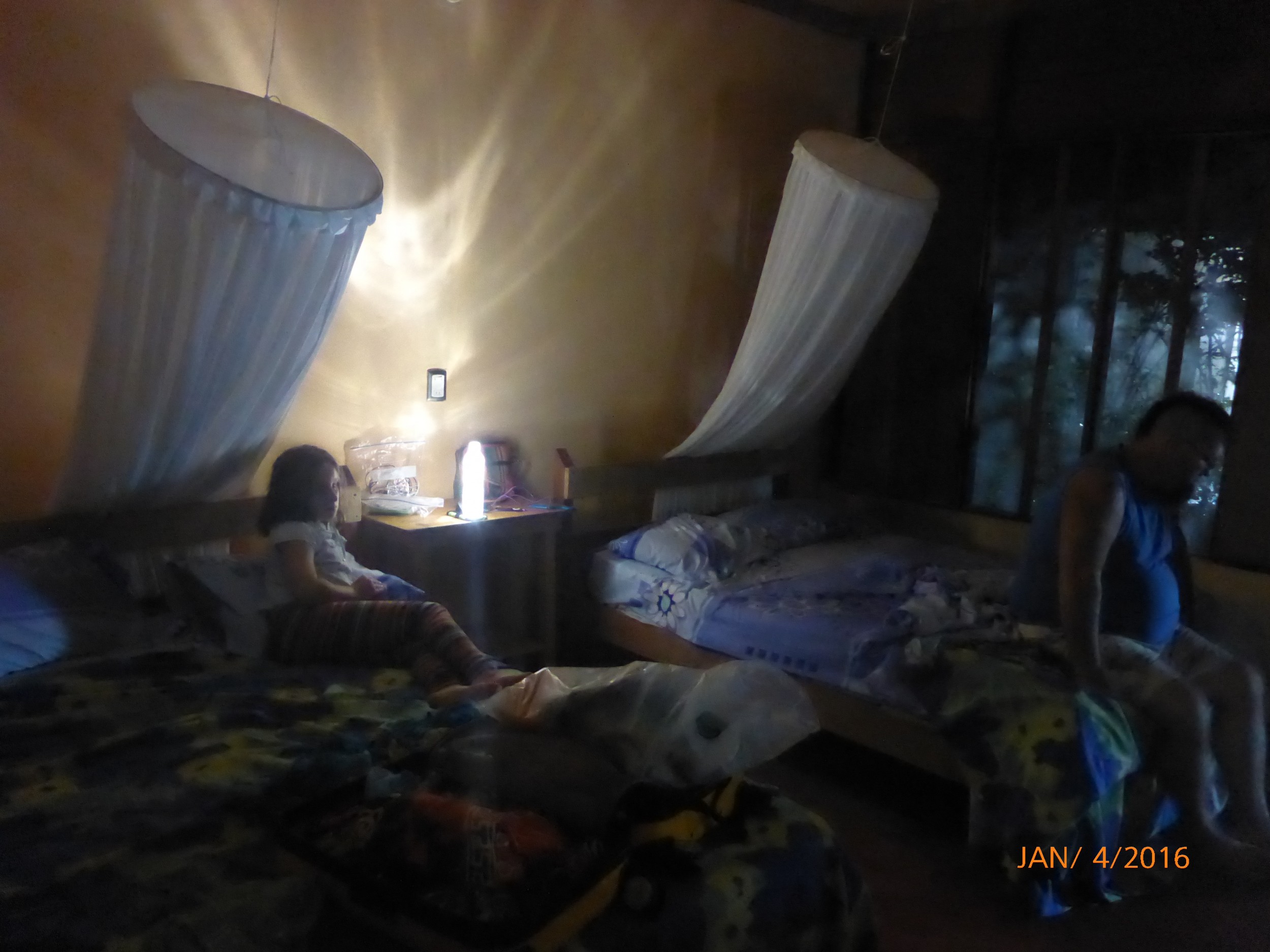 In the morning I woke early to the sounds of rooster crowing and turkey gobbles somewhere out in the fog.  Jason was tangled in the netting and in danger of pulling it down so I unwrapped it and put it away. I wouldn't stay at Lacun-ha again but it was an interesting experience for all of us, and the girls didn't mind roughing it a little.
Tomorrow: Going to Guatemala.