To School or Not to School?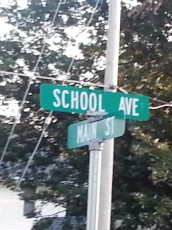 It's back-to-school time! So does that mean I have to start actively Worldschooling on the same schedule? Do we even still want to Worldschool? I'm having a moment of doubt in the face of all the back-to-school shopping and hysteria popping up in my daily feed.
Don't get me wrong, I like the idea of Worldschooling, and I believe in it. For those who don't know, Worldschooling is letting your child set the pace and choose the direction of their learning outside of a classroom environment, a kind of free-range life learning education. It's not a new idea, it actually precedes institutional learning that is the norm today. However this does require some leadership and supervision on my part, and now that it's time to do it I might have some cold feet. Or in this case, hot feet.
We've been in Cozumel almost 3 weeks. It is HOT. We don't have much A/C, and even if we did it costs a fortune to run it so it's best to keep it to a minimum. This means most of the day is spent being still in an effort not to overheat, or walking down to the ocean and swimming. None of us are really motivated right now to do much school stuff.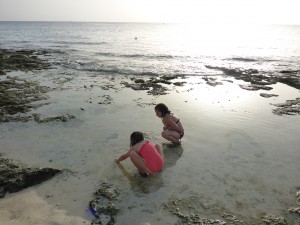 The girls are getting sick of each other, but even when there are other kids around they stick together rather than trying to make friends. I get that; it's hard to be the new kid. At home I try to convince them to go in separate rooms, play separately for a bit, take a break from each other, but it's like they've become Siamese Twins with some invisible bond. They won't leave each other, even when they can't stand each other.
School is one way to force them to interact with other kids, and it's usually a good way to make friends, so it's been on my mind. I have considered other options of course; yoga, art classes, tae kwon do, soccer (futball!) playing in the park, but to me school is a sure thing, the easiest thing. It's hard to get out of that mindset that kids need to go to school to socialize, even after all I've read and multitudes of other families who have proved it untrue.
School starts in Mexico on August 24, and next week we are moving to an apartment that is not far from the Montessori school here. This makes it even more tempting to enroll them. It will be an extra expense but we can afford it, the kids love the idea of wearing uniforms, and honestly right now they are saying they want to go. Being home with me can be rather boring, especially when we are all melting, and let's be honest, it would be nice to have some time to myself again.
Classes are taught in Spanish, and even though they say they're up for it I worry that they will be frustrated. I know, I know, they'll catch on fast and it will be a good experience for them, I'm trying not to worry or over think it. There are other non-Mexican children there, so there should be some kids who speak English, too.
So why am I dragging my feet to go check it out?
For one thing we'll miss quite a bit of school when we travel. The girls and I are going to a retreat hosted by Enlightened Globetrekker in October in Tulum, then we'll fly to Florida for TBEX and do a little Florida vacationing at Disney and with a friend in Tampa. That's a 3-week stretch of school when we'll be paying for it but not attending.
We moved here planning to use Cozumel as a home base, and there is a lot that we can do in day or weekend trips but we want to see more of Mexico than the Riviera Maya. On the list so far is Mexico City, San Miguel de Allende, a return to Chiapas and Palenque. Jason can work as long as he has internet, but how many side trips can we do if we commit to school? Is it a waste of money to sign up knowing we'll miss all that time? The flip side of this is that we consider side trips to have their own educational value-how cool will it be to take my family back to the ruins and waterfalls of Chiapas, to visit Mexico City's plethora of museums, including Frida Kahlo's house! Will the school share this view?
Another thing that makes me reluctant to jump on the back to school bandwagon is that I feel like I already made a commitment to do this Worldschooling thing. I did the research, I talked the talk, now it's time to walk the walk and I don't want to chicken out. The kids were all for it, but they don't really know much about it. There is a home schooling collective here, but recently on their Facebook page a question was answered with the statement that most of them gave up and enrolled their kids in schools here instead. Not very encouraging.
We're still new here, and we haven't made a lot of connections or much effort at any kind of schooling yet as we settled into a new house in a new country. It's already a lot, I know, but with all the back-to-school posts starting in July I feel that old pressure to keep up.
For me, I think resistance to sending them back to school really comes down to my belief that we're all creatures of habit, and it's easier to fall back into the old pattern of going to school than to strike out on our own to try Worldschooling. It's exactly what we were trying to get away from by moving to Mexico; routine, predictability, conformity.
I haven't decided yet what to do, even though I can hear my mother-in-law's voice in my head pleading with me to put those girls in school. I still believe in Worldschooling, and I believe in my girls' ability to learn outside of structure and classroom. I want them to be involved in this decision, as they are the ones who will be most effected by it. To be fair I think we'll check out the Montessori school, and I'll try to talk to some other parents if I can, but we have a few more weeks to decide before school starts.
The world is full of possibilities and we can pick and choose and change our minds as we go. I think just being here proves that.
What would you do? Mexican Montessori school or try do-it-yourself Worldschooling? Maybe a mix of the two?